Mobility
Tap and go … everywhere?
June 27, 2023 | By Vicki Hyman

For the last decade, a certain subset of visitors from around the world have trekked to London to marvel at one of the city's modern wonders. Well, it's a wonder if you happen to lead a public transit agency or have an deep and abiding interest in payment technology.
In 2014, Transport for London became the first transit agency in the world to enable riders to use their contactless payment cards or smartphones to pay their Tube, train or bus fares with a simple tap. This is an example of an open-loop ticketing system, in which people can use their own cards to pay at terminals — versus a closed-loop system, which requires people to use specific transit cards. Open-loop ticketing lowers the operational costs of fare collection and eases the transit experience — no need to wait in line to buy a transit card or top it off.
Among those visitors to London were transit leaders and government officials from the Netherlands, who had years earlier instituted a closed-loop smart card system but had far  bigger ambitions: creating an open-loop ticketing system that spans the entire country. Earlier this month, they did just that, officially launching OVPay, believed to be the first nationwide open-loop system in the world.
Whether you're a local or an international visitor, you can now ride the metro in Amsterdam, the tram in Rotterdam or the light rail in Utrecht — and everywhere in between — and pay by mile by tapping your bank card or smartphone. It's the latest and most comprehensive example of transit getting an upgrade for the digital economy, with connected technology and new payment options delivering a much more seamless experience.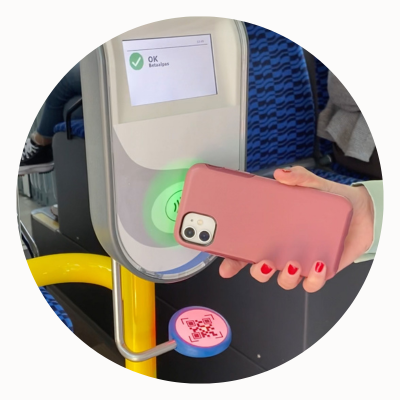 Even though the public transit agencies in the Netherlands were already integrated under the closed-loop payment system, it still took eight years to bring countrywide open-loop ticketing to fruition. That included equipping turnstiles and validation machines at every tram, train, bus and metro stop and navigating the payment complexities of the distance-based fare structure instead of flat fare, says Jan-Willem van der Schoot, Mastercard's country manager for the Netherlands.
Mastercard, which also helped institute contactless ticketing for Transport for London and other cities, including New York City, Milan, Singapore and Sydney, worked with banks to put in place mobility transaction processing rules and ensure that the more than 55,000 validators across the country's network could work with contactless cards and smartphones.
"We received very positive feedback from travelers," van der Schoot says. "It's intuitive and easy to use — I expect that if you look 12 months in the future, nobody will remember using anything different."
It also takes the pain out of payments for international tourists. There have been great strides in public transit connections to international airports, but the last thing a traveler off a 12-hour flight wants to do is learn how to navigate a new ticketing system.
"It's intuitive and easy to use — I expect that if you look 12 months in the future, nobody will remember using anything different."
Tap-and-ride systems allows travelers to immediately hop on a train or bus without exchanging currency, finding an ATM  and buying a special card they'll toss out when they leave the country. Following in the Netherlands' footsteps, the Maldives, a tropical tourist mecca, is rolling out the first open loop transit payment and digital ticketing system in South Asia that can be used across different modes of transit — in this case, the country's high-speed ferries and buses.
Public transit is just one element at play when thinking of ways to make navigating cities simpler and more seamless. Mastercard is helping to streamline all of the ways in which people move around urban environments, from conventional transit to bike and scooter share, also called micromobility, to parking, tolling, congestion charging and much more, says Chapin Flynn, Mastercard's senior vice president for urban mobility.
Micromobility adoption is accelerating in cities all over the world, with the market expected to grow from $49.3 billion in 2021 to $186.2 billion by the end of the decade. Because complex registration and payment processes can sometimes serve as a deterrent, Flynn says, Mastercard and the bike and ebike sharing platform Freebike debuted the world's first tap-and-ride ebike in Helsinki last year to streamline the process and get people riding within 30 seconds.
"These programs can not only take pressure off public transit," he says, "but they can also provide crucial last-mile services, extending the benefits of frictionless mobility to more people, no matter where they live."