Mastercard partners with Freebike to launch the world's first tap and ride electric bike sharing system in Helsinki
June 28, 2022 | By Annika Kristersson
Helsinki,  June 28 , 2022  – Mastercard and Freebike – a platform for bike and e-bike sharing – have partnered to launch the world's first tap and ride ebikes in Helsinki, Finland. The first 1,100 ebikes – which work with any bank card and can be accessed without registration – appeared on the city's streets in June. 
The Freebike tap and ride ebikes – and their tap and go payment technology, powered by Mastercard – have been designed with convenience and simplicity in mind. With just a squeeze of the brake and a tap of their card, a user can access an ebike to ride around the city. There is no starting fee and it costs users just €0,15 per minute to use the ebikes. The cost can be monitored in real time on the on-bike display and the ebikes can easily be parked at virtual stations.
To encourage users to park the ebikes at the virtual stations, a small fee of €1,50 will be deducted for those left on the street. To simplify this process for the rider, the on-bike display shows where the nearest station is. The user can also visit helsinki.freebike.com to locate stations and available bikes.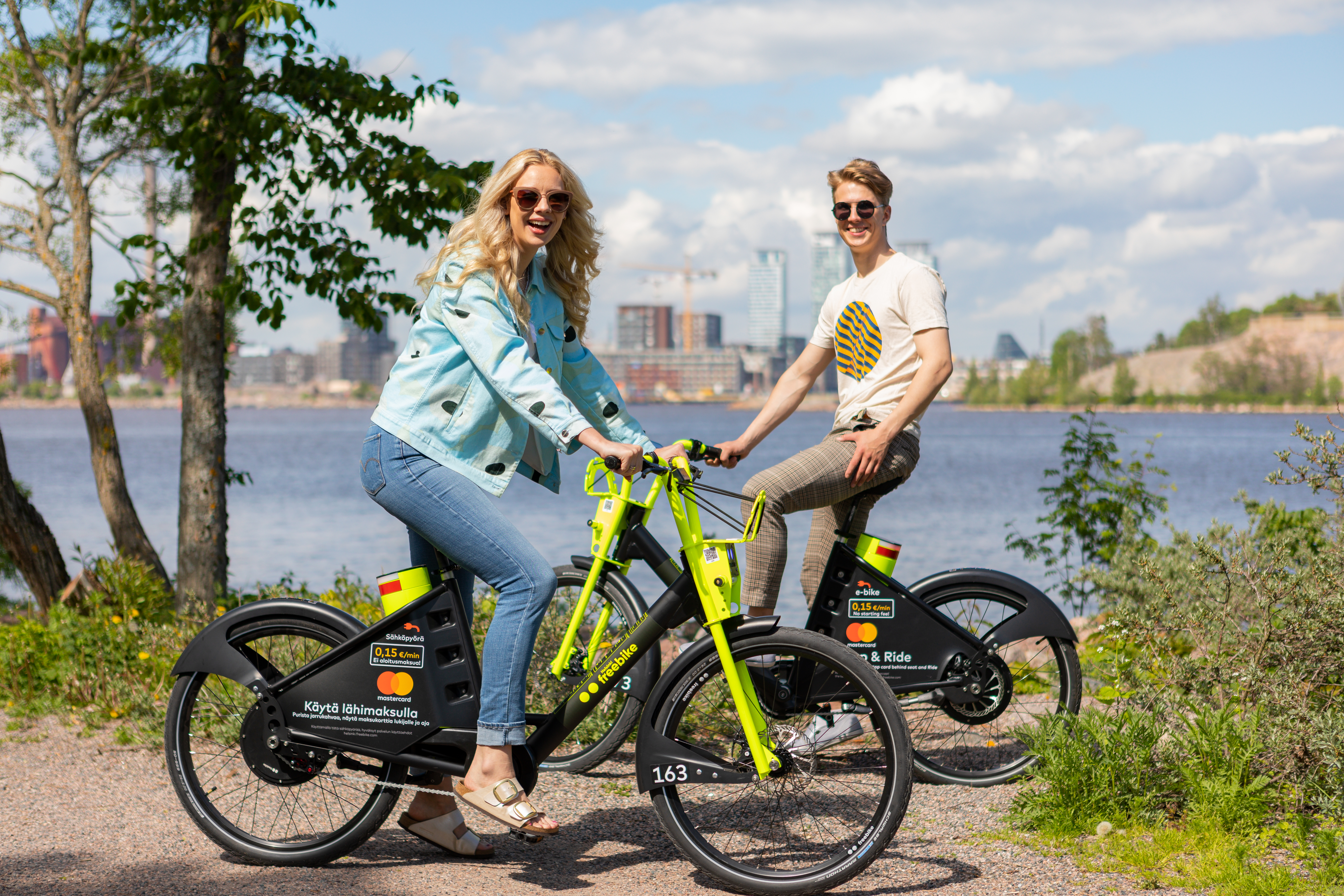 Pekka Laaksonen, Country Director for Mastercard Finland, said: "Using Freebike is easy and seamless, as anyone who carries a payment card can use them. Freebike also encourages its riders to park their ebikes at virtual stations, which is a step towards a more convenient city."
Mastercard and Freebike selected Helsinki as the host of the first tap and go ebikes due to its status as an innovative city and suitability for trialing new, high-tech products. As a founding member of Mastercard's global City Possible network – launched four years ago to collaboratively solve urban challenges – Helsinki was the ideal choice to initially home this solution.
There will initially be 1100 tap and ride ebikes in Helsinki with plans to increase this number next year. Mastercard and Freebike then intend to expand tap and go ebikes to other cities in Finland at a later stage. 
"At Mastercard we are committed to simplifying urban mobility and to partnering with companies that share that vision," said Chapin Flynn, Mastercard SVP, Global Cities, Transit and Urban Mobility. "In delivering the world's first ever tap and ride electric bikes, Freebike has dramatically simplified the user experience and removed some of the largest barriers to entry for potential riders."
The ebikes are being managed by leading provider Rolan Oy. The company's CEO, Aki Laiho, added: "We are fascinated to be a part of the premiere of this cutting-edge technology, which will bring a new level of convenience to the everyday travel of Helsinki residents."
For more information about how to use the tap and go ebikes in Helsinki, please visit: helsinki.freebike.com.
How it works:
No registration needed.
Contactless payment. All you need is a bank card (lähimaksu).
No starting/unlock fee – you pay by the minute (15 cents per minute).
Day, week and month packages are available on the app. which has some additional functionality – the ability to pause rentals and your full rental history.
Note: Outside of the centre (you can see the area on the map on helsinki.freebike.com) you can only park the bike at the virtual parking stations.
If you dump a bike, you pay 10 €.
Where can you find a tap & ride Freebike?
Check out the map at  helsinki.freebike.com. Or walk out into the streets and pick one up. Many of the virtual stations are at Alepa bike stations.  
How do you start with a Freebike?
Press either brake to switch it on and then tap on the reader (behind the seat) and when you finish, tap out. There's no time limit to your journey, each minute costs 15 cents. An alternative method of ending the rental is to squeeze the brake 3 times quickly when stopped. This means that you do not even have to take your payment card out of your pocket.
Where can you park it?
In the centre, you can leave the Freebike at a "virtual" station - or anywhere else. If you don't leave it at a virtual station, it will cost you 1,50€. A virtual station is a station that you can see on the application, map or on your bike's screen. When you approach a bike station, the bike's screen will tell you that you are near a station. Many of the bike stations are located near Alepa bike stations, so they are easy to spot.
How far away from the centre of Helsinki can you ride with the ebike?
A long way is the short answer! Use the on-bike display to navigate to the nearest station, or look at the map at Helsinki.freebike.com, since outside the centre of town you will have to leave the bike at a station.
- ENDS -