Inclusion
In Prague, a mother and daughter baked up a business. Digital sweetened the deal
January 18, 2023 | By Caroline Morris

In her kitchen in Ukraine a decade ago, Oksana Kulachek decided to bake a cake. Her daughter Daria was about to turn 17, and Oksana wanted to celebrate with a pistachio and passion fruit cake, but one that wasn't overly sweet like so many Ukrainian baked goods. When she couldn't find the perfect recipe, she started to improvise. The resulting cake was a smash hit.
"It was crazy," remembers Daria, now 25. "Every guest asked, 'Where did she get the cake?'"
That cake was the beginning of a journey that took Oksana to baking classes in Barcelona and Paris and ultimately to Prague, where in May 2020, she launched Defidu Bakery, which specializes in cakes, croissants and pastry. The bakery embodies the experience of so many of today's most resilient entrepreneurs, who figured out how to transform the pandemic — as well as other political and personal challenges — into creative opportunities.
The bakery was never the goal. Daria, who had studied Czech in high school, had moved there in 2014 to study architecture. But in 2017, she had to put her dreams on hold after breaking her neck in a severe mountain biking accident. Her parents and brother moved to Prague to help her heal and, when COVID hit, they decided to stay.
At that point Oksana's baking was still a hobby. But with free time on their hands, she and Daria decided to take the plunge and start a business.
Thanks to low rents during the pandemic, the family was able to self-finance a store smack dab in Prague's central square, the shop design one of Daria's own. Oksana baked, her husband made deliveries and Daria became "dishwasher, cleaning lady, accountant and everything else." When Daria submitted images of her mom's cakes and breads to DesignBlok, one of the largest design and fashion shows in Central Europe, the business really took off.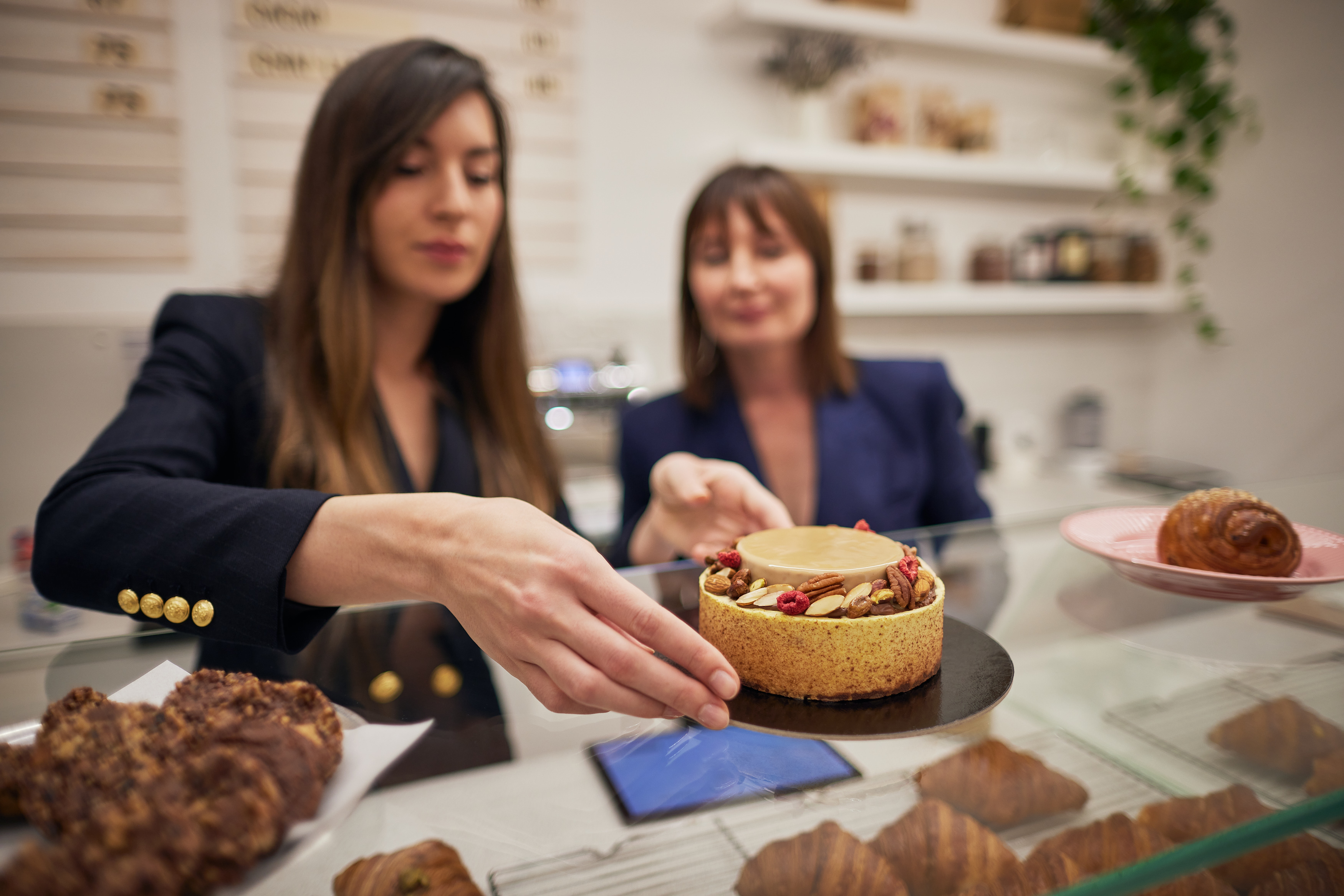 Oksana, right, and Daria Kulachek opened Defidu Bakery in Prague during the pandemic.
Within weeks, the three-person operation was receiving more than 200 orders a day — Oksana's pistachio passion fruit cake was a customer favorite — and the Kulacheks opened a second location seven months later in June 2021. But like many entrepreneurs, they faced significant hurdles.
"Small businesses have an outsized impact on economies and communities but running a small business is increasingly challenging and complicated," says Payal Dalal, senior vice president for social impact at the Mastercard Center for Inclusive Growth, which launched a three-year initiative with CARE in November called Strive Czechia. It's designed to get 250,000 Czech micro and small businesses, at least 100,000 women-led or -owned, thriving in the digital economy. The program also aims to help at least 10,000 Ukrainian entrepreneurs displaced by the war.
"We need to make sure small businesses have the networks, financing, tools and resources to not only survive but thrive in the digital economy," Dayal says.
Oksana doesn't speak Czech fluently, the main language spoken in Prague. So Daria was left to deal with all communications, including navigating Czechia's bureaucracy. She also had to deal with sexism in an industry mostly filled with middle-aged men, she says: "Your credibility is under question just because of your voice, not because of the things you say."
A survey in August and September 2022 of more than 800 micro and small business owners in Czechia, conducted on behalf of Strive Czechia by 60 Decibels, revealed that women-led businesses reported less robust performance and have a poorer business outlook than those owned by men. They were twice as likely to report "very much decreased" revenue and savings for the previous year. Women also reported an urgent unmet need to training on finance, management skills, digital skills and access to technology.
"Your credibility is under question just because of your voice, not because of the things you say."
Digital tools have been a key element of Defidu's success. They've set up an e-shop, created a Defidu Instagram and forged a partnership with Nesnězeno, an app that reduces food waste by offering 50% off unsold goods at the end of the day. But there's still room to grow.
"You're constantly looking for ways to optimize your business, but it comes with challenges, especially in food services," Daria says. "The craft itself is really old, the art of making bread is ancient, so you try to optimize other elements. But for a small business like ours, the digital operational systems are expensive."
The Czechia program is part of Mastercard's global Strive initiative, which is designed to strengthen the financial resilience of small businesses, supporting their recovery and growth in response to the pandemic through digitization of payments and operations, skill-building, mentorship and better access to finance. Through the Mastercard Center for Inclusive Growth and partnerships with NGOs and local nonprofits, Strive is digitizing small businesses around the world, with programs already live in Mexico, the U.S. and the U.K.
Strive Czechia provided Defidu with a host of digital solutions to optimize the business and offers the pair critical support services like mentorship and trainings.
"It's like a 'one-stop shop' platform where business owners can get easier information, tools, know-how and guidance on main issues like digitalization, financing, and peer support," Daria says. "And Mastercard and CARE actually connect you with people who have expertise in the field, which is invaluable."
Daria and Oksana are now Strive ambassadors, helping spread the word about the benefit of the program's digital tools and support.
"With a bakery, you're soaked in this routine — every day you bake what you'll sell tomorrow. It's difficult to step out of it and see where it bottlenecks," Daria says. "But now we have the tools, insight and feedback to address these big-picture challenges and grow our business."