Innovation
Y'all bready for this? There's lots cooking in this new NFT eatery
November 3, 2022 | By Anthony Venutolo
What wine pairs best with blockchain? We're about to find out.
The San Diego restaurant scene welcomed Botanica last week, which bills itself as a combo cocktail lounge and NFT gallery. 
The joint effort between San Diego-based blockchain company Humbl and the Be Saha Hospitality Group features a sweeping wall inside the establishment devoted to digital art, according to Eater San Diego. The nonprofit Create Purpose, which offers educational programming to Mexican orphanages, benefits from the sales of the NFTs.
This is just the latest example of how the line between the physical and digital world is blurring through décor, perks and other experiences. The global restaurant group Chotto Matte dropped its first collectible in April, an NFT that grants the owner access to upcoming restaurant openings, vineyard and distillery trips, a meeting with the restaurant's executive chef and even sports tickets.
"NFTs give us the opportunity to express our creativity and curate an eclectic, elevated dining experience in the restaurant scene," the company's founder and owner Kurt Zdesar told BizBash in June. 
But it can also be about the art, right? Be Saha founder Amar Harrag told There San Diego that Botanica is meant to be a place where visual and experiential art meet. "Our goal is to transcend from a bar into a community center, following in the footsteps of our neighbor Art Produce and supporting young artists with new ways to connect with the world."
So whether it's creating new revenue streams through exclusive offers or spotlighting a new form of collectibles as art, this trend of uniting cuisine and NFTs may just be getting started.
On the metaverse beat
To understand the metaverse, you need to experience it. So says Interpol, which recently announced plans to launch the first metaverse made specifically for police.
Criminals are already coming into the metaverse, with Interpol warning of threats including phishing, money laundering, counterfeiting and harassment. To counter those problems, the global law enforcement agency created the Interpol Metaverse, a fully functional platform that enables registered users to interact with other officers via their avatars, tour a virtual replica of the Interpol General Secretariat headquarters in Lyon, France, and enroll in immersive training programs in forensic investigation and other policing skills.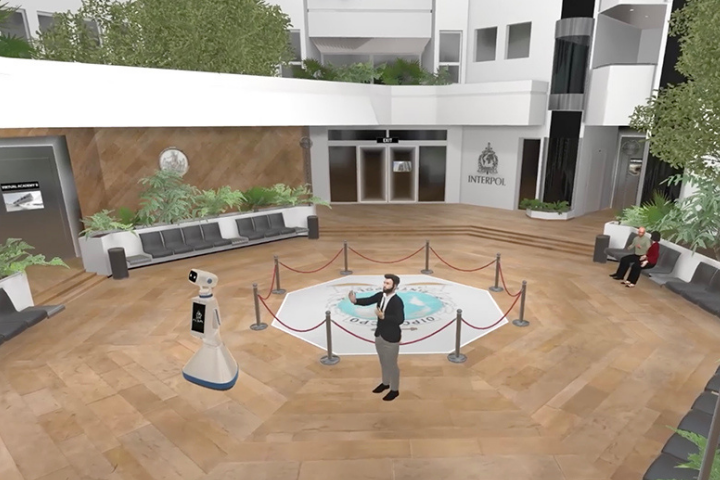 In the Interpol Metaverse, registered users can take part in immersive policing and investigative training progrms. (Photo credit: Interpol) 
"By identifying these risks early on, we can work with others to establish the necessary governance frameworks and nip future criminal markets in the bud," said Madan Oberoi, executive director of Technology and Innovation at Interpol in the press release. "It is by discussing these issues now that we can intervene effectively."
To have and to fold
Researchers at UC Berkeley's AUTOLAB recently unveiled SpeedFolding, a new AI-powered technique that allows a pair of industrial robotic arms to fold 30 to 40 items of clothing per hour, Ars Technica reports.
The bad news? The machine lags behind human capabilities by a significant margin (maybe not in my household), but it did set a new speed record for automated bots. 
While the speed of the robot may not seem so spectacular, the researchers claim that earlier robotic garment-folding techniques only achieved 3-6 FPH — that's folds per hour. 
"Folding garments reliably and efficiently is a long-standing challenge in robotic manipulation," the researchers wrote in a recent research paper. According to the scientists, earlier robotic garment-folding techniques "primarily concentrated on single-arm manipulation," which could explain SpeedFolding's dramatically increased two-handed speed.
The secret to the team's success? Its BiMaMa-Net neural network was able to learn how to fold clothing after reviewing 4,300 human and machine-assisted examples, and the robot can even handle clothes with different shapes, sizes, material and color. 
Don't expect a Roomba-esque little droid in households any time soon. A similar robot called the YuMI IRB 14000 is on the market starting at $58,000. Still, the researchers claim that the SpeedFolding technique will help evolve household robotics in the future and that they expect the real market for SpeedFolding will be in textile manufacturing and logistics, industrial and home laundry, health care, and hospitality.