Innovation
DeLorean Alpha5 goes back to the future
July 27, 2022 | By Anthony Venutolo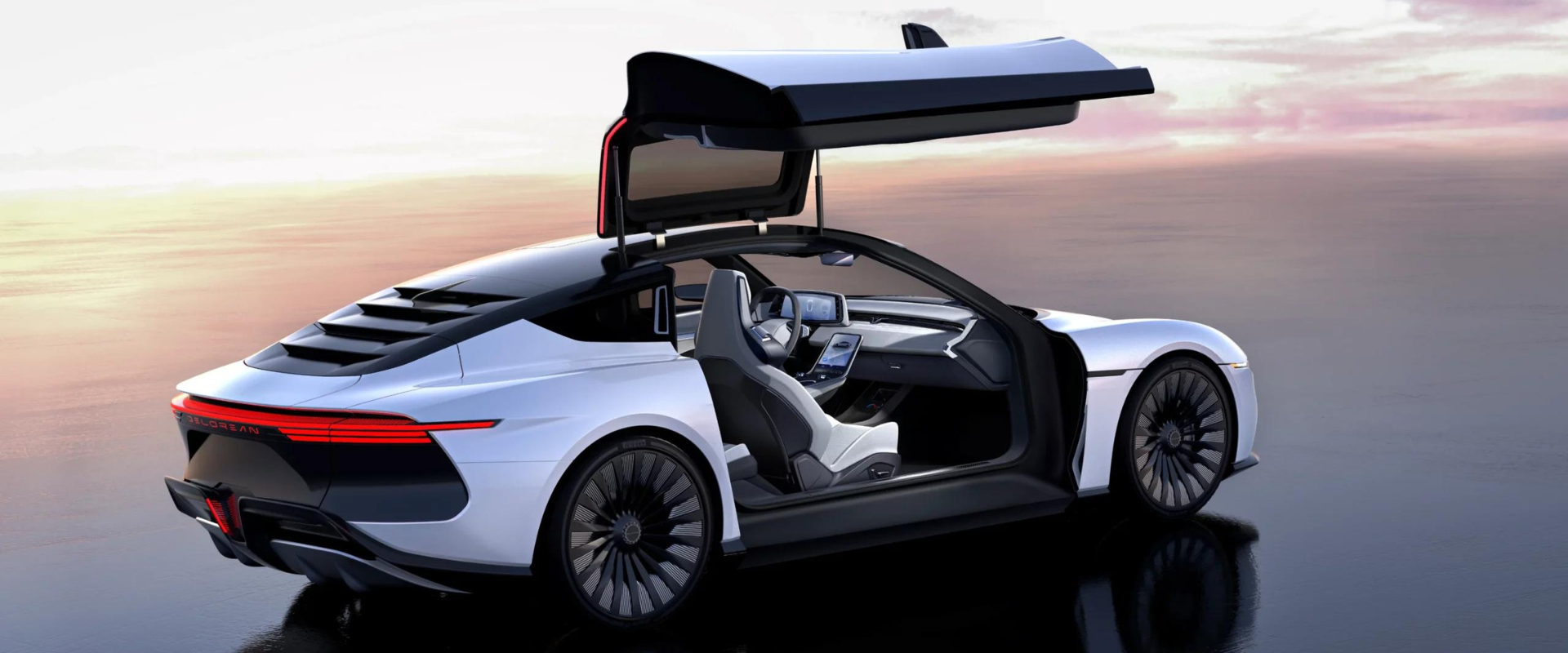 Doc Brown would be stoked. TechCrunch reports that the electric Alpha5, the newest DeLorean in more than four decades, is about to make its formal premiere at the Pebble Beach Concours d'Elegance in Pebble Beach, California, on August 18.
Perhaps no other car in history (sorry, Bandit) has had the pop-culture impact of the original DeLorean DMC-12. For those with a rock square on their back, that model served as a time machine in the 1985 sci-fi comedy "Back to the Future" and its two sequels.  
And while the public ate up the original stainless-steel wonder onscreen (it still looks sharp by today's standards), the car itself was fraught with underwhelming 130 horsepower V-6 performance. Founded in Detroit by John DeLorean, the renegade executive for Pontiac behind such legends as the GTO and Firebird, his namesake company crashed and burned in 1982 but has had a fierce fanbase of collectors through the years. The nameplate is currently owned by a Texas-based DeLorean restorer who bought the rights to the brand in 1995.
"John DeLorean and his team built a car that was an instant icon," DeLorean CEO Joost de Vries told Auto Futures last month. "That brand has expanded and expanded since then."
While the Alpha5 still sports those trademark gullwing doors and rear-windshield louvers, the greatest difference between the original DeLorean DMC-12 and the Alpha5 (beside the latter being electric) is that there's a back seat for two.
But can it reach 88 mph? (We couldn't resist.) In fact, it reaches that speed in 4.4 seconds. "We did not want to build a hypercar," de Vries told Auto Futures. "There are plenty of those around. It is a fast car. Fast enough for most people. Zero to 60 in less than three seconds is pretty fast." Even though the car is rumored to have a base list price of as much as $200,000, we're guessing that means a flux capacitor is not included.

Tears that speak a thousand words
In a new breakthrough in medical tech, iTEARS examines the microscopic particles in teardrops and can detect diseases within minutes, Science News reported July 20.
"This is just the beginning," said Luke Lee, a bioengineer at Harvard Medical School in the International Business Times. "Tears express something that we haven't really explored."
According to Lee's published study, the new advancement uses nanotechnology that can peer into the human body and detect disorders like diabetes through exosomes, tiny sacs that are part of tears and hold the body's molecular signals. If we intercept these messages, the study posits, medical professionals can accurately interpret them.
The ultimate goal? At-home tests. A self-testing kit that people can use at home is what study co-author Fei Liu, a biomedical engineer at China's Wenzhou Medical University, hopes to create using this cutting-edge method.  Scientists are aiming to harness this tech for a wealth of other ailments and conditions, including depression and emotional stress.  

Fitness trackers for cows and more
With extreme heat and other climate emergencies such as severe storms and drought, advances in agritech have become more vital for the global farming community.
CTV News in Vancouver reports that Ecodairy farm in Abbotsford, British Columbia is aiming to be a leader in agritech by using smart devices on cows. At the dairy, each cow wears a blue chain necklace, which a robotic milking machine can use to identify it, and a device on its ear that can monitor its heart rate.
Nick Pankow, herd manager of Pankow Dairy Farms in Castile, New York, told AG Daily earlier this year that the health of his herd improved with "rumination collars," which track how cows chew their food. "Instead of blindly walking around looking for sick animals, we can pinpoint animals that need attention whether it's for indigestion, mastitis, etc.," he said.
Operational efficiency and the overall health of the livestock are key to a dairy farm's success, so improving farming through tech innovations — especially in the face of climate emergencies — is the crux of what modern agritech aims to do.
That's why EcoDairy's founder Bill Vanderkooi recently hosted government officials who pledged the province will invest millions to launch the British Columbia Centre for Agritech Innovation this fall at Simon Fraser University's Surrey campus.
"We're looking at things like feeding seaweed to reduce methane in beef production or dairy production," said Vanderkooi when asked about the type of solutions the facility would bring. Other projects on tap are sensors that can monitor which plants need water, when to preserve water and even how to optimize water usage.