Innovation
Why Miami is hot, hot, hot on NFTs
August 10, 2022 | By Anthony Venutolo

The city of Miami has unveiled an innovative Web3 effort backed by Time, Salesforce and Mastercard that not only aims to fuel local businesses but also engages the community by working with 56 artists to create a collection of 5,000 NFTs (fun fact: Miami is 56 square miles).
But this effort goes beyond just buying digital art. The tokens also will unlock access to Mastercard's Priceless Miami program, which includes access to curated tours of cultural institutions and gourmet meals at high-end eateries.
"The city of Miami has been on the vanguard of the Web3 revolution, and we will continue to employ these new technologies to support our existing businesses while attracting new ones, raise capital and provide experiences for our citizens and those visiting this great city," said Mayor Francis X. Suarez in a statement.
Suarez, who has been positioning his city as a crypto and tech center, is paid his salary in bitcoin and has even suggested that Miami's treasury reserves be converted to bitcoin.
His passion led organizers of the World Digital Mining Summit to invite Suarez to open the conference on July 26.
"Digital currency offers the potential for all of us to create a generation of prosperity for our children and their children," he said in a video address. "While other cities and other countries attack cryptocurrency, mining and new Web3 technology, Miami has chosen to embrace this technology, welcome its engineers and entrepreneurs, and champion the digital revolution for all who seek a future that is free, fair and prosperous."
Salesforce will mint and sell the Miami NFTs on its newly unveiled NFT Cloud product for corporate clients, and the initiative will launch in December on the Ethereum blockchain.
Where we're going, we don't need roads
Visions of the future seem to conjure either the neon-baked world of "Blade Runner" or the pop kitschiness of "The Jetsons," but both have one thing in common: flying cars.
Following a Federal Aviation Administration assessment on July 15, the Switchblade, an airplane that also can function as a car, may soon take flight, reports The Hill.
The cutting-edge craft provides all the comforts of a luxury vehicle, including a hybrid electric-drive system, and it's been a long time coming. The project was in development for 14 years at the Portland, Oregon-based Samson Sky, and CEO Sam Bousfield told The Hill his team was "stoked" to begin a high-speed taxiway test.
"The crew took off their 'I'm doing R&D' and they put on their 'I am flight test crew' hat, and I think that really set the tone for everything after," he said. "So, we're in a different game now."
The Switchblade can travel at 160 mph, carry two passengers and soar to a maximum altitude of 16,000 feet, which is substantially lower than the 30,000 to 40,000 feet that a commercial aircraft reaches. "It's like a little flying sports car," Bousfield told The Hill.
But in an automotive climate where the world is embracing sleek hybrid and electric vehicles, is there a niche market for a completely new transportation mindset? 
The concept is for owners to park the car in a garage, drive it to the airport, fly it to another location, and then drive it anywhere on the ground when it lands. If you think that's one way out of paying for expensive flights, think again: The Switchblade starts at around $170,000. Still, more than 1,670 potential buyers have already signed up to reserve a vehicle. So it might be safe to assume what will follow: flying cop cars in the budding turnpike of the sky.
Alexa, meet your sister Roomba ...
The maker of Roomba, the pioneering robotic vacuum often prominently featured during bonanza retail holidays like Prime Day, will be acquired by Amazon for $1.7 billion, Reuters reports.
It ranks as Amazon's fourth-largest transaction, trailing its $13.7 billion acquisition of Whole Foods in 2017, $8.5 billion acquisition of MGM in 2018, and its $3.9 billion purchase announcement last month of the primary care provider One Medical. Three veterans of Massachusetts Institute of Technology's famed Computer Science and Artificial Intelligence Laboratory launched the home robotics company in 1990, unveiling the Roomba in 2002. By 2020, it had sold upwards of 30 million units.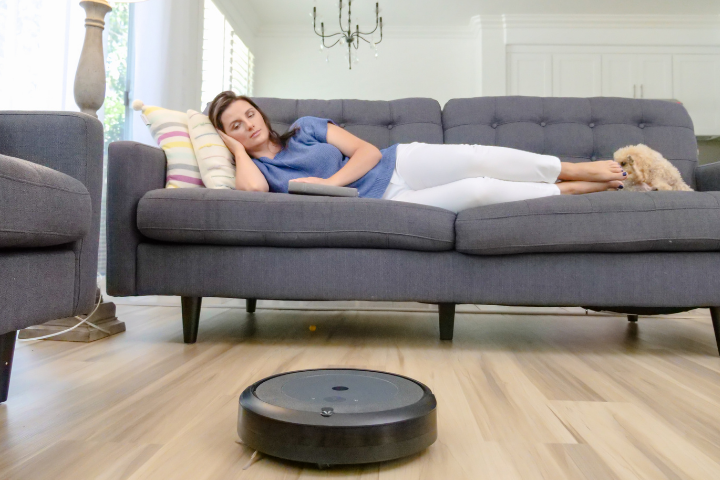 "Since we started iRobot, our team has been on a mission to create innovative, practical products that make customers' lives easier, leading to inventions like the Roomba and iRobot OS," CEO Colin Angle said in a release.
Nevertheless, tech junkies will be looking forward to how Amazon can evolve the home robotics space after transforming the world of logistics into modern marvels.  
Fingers crossed they're working on a robot that folds laundry.