Travel
How to transform Midtown Manhattan from a desert to a 'sandbox of discovery'
May 31, 2022 | By Amy Kover

At the crack of dawn, Miguel parks his coffee cart, Rose Wood Cafe, at his usual spot outside a skyscraper that houses Major League Baseball headquarters, a global insurance company and a high-profile law firm. There, he joins a long line of other food carts that have convened at this corner for decades selling breakfast rolls, smoothies and halal food to the office dwellers above.
A customer, Jay, walks up to the cart. He hands over some cash and nods at Miguel who instinctively begins preparing Jay's usual coffee and egg sandwich. Though the two share the easy familiarity born out of daily interaction, they only see each other once in a while. Like so many other commuters, Jay now spends a large chunk of his workweek at home.
The promised, post-COVID return to the office is increasingly looking like wishful thinking. Office occupancy is trending higher, but average capacity across 10 major U.S. cities is still 43%, according to Kastle Systems, a security firm that tracks employee keycard swipes. Those empty offices are hitting New York City particularly hard. For the third week of May, New York City office occupancy was 38%, Kastle reported.
Fewer workers mean fewer hungry mouths swarming the street vendors at lunchtime. Miguel, below, estimates he's only doing about half the daily sales of his pre-pandemic days. "Some people are coming back, but they're only in the office a couple days a week," he explains. "Fridays are dead. Rainy days are even worse."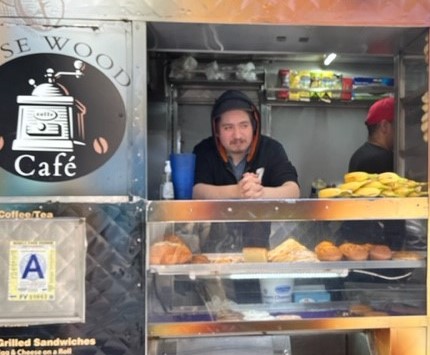 Just as COVID has forced us to rethink how we live our individual lives, it has also compelled cities to rethink how they serve society. Midtown Manhattan has been defined by its frenetic commuter culture for centuries — a lifestyle so deeply etched into its streets it seemed unalterable. Yet, the workers who once flooded those streets have not returned in full force, and it's unclear when they will. As a result, the small businesses built on those daily commuter rituals — the morning cup of coffee, egg sandwich or lottery ticket — are struggling. It's up to the cities themselves to help rediscover how small businesses can thrive on these storied streets once more.
There are opportunities hidden within these challenges. "Without that madness of rush hour, it opens up cities for visitors," says Miguel Gamiño, head of Mastercard's City Possible, a global ecosystem of over 330 cities, industry partners, academics and communities working together to make cities more inclusive and sustainable. "Sidewalk space is a luxury that very few cities have for pedestrians and visitors. When we shift from the 9-to-5ers taking over the streets, the city can be a sandbox for discovery."
Cities and commutes evolving
More work from home frees more people up to travel — hence the rise of the "workation," where people are working remotely from holiday spots — yet, in the tourist center Times Square, business still isn't at pre-pandemic levels.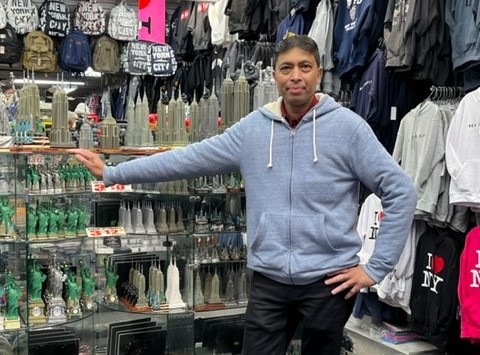 "The tourists are coming back," says Kazi Murshed, above, who owns a souvenir shop around the corner from Broadway's "Wicked" performances at the Gershwin Theatre. "But we only have about 15% of the international visitors from before the pandemic." He relied on visitors from abroad to buy his merchandise, a hodgepodge of New York City T-shirts, taxi-shaped keychains and Empire State Building trinkets.
The new normal is a big change for cities used to relying on an ever-increasing influx of workers and tourists, and, depending on the long-term impacts of the pandemic, could have a major impact on critical decisions, from city budgets to infrastructure planning and zoning, such as the reconfiguration of office spaces for better use of curbsides. The pandemic-propelled digital acceleration has already led to changes in land use, including the rise of dark kitchens — online, order-only restaurants — which small, struggling restauranteurs turned to during lockdowns.
"Cities that are flexible and willing to collaborate with the private sector — especially the small business owners that power our everyday lives — will emerge stronger," Gamiño says.
New sales with a side of data
The embrace of digital payments that helped many small businesses navigate the pandemic has an added benefit: deeper insights from the data generated from transactions, which could help cities make more informed decisions and allow businesses to unearth opportunities hidden within the new New York. Self-service analytics tools can tap into retail sales trends near Broadway theaters to help a souvenir shop owner like Murshed determine what type of merchandise would sell best.
Some business owners are already turning to data to reinvent their companies. Jonathan Rubinstein, for example, has been able to fine-tune how he operates his 22-strong Joe Coffee chain using data gleaned from sales at his shops throughout New York City. While his once top-performing location in Grand Central has languished, business at residential spots, such as Brooklyn Heights and the Upper West Side, have recovered between 70%-90% of pre-pandemic sales. Now he's scouting out similar sites for future stores.
"People working from home may take a walk and a coffee break at any given time," he says. "So business is more evenly dispersed throughout the 13 hours we are open. We have time to provide a better experience for customers and staff. We can engage people."
Photo credit for merchant photos: Amy Kover