Travel
As travel takes off, how to put every destination on the map
May 18, 2022 | By Mark Barnett

Travel is an opportunity we've missed for far too long.

As travel restrictions are dropping, people are preparing for long-delayed vacations — an estimated 1.5 billion more passengers globally will fly in 2022 compared to last year if flight booking trends continue at the current pace, according to a new report by the Mastercard Economics Institute.
Now it's time to consider the opportunities lost — and what can be gained — for those on the other side of the travel equation. They include the small businesses in the tourism sector devastated when travel ground to a halt, with millions of jobs lost, and the island economies and other developing nations, where international tourism can account for up to half of GDP.
Experts at the United Nations' World Tourism Organization do not expect the industry to fully recover until 2024, and Mastercard research signals that more developed and diversified economies are leading the travel recovery — the U.S., the U.K., Switzerland, Spain and Netherlands are topping the list of booking destinations.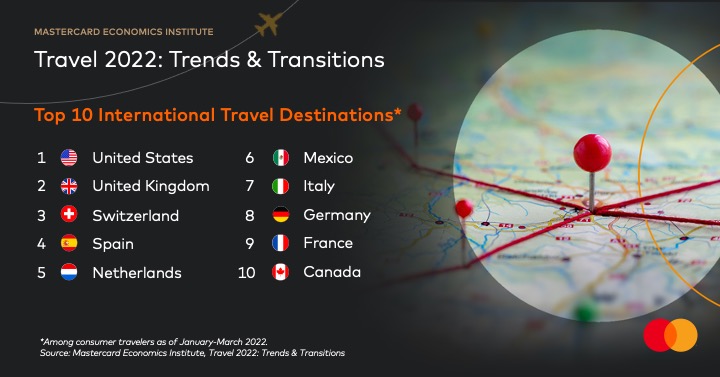 But, even when it happens, a full recovery is not enough. This is an opportunity to fortify the tourism sector with digital innovations and data insights. These digital tools can instill more resilience in the places we love to visit and strengthen the financial well-being of the people who make them so special.
In 2019, Georgia's capital of Tbilisi and its Kakheti wine region, known as the "cradle of wine," helped the country welcome in a record 5 million tourists. Then COVID-19 hit, and tourist dollars dried up, threatening the burgeoning — and largely small business-powered — sector.
The Georgian National Tourism Administration leaned into data analytics, including Mastercard's Tourism Insights platform, to understand travelers' sentiments and spending habits. That gave hoteliers insights into how and when to market to different kinds of travelers and helped local officials manage overcrowding and seasonal lulls at tourist attractions. This crowd-management work offers additional benefits, such as mitigating the environmental impact of tourism at ecologically-sensitive sites.
That's the impetus behind our recent partnership with the Catalan Tourist Board (Agència Catalana de Turisme) — whose mission is to meet today's tourism needs without compromising the region for future generations. Our work will promote the region's wide selection of destinations and redirect the flow of tourists to make tourism there more inclusive and sustainable.
Across Europe, we have been teaming up with national and city governments and tourism officials to use our tools to accelerate recovery and propose new ways to support the tourism economy. Prague had been hard hit by the pandemic, with a loss of about 70% of its tourists, so the Prague City Tourism agency turned to Tourism Insights to analyze the impact of travel restrictions on tourism and develop its recovery plan, with campaigns that would adapt to changing travel restrictions. Tourspain, Spain's tourism board, used our insights into the perception of safety of destinations and spending to inform new marketing strategies.
We're also studying a subsidized patronage pass for domestic travel that would encourage more people to explore within their own borders, which could add hundreds of jobs and bring in more hundreds of millions of Euros in additional revenue.


"This is an opportunity to fortify the tourism sector with digital innovations and data insights. These digital tools can instill more resilience in the places we love to visit and strengthen the financial wellbeing of the people who make them so special."
Our new Tourism Innovation Hub in Madrid will deliver these kinds of powerful data insights that governments and the private sector can use to make the smartest investments and ensure a more resilient recovery.
The hub will also focus on digitization across the travel ecosystem. That work includes bringing tap-and-go transit and multi-functional tourism passes to help tourists better navigate cities as well as helping cash-centric small businesses evolve through digital payments and online marketplaces.
The pandemic did more than drain incomes and jobs — it revealed the digital shortcomings of the small businesses that drive tourism worldwide. Without action, this divide between an increasingly digital traveler and more analog ecosystems will only deepen, threatening the viability of destinations struggling to recover.
To build on these efforts, we're joining the UNWTO's Digital Futures Programme, which aims to reach at least 1 million small- and medium-sized businesses through online training in connectivity, business growth, e-commerce, data analytics, payments and cybersecurity. Embracing these digital technologies can create jobs and make tourist destinations more sustainable, resilient and competitive.
The world is waiting to be rediscovered, and we want to make sure every destination — and the people who power them — are on the map.