Travel
Nature and a little bit of magic: A tree (exhibition) grows in Los Angeles
May 19, 2022 | By Dorothy Pomerantz
Every now and then, multimedia artist Glenn Kaino will walk into a room and ask a question like "Who grew your piano?" It's a reminder that a piano was once a tree that was watered and lived in a forest.

"Trees are so commoditized," he says. He hopes that his latest exhibit, "A Forest for the Trees" — a 28,000-square-foot experience featuring interactive sound sculptures, animatronic trees, illusions and immersive storytelling, all set to original music — can help people stop and notice how special and beautiful trees are, and why we need to reimagine our relationship to them and to nature itself. "They're phenomenal."
The hourlong experience, presented by The Atlantic and Superblue and sponsored by Mastercard, is an outgrowth of The Atlantic magazine's series "Who Owns America's Wilderness?" As Kaino read through the series, a piece by Ojibwe writer David Treuer, "Return the National Parks to the Tribes," struck a chord.
Native American forestry traditions have interested Kaino for years. As a former competitive bodyboarder, he has focused much of his environmental justice work on the oceans. But now, as California struggles with longer and more devastating wildfire seasons — and as a new analysis shows that one in six Americans live in regions with significant wildfire risk — he has turned his attention to the forest.

"The fires created radical moments of awareness for the need for climate action," Kaino says. "When you drive to work and the sky is orange, everyone needs to take notice."
He collaborated with the Northern California Karuk Tribe and Native storytellers and activists, such as Dakota and Lakota teacher and community organizer Breanne Luger, and Laundi Keepseagle, a Lakota creative producer and community architect, both from the Standing Rock reservation.
Visitors to the show arrive at a row of anonymous warehouses just south of downtown Los Angeles. Skyscrapers rise in the distance while cars rush by on the highway. But inside, the exhibit is hushed and dark, as you walk through what feels like a towering forest that smells of old wood. Many of the tree trunks are sustainably salvaged redwood trees that have died from insect infestation or drought; others are cast replicas.
At different stops along the way, visitors can hear Native American stories, including one, narrated by actor Jesse Williams, about a ceremony where a Karuk man jumps into a river from a high rock, bellyflopping to open the river for spawning salmon.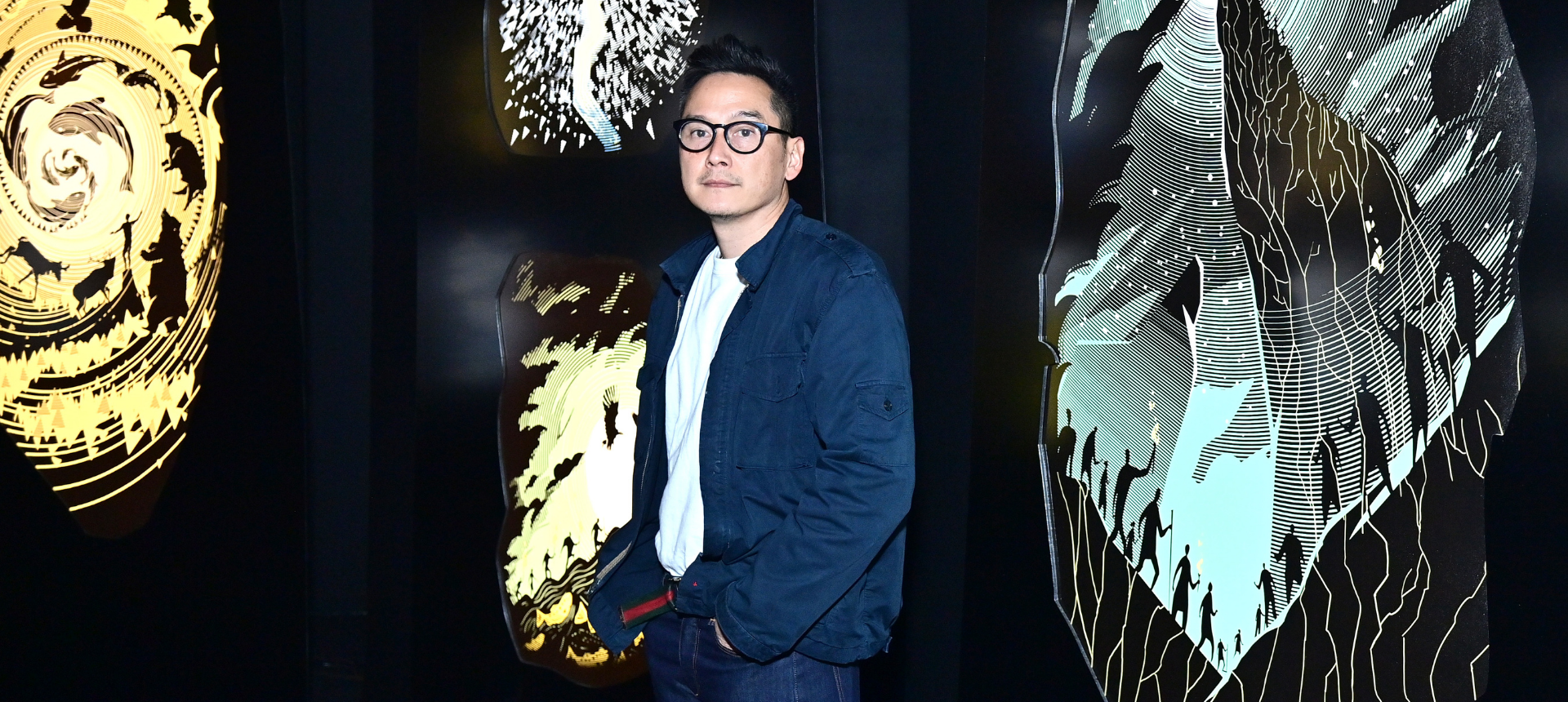 "The fires created radical moments of awareness for the need for climate action," says Glenn Kaino, above, among illustrations by Ukrainian artist Kirill Yeretsky. 
It's the kind of story Kaino loves, because it sounds like a fable, but there are actual scientific reasons for the jump to bring the salmon. The sound signals people to start controlled burns, which not only help mitigate the risk of wildfires but also set off a natural chain of events that lead to the water level rising enough to cover a sandbar and give the salmon a clear path to the village.
"When people enter the forest," Kaino says, "we hope they feel a moment of inspiration."
The centerpiece of the show is the Olvera Street fig tree, photos below, which was felled by a severe storm in 2019. For decades, the tree stood at the heart of L.A.'s historic Mexican market and was a central meeting place. Angel City Lumber, a local organization, salvaged what was left of the tree. Kaino and his crew have used the remnants to reconstruct the tree, which appears to grow and dance to music specially written for the exhibit by Kaino and Grammy-winning producer David Sitek.

If it all sounds a little magical, that's because it is. Kaino and his crew were the creative forces behind the innovative magic show "In & Of Itself." In that show, magician Derek DelGaudio performed magic tricks to create an immersive experience about identity — one powerful enough to leave people like Tim Gunn and Bill Gates visibly emotional.
Kaino hopes he's achieving a similar sort of response with "A Forest for the Trees." And while the worsening climate situation leaves many people feeling helpless, Kaino is something of an optimist.
"In America we've never really embraced Native knowledge about things like forest management," he says, "but we're on the precipice of becoming conscious of these solutions. It's a very exciting time. We hope people feel connected to each other and these issues through the show."


---
"The Forest for the Trees," at Ace Mission Studios, 516 South Mission Road, Los Angeles, has a limited run through summer 2022. You can buy tickets ($10-$50) here. For each ticket purchased, a tree will be planted in partnership with Conservation International in support of Mastercard's commitment to restore 100 million trees by 2025 through the Priceless Planet Coalition.
Exhibition photo credit: Charles Gallay/Getty Images. Glenn Kaino photo credit: Stefanie Kennan/Getty Images