Sustainability
This farm's crop is oxygen. How regenerative agriculture can battle climate change
March 21, 2022 | By Vicki Hyman

The first flock of Merino sheep arrived in Australia in 1797, and within decades, the continent had become the world's largest producer of wool. Today wool, lamb and mutton remain significant exports, with 210 million acres devoted to grazing.

For decades, farmers, encouraged and even incentivized by the government, cleared much of this land, ultimately leading to a reduction in biodiversity and increased erosion. The rising water table created salt scalds in some areas — swaths of salt-crusted earth where no vegetation could grow. Since the late 18th century, about 44% of Australia's native forests have been lost, largely for grazing, cattle ranching and cash crops, increasing the amount of carbon dioxide in the atmosphere and contributing to climate change.
Greening Australia is one of several restoration grantees who are partnering with Conservation International, World Resources Institute and the Priceless Planet Coalition to restore 100 million trees globally over five years. Greening Australia, one of the country's largest environmental organizations, has been working to restore diverse landscapes across Australia for decades, including southern Australia's agricultural landscapes, where the organization reforests paddocks with native species to increase biodiversity, improve soil health and increase agricultural productivity.
For this project, the organization works closely with farmers to restore degraded or cleared land through the planting of native trees and shrubs, providing shade and shelter for farm animals and creating new habitat for native wildlife. Meanwhile, the landowner is paid for some of the loss of production while the trees and shrubs are growing. Greening Australia is restoring 430,000 trees in Victoria and New South Wales through regenerative agriculture, enrichment planting and reforestation.
"It just gives me so much happiness to actually walk through," says Chris Shannon, who, with his wife Margot, produces fine wool in Bookham, New South Wales, about 60 miles northwest of the capital, Canberra. Greening Australia first planted on Shannon's property using the Whole of Paddock Rehabilitation (WOPR) planting method in 2008, and now the 74-acre paddock is lush with belts of eucalyptus and wattles, also known as acacia. "Every time I go up there, you sort of stand around and go, 'Wow, this is amazing.'"
Greening Australia recently returned to the Shannon's property to expand previous restoration works with new biodiverse plantings supported by the Priceless Planet Coalition. The organization's Graham Fifield, who helped pioneer the WOPR method, takes us on the journey: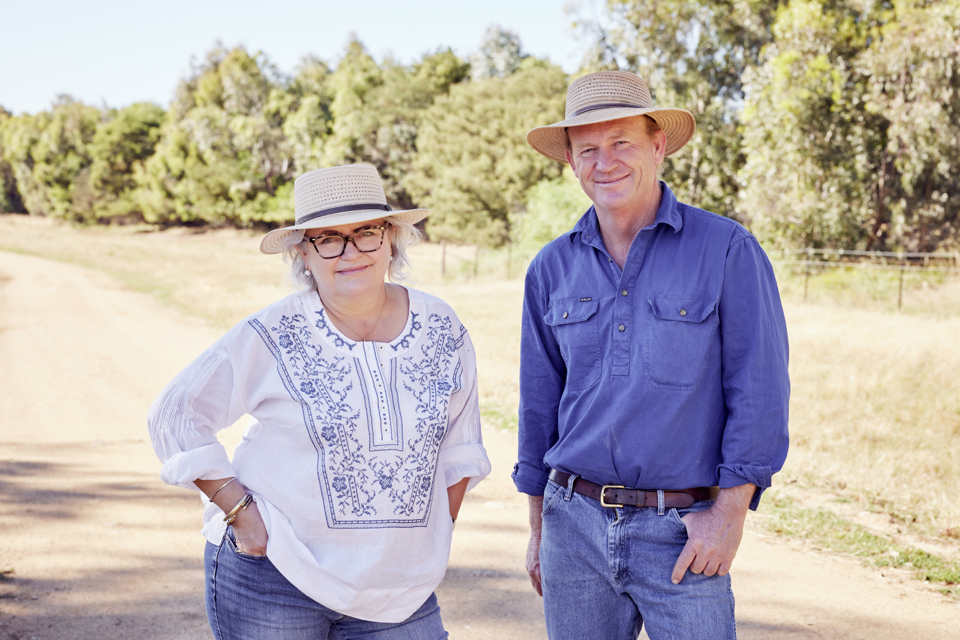 Chris and Margot Shannon's 3,558-acre property, Talmo, has been in Chris's family since 1911. He is the third generation of Shannons to farm the land there, where he has also raised his own family.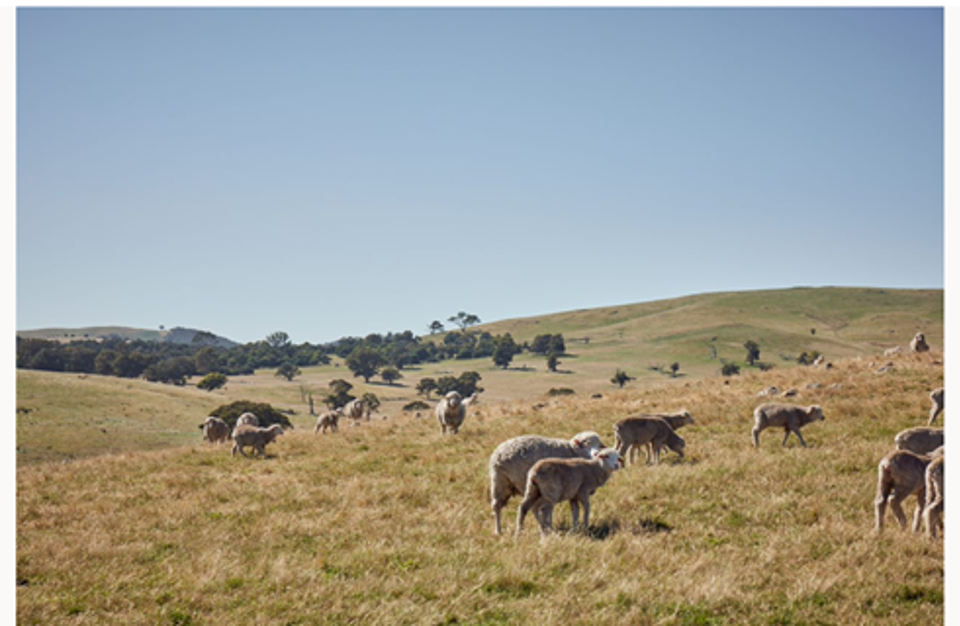 Gentle rolling hills interspersed with rugged outcrops of granite and limestone are typical of the productive wool land in the New South Wales tablelands where Talmo is located.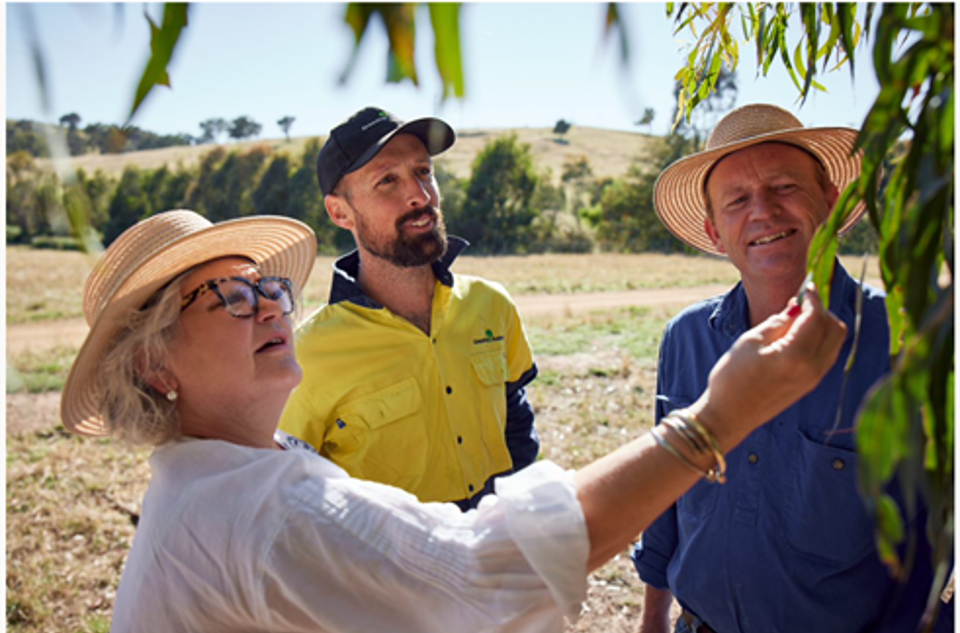 Chris and Margot Shannon, shown here with Graham Fifield of Greening Australia, have partnered with the organization to bring vulnerable landscapes back to life by planting native trees and shrubs in a way that integrates into the agricultural landscape.
A previous planting on the Shannon property demonstrates Greening Australia's Whole of Paddock Rehabilitation restoration method. By providing shade and shelter for livestock while also creating refuges for small woodland birds and other native animals, the technique restores trees while improving agricultural output.
Restoring native trees creates much-needed habitat for native fauna, returning biodiversity to the landscape. Here, a healthy yellow box, a type of eucalyptus, houses a thriving bee colony in a natural hollow.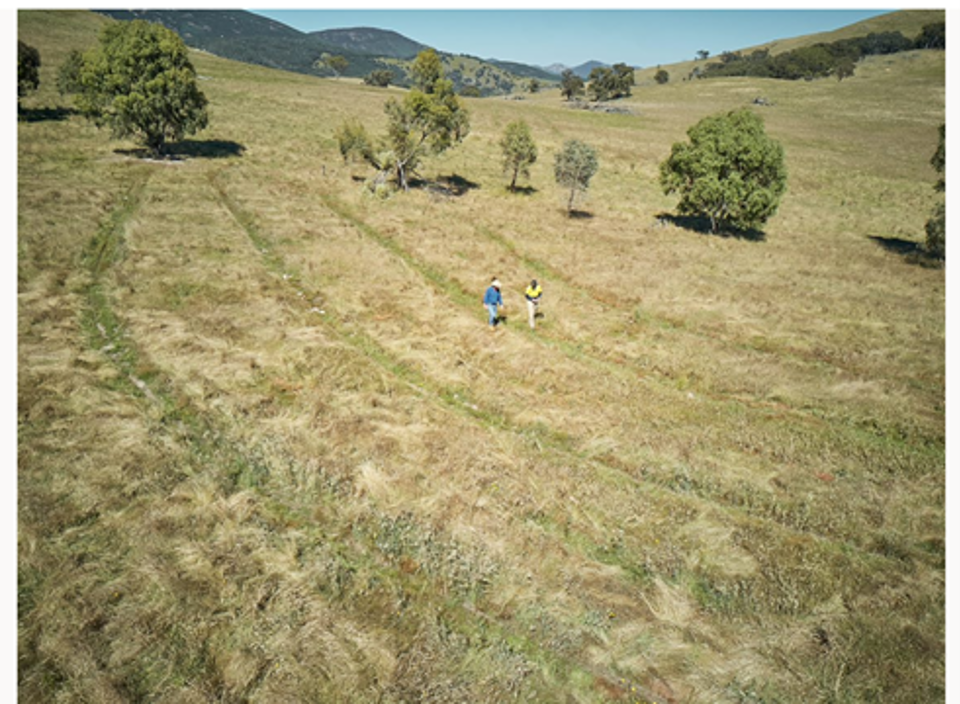 This paddock was planted with seeds of native trees and shrubs in 2021. Shannon and Fifield inspect the planting lines for young seedlings. The paddock is being rested to allow the new planting to establish itself before returning animals to graze. This is a more sustainable way of grazing that benefits both the environment and the farmer.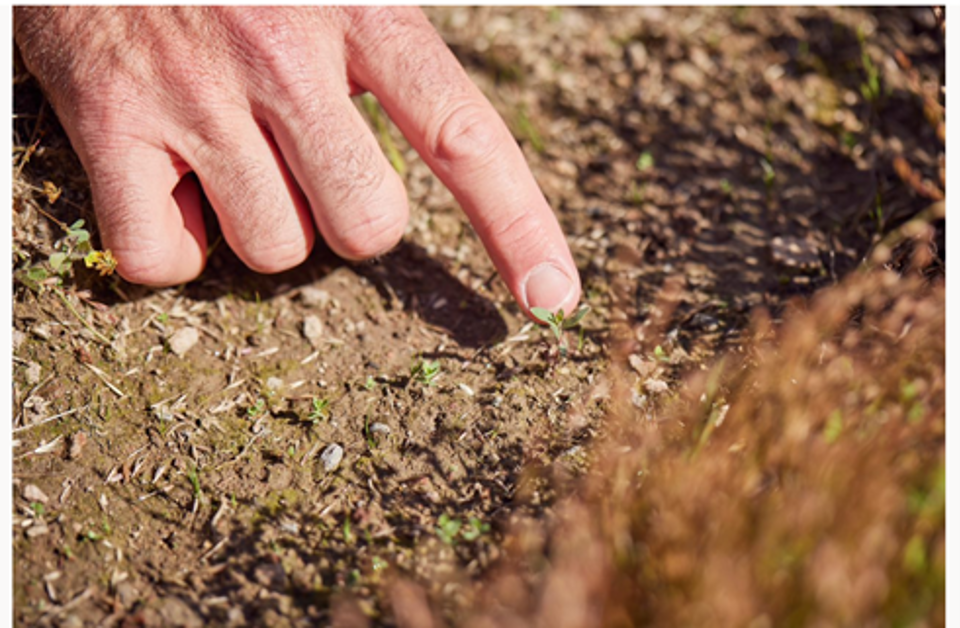 A new seedling emerges, pushing through the dirt to catch the early-morning sun's rays. This seedling is one of many biodiverse, native and locally appropriate trees being planted in 2021 and 2022 in Australia by the Priceless Planet Coalition.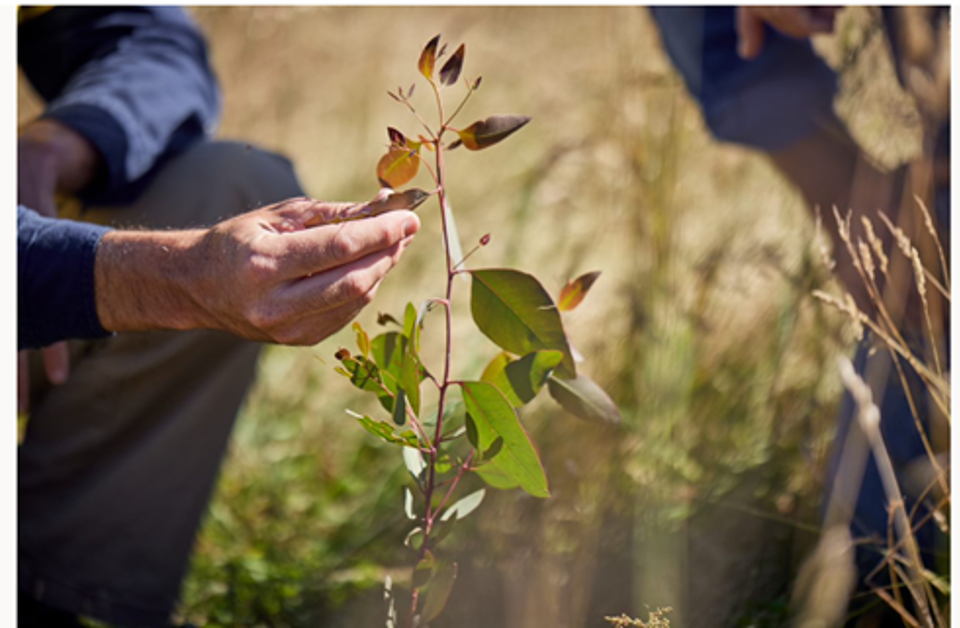 This young eucalyptus will grow up to become one of thousands of trees in a thriving ecosystem that supports strong environmental, social and economic outcomes for generations to come.
Photo credits: Toby Peet/Greening Australia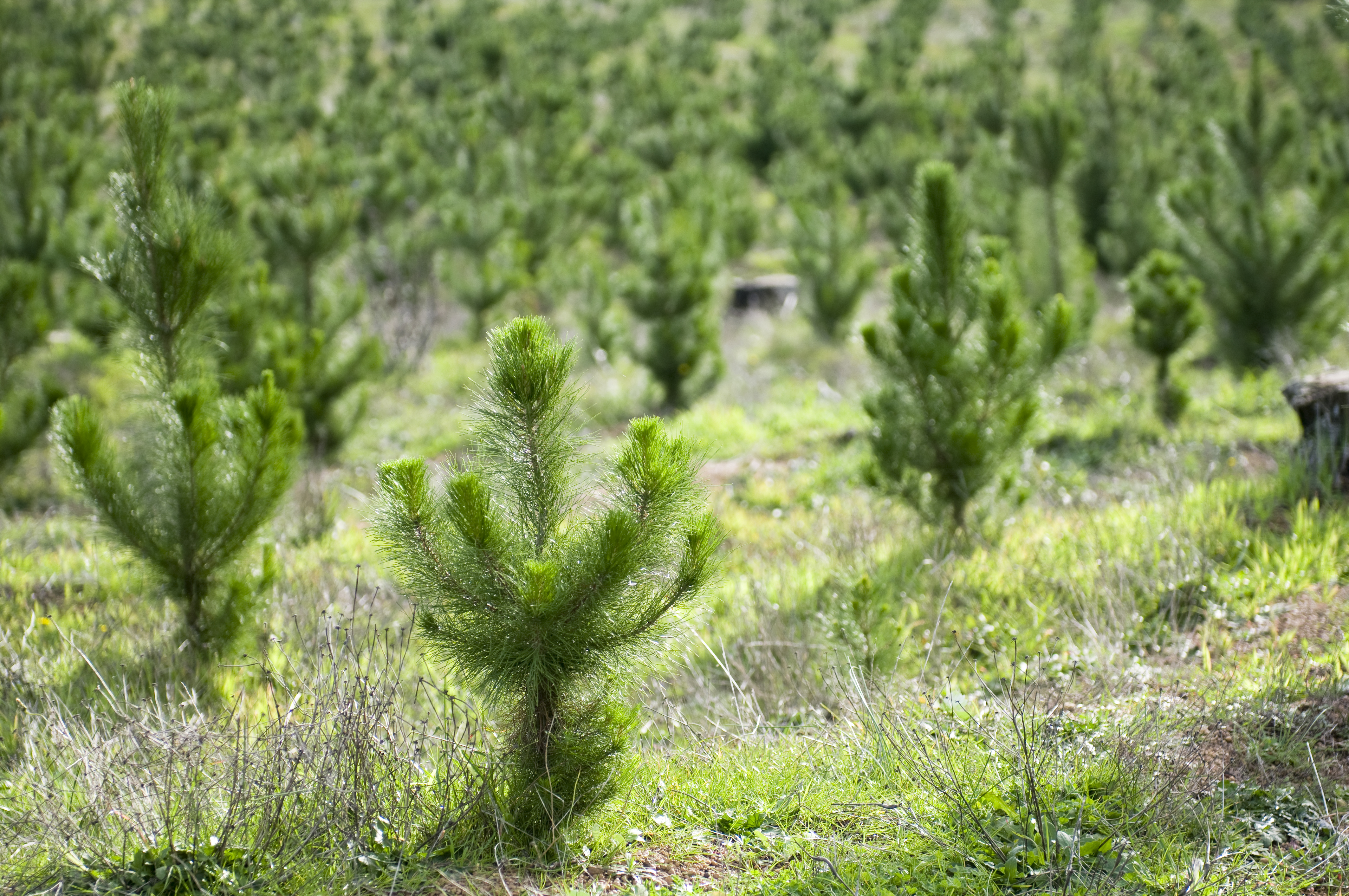 Sustainability
Priceless Planet Coalition
Created by Mastercard, the Priceless Planet Coalition unites companies, communities, and consumers in climate action. Together with more than 85 partners around the world — from global banks to green fintechs, and sustainably minded merchants and retailers — it aims to restore 100 million trees by 2025. Guided by restoration experts Conservation International and the World Resources Institute, the Coalition employs a forest restoration model focused on regrowing forests in areas that represent the greatest global need, starting in Kenya, Australia and Brazil.
Join us in our mission