Our people
Responding to a disaster — and a dog named Bullet
January 17, 2022 | By Vicki Hyman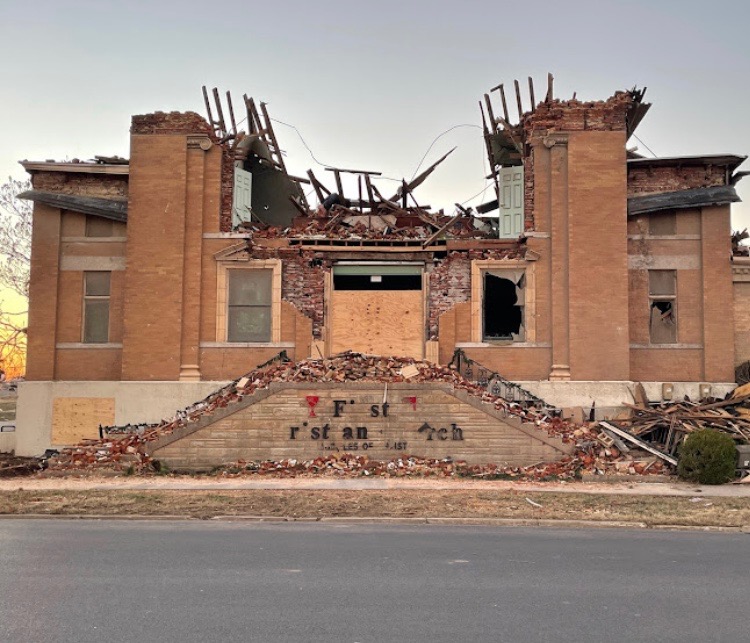 On December 10, a cluster of powerful tornados ripped through Kentucky, Missouri, Tennessee and Arkansas, leaving a trail of destruction across the middle of the country. Western Kentucky bore the brunt of the storm, which killed 77 people and destroyed more than 1,000 homes in the state.
In the aftermath, Mastercard's Susan Warner, vice president for community engagement, reached out to her team of employees specially trained for disaster relief to see who might be available to fly to Kentucky to volunteer with the American Red Cross to support relief and recovery efforts. She got identical responses from several: "My bags are already packed."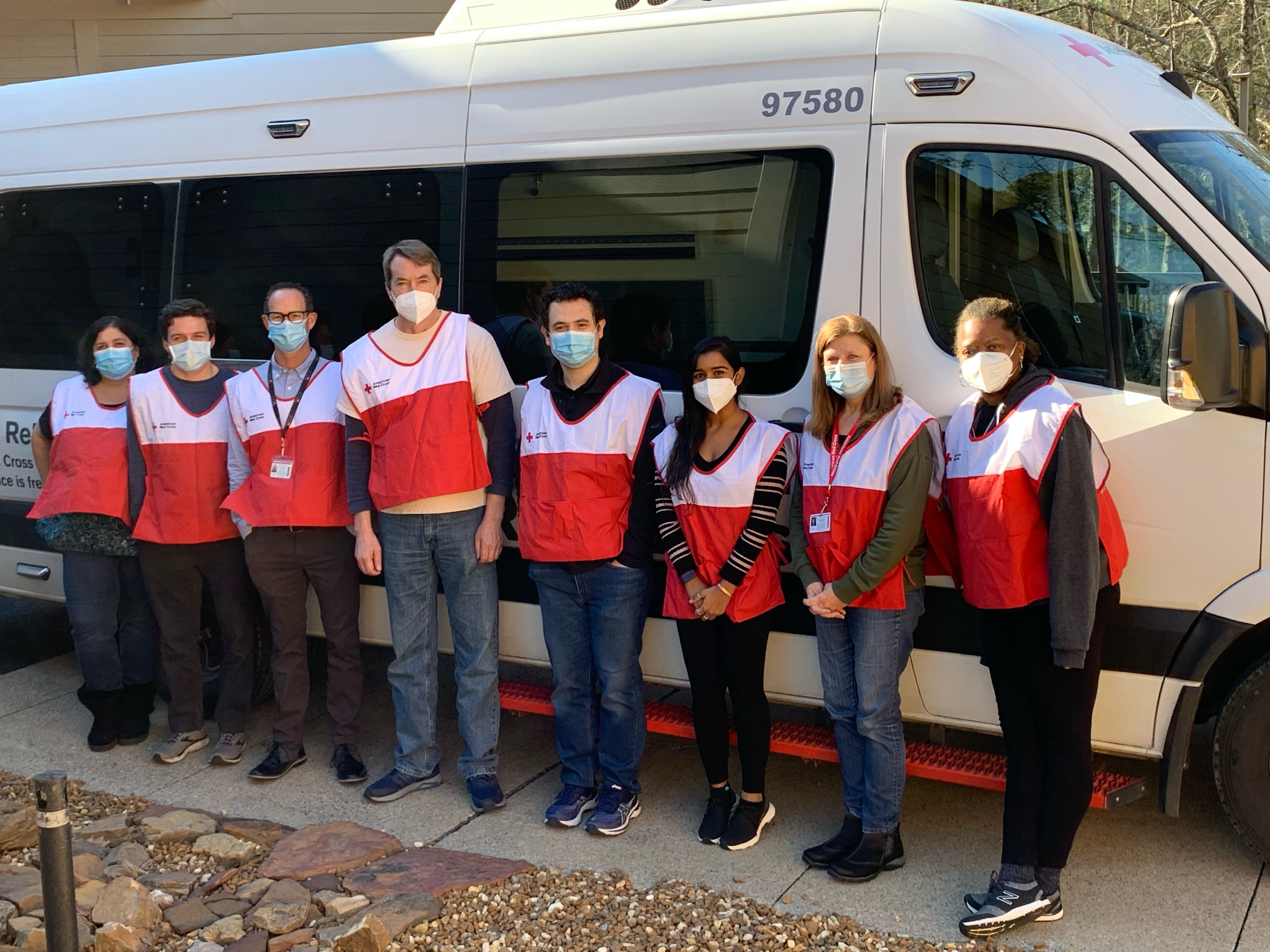 From left: Rhanda Miller, Ryan Morabito, Dan Rich, Steve Light, Amarildo Gjondrekaj, Raina Kadavil, Christy Corrington, and Kimberly Wilson. 
In partnership with the American Red Cross, the company launched its disaster relief corps in 2019, with 40 employees trained in all aspects of aid distribution, disaster assessment and shelter operations. Today, Mastercard has 140 employees trained in the U.S. and Singapore, some of whom have previously responded to Hurricane Harvey in Texas and Hurricane Florence in North Carolina. In addition, a team of responders recently went to Fort Bliss in El Paso, Texas to help Afghan refugees start the resettlement process following the U.S. withdrawal from that country.
Just after the new year, the eight-person team left for Kentucky for its weeklong mission. The Mastercard Newsroom spoke to four of the employees about their experience.
The team worked in client intake, traveling to different communities, assessing property damage and documenting needs in order to generate aid and additional resources. They serve as the face of the Red Cross to those who are starting to put the pieces of their lives back together.
Raina Kadavil, marketing analyst in Data & Services: We listened to children who asked why the tornado came, and if it was coming back every time the wind blew. The stories of people who lost their homes, cars and even their friends and family — sometimes right from their side — got  overwhelming.
Ryan Morabito, consultant in Data & Services: I met with folks who have lost their homes, friends and family. Parents who lost their children. Children who lost their parents.
I drove around some of the affected areas, and I was able to get a glimpse of the widespread destruction. Entire buildings leveled, cars tossed across fields, forests clear cut. It was absolutely surreal. Hearing these stories and seeing such devastation in person was truly heartbreaking.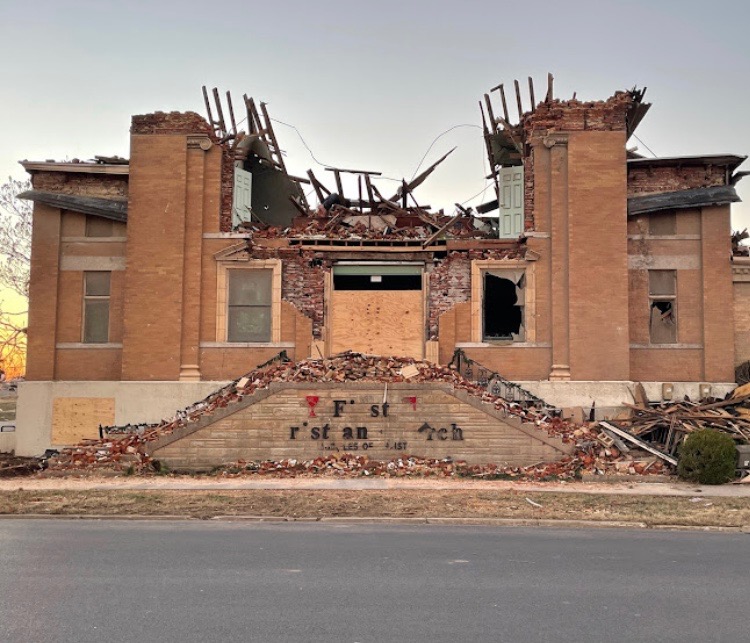 The First Christian Church in Mayfield, Ky., was destroyed in the string of tornadoes that devastated the western part of the state in December. (Photo credit: Christy Corrington)
Halfway through the volunteer mission, a winter storm blew through the region, with Gov. Andy Beshear declaring a state of emergency, temporarily suspending most relief efforts and debris cleanup.
Dan Rich, vice president in Cyber & Intelligence Solutions: With the snow day and ground stop still in effect, and after a delayed start to the day, our team walked uphill both ways in the snow (literally) to the Red Cross Disaster Recovery Operations headquarters to build a couple hundred home kits, including personal protective gear and information on disaster recovery resources, for impacted families. 
When our kit-building job was finished, we didn't want to walk back to our lodging just yet. We took the opportunity to straighten up the command center — disinfecting all the tables, organizing the staff kitchen, stocking the snacks and drinks, and vacuuming the entire command center floor. Then we went back to our lodging before the sundown curfew, hopeful that the next day we could return to helping clients. 

There were some adventures along the way, and pie. Lots of pie.
Ryan: We were driving in Dawson Springs and noticed a stray dog walking in the middle of the road. We called the dog over, hoping to get a picture of his collar. He put his paws up on the driver's side window and then he jumped in through the window! He was covered in mud and definitely needed a bath, but he was so excited to have someone to comfort him. We were able to get his name from his collar (it was Bullet!) and his owner's contact information. Raina called his owner, who told us to meet him at his former address. We drove to the address with Bullet, who sat on my lap the entire ride. Once we arrived, we met Bullet's owner and were able to reunite the two.
His owner Frankie stood in front of his home, which was completely leveled by the tornadoes, and explained that the two of them are staying at a family member's home down the road, but Bullet keeps running back to his former home since it is all he knows. We gave Frankie our condolences for losing his home, wished him well on his road to recovery, and said goodbye to our buddy Bullet, who was so happy to be back with his owner.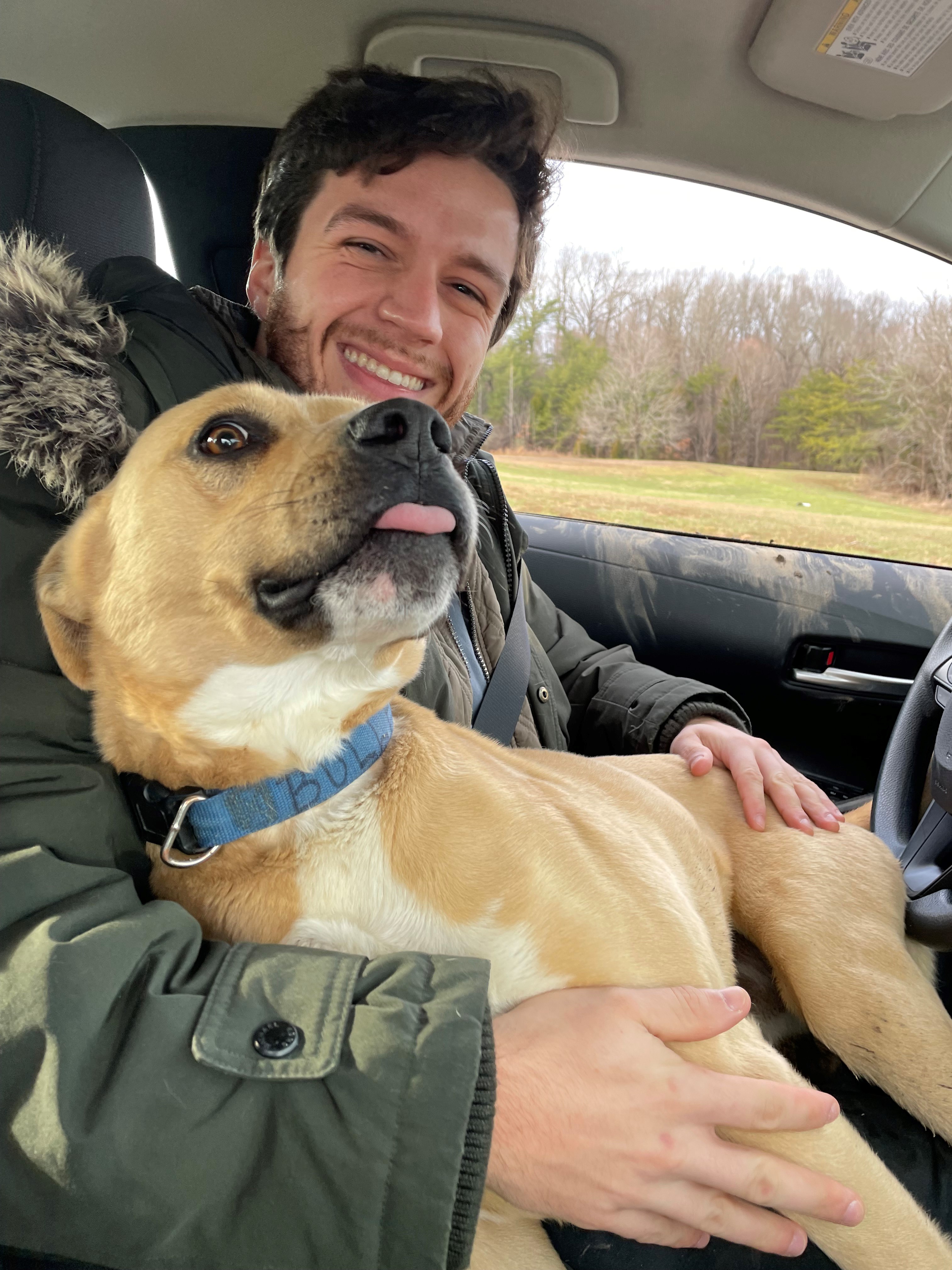 Ryan Morabito and some of his colleagues met a friendly lost dog named Bullet and was able to reunite him with his owner. (Photo credit: Raina Kadavil)
Raina: Half of us excitedly introduced the other half to Waffle House; we sampled a variety of pies at Patti's 1800's Settlement, and we're looking forward to meeting virtually sometime soon to play all the new games we taught each other this week.
We came in as eight strangers of different ages, geographies and Mastercard departments, but after a snowstorm, a lightning storm, dozens of shared client stories, and many hours of driving across states and between sites, we left as great friends. We are so grateful to have had this opportunity to be a force for good where we are needed most.
What struck many on the team was how willing relatives and neighbors who had lost so much themselves were stepping up to help those even worse off.
Ryan: What stood out to me above all the destruction, the pain and the heartbreak was how patient, how resilient, how kind, how giving, and how grateful the people in this community truly were. 
Friends giving friends a new place to stay for free, neighbors cooking meals for one other, a cowboy offering a safe space for anyone to talk. Seeing people come together as a community and work together to overcome such a tragedy was incredibly moving.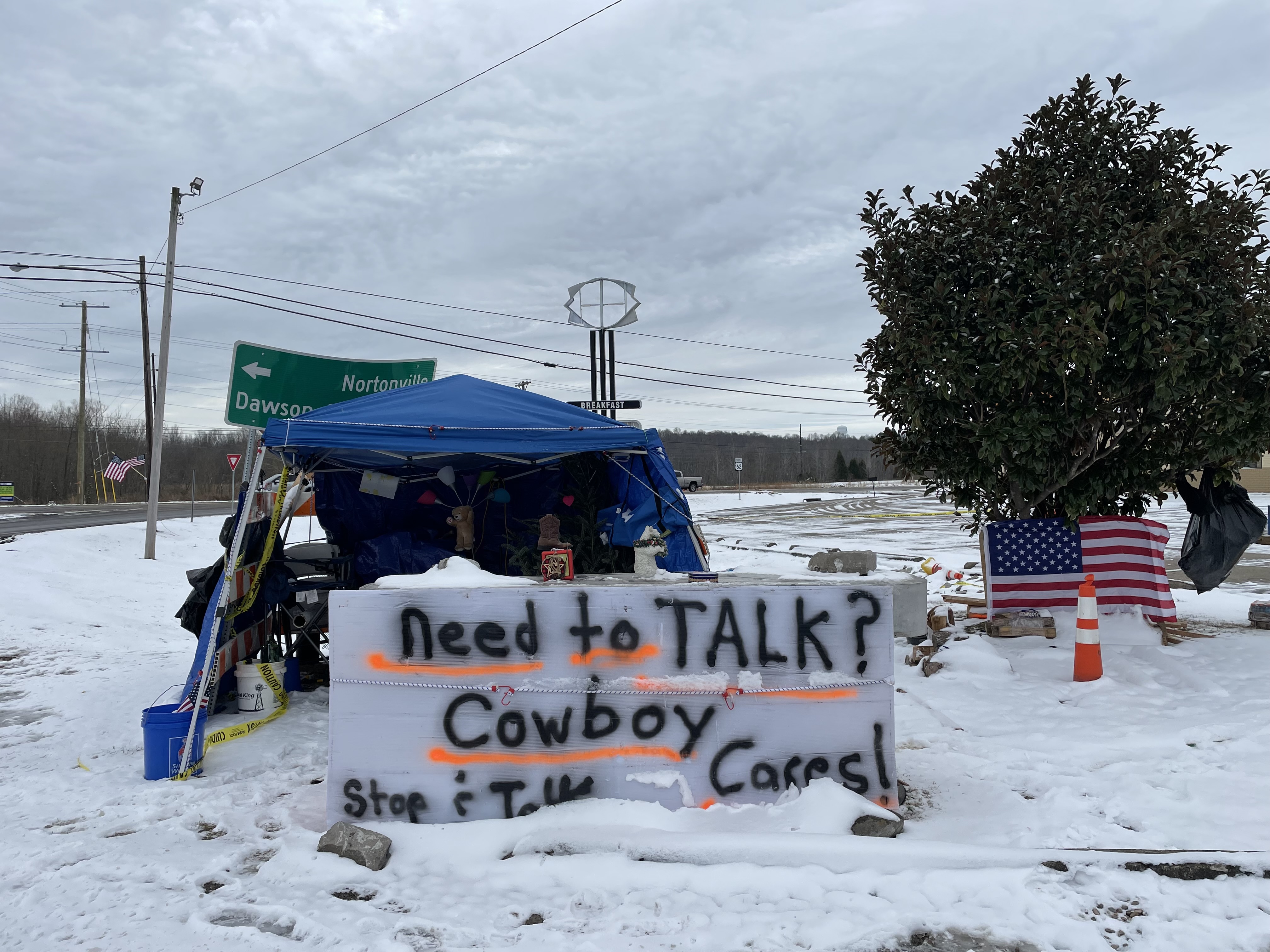 A man nicknamed Cowboy set up a tent in Dawson Springs to offer a supportive ear to those who needed to unburden themselves in the aftermath of the tornadoes. (Photo credit: Ryan Morabito)
Kimberly Wilson, analyst in Operations & Technology:  I spent a lot of time thinking of each of stories that our team heard from individuals that crossed our paths — and how a matter of seconds made all the difference, from someone making it to a safe location to someone losing their home and possessions to losing a friend or family member. We were there with a caring heart and listening ear. Amid devastating loss and tragedies, and with a pandemic continuing to rage, it was also heartening to see people come together to help each other.
The team left Kentucky feeling they'd gained a lot more than they gave.
Raina: Over the last couple of days, many of us had the opportunity to drive through the affected communities for the first time. In some cases, we were even able to identify houses that belonged to clients we'd helped the day before and witness the damage they had described for ourselves. The devastation is tragic, and to connect that tragedy back to the people who had sat in front of us makes it even more surreal.
It really puts things into perspective. How we spend our day-to-day, how we interact with our own neighbors and communities, what we take for granted. To what we are seeing and what we are hearing here in Kentucky. It's made us count our blessings.
Ryan: Here's what I learned and my advice: Be grateful for everything you have, tell the people you care for that you love them often, and find a way in your own life to help other people. And when a stray dog named Bullet who is covered in mud jumps into your car window while you are driving, make sure you get him back home.