Inclusion
A school connecting children to an ancient language gets a digital assist
August 25, 2021 | By Sophie Hares

Born and raised in the Midwest, Senthil Radhakrishnan's two young children struggled to communicate with their grandmother in southern India when she spoke to them in her native Tamil, one of the world's oldest surviving languages.
Determined that his English-speaking daughter and son should develop a strong bond with his Indian family, Radhakrishnan signed both children up, on their fifth birthdays, for the Missouri Tamil School to learn the Tamil language and its curly script.
Now, aged 12 and 18, they are both strong Tamil speakers, and Radhakrishnan, a lead software development engineer at Mastercard, is actively involved in the lively, volunteer-run weekend school in St. Louis, which has grown from just a handful of kids to more than 300 as more Indian families have moved to the area. (In St. Louis and surrounding counties, the Indian-American population has become the largest foreign-born population in the region.)
"It's very important to pass that language to the next generation so they can communicate back home with their grandparents and easily connect with their tradition and cultural heritage," he says.
When COVID-19 hit and the school had to shut down its colorful, play-based classes, the nonprofit school decided to quickly move its program online, with the strong support of around 70 local volunteers, says Sivasankar Sankaranarayanan, the current volunteer president.
"Even if a child misses a couple of classes, and they're not speaking Tamil at home, they forget," says Sankaranarayanan, who works as a technical consultant at a St. Louis financial services firm. "The pandemic really helped us open doors on the technology side."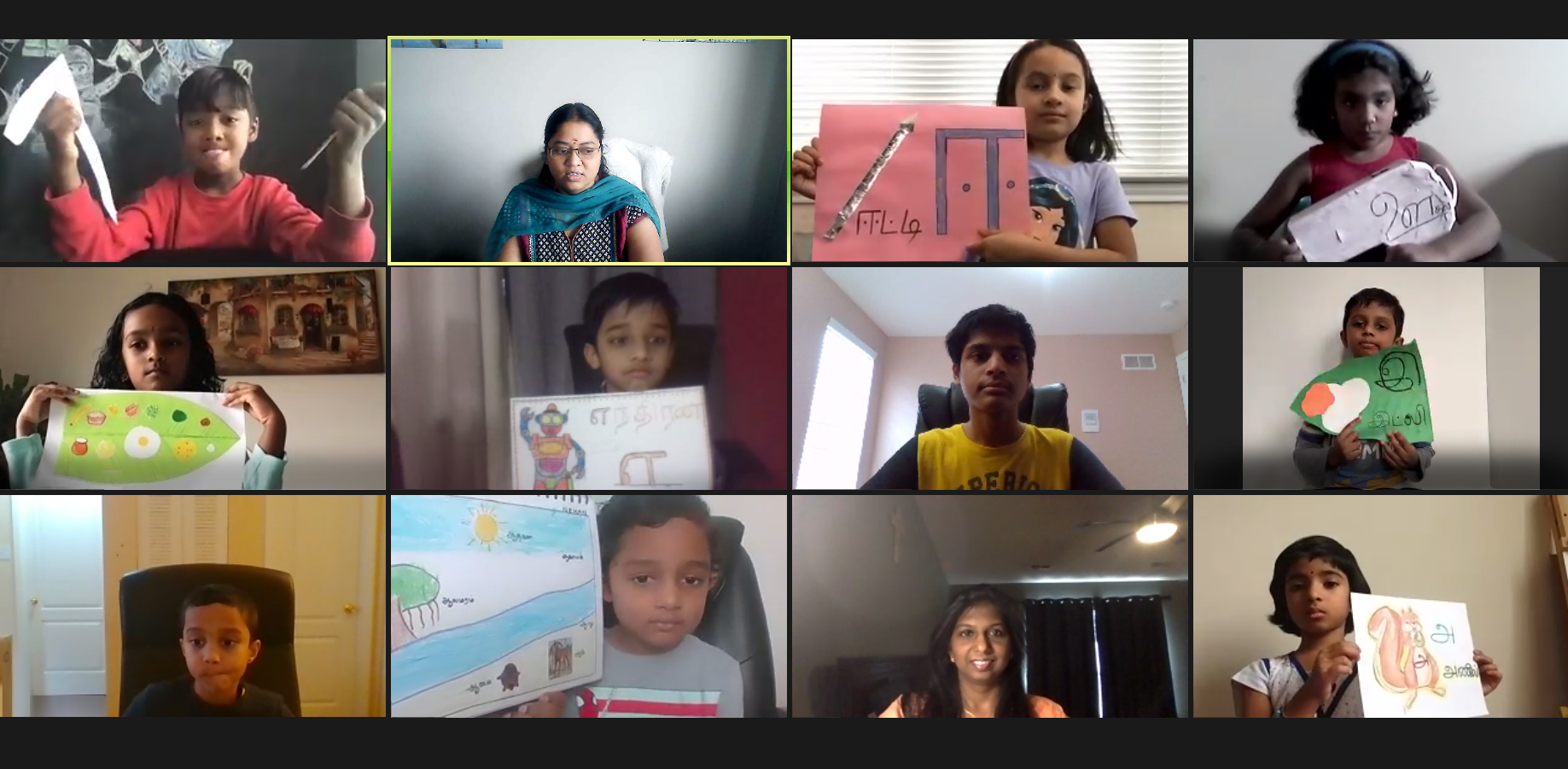 Radhakrishnan and six of his colleagues at Mastercard's O'Fallon, Missouri, operations center — all natives of the southern Indian state of Tamil Nadu — worried that their children would forget the language skills they had worked so hard to build. So they used their own technical skills to shore up the school's digital presence.
Working late into the evenings and through the weekends, they helped the school bolster its website to allow it to better host online classes and integrated online payment and enrollment systems.
A network of Tamil schools is now expanding across the U.S. as many expatriates look for ways to keep their American-born children in touch with their rich culture and learning their 5,000-year-old language.
Spoken by more than 75 million people, Tamil is an official language in Tamil Nadu, Sri Lanka and Singapore. Thanks to the far-flung Tamil diaspora, it is also widely used in Malaysia, Sri Lanka, Mauritius and Fiji.
While some of the volunteer teachers needed training to adapt to the Zoom lessons, the digital-native students easily made the switch. Cultural lessons, like learning Tamil songs and playing the parai (a traditional round cowhide drum),  also moved online.
The digital connection also opened up new opportunities for the students, who connected with expert teachers in India to take classes in subjects like silambam, a traditional martial art that uses a bamboo stick.
Missouri Tamil School plans to run a hybrid of online and physical classes for the new school year. The Mastercard volunteers — who also included Arunadevi Kumar, Deepa Swaminathan, Karthikeyan Rathinam, Nandakumar Haridoss, Raja Krishnasamy and Annu Kannan — are sharing their knowledge and experience with others around the country who want to start their own Tamil schools.
For Radhakrishnan, his diverse volunteer experiences at the school — which have ranged from teaching kids Tamil to setting up tech systems and acting as president — have bolstered his leadership and management skills.
But maybe more importantly, they have allowed him to help connect the next generation to the heritage that formed him: "As Nelson Mandela said, when you're talking to someone in their own language, you're talking to their heart."
Photos courtesy of the Tamil School of Missouri