Inclusion
In Atlanta, making data work harder to mint opportunities for all
April 11, 2023 | By Anthony Venutolo
Atlanta routinely makes the "best cities" lists — best places for creatives, best places to start a business, cities with the most Fortune 500 company headquarters, and, most recently, it topped Money magazine's annual "Best Places to Live" ranking.
But Atlanta also finds itself at the top of a far less vaunted list: It ranks first for income inequality among large cities, according to the latest U.S. Census data, with experts pointing to deep-rooted racial disparities in a city that is nearly 50% Black.
The innovation for which the city is celebrated has not reaped benefits for all of its citizens, but that can change. In fact, innovative data tools and partners that connect Black families and entrepreneurs to the digital economy could go a long way in creating a more inclusive and equitable city.
In the latest episode of "What's Next In," Mastercard's podcast that informally explores technology, innovation and ideas, host Vicki Hyman chats with Atlanta's deputy chief equity officer La'Shawn Brown Dudley and Salah Goss and Arturo Franco, both with the Mastercard Center for Inclusive Growth, on how harnessing data with inclusion in mind can help leaders make smarter decisions and use their resources more effectively.
"We've been able to gather a lot more data that is continuing to help us understand the neighborhoods that we are responsible for and that we serve," Dudley says. "How can we create a systematic way for our city to utilize that data so it's more meaningful and that we have a more intentional approach to how we're reaching communities and neighborhoods?"

Dudley was part of the inaugural cohort of Data for Equity, a 10-week program that brought together equity, technology and data officers from around the country to learn new ways to use the power of data to advance economic inclusion. Launched by the Centre for Public Impact and the Center for Inclusive Growth, the program builds on Mastercard's $500 million In Solidarity initiative to narrow the racial wealth and opportunity gap, with a focus on Atlanta and six other American cities.
In Atlanta, that work includes a $950,000 grant to the Russell Innovation Center for Entrepreneurs to support RICE's Big IDEAS curriculum, including education, technical and financial assistance, and support of Operation HOPE's 1 Million Black Businesses initiative, to create and grow Black-owned businesses through financial wellness education, small business coaching and help accessing capital.
To learn more, stream "What's Next In" in the player above and subscribe on Apple Podcasts or your favorite streaming platform.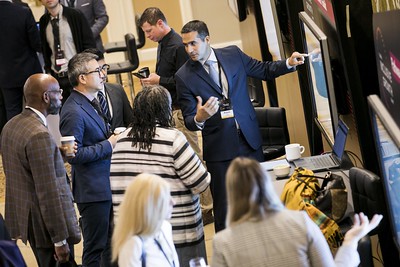 Event
Propelling inclusive growth
When informed by data, place-based efforts to improve equity and inclusion can be even more impactful. Learn about this model and how else we can deliver on the promise of technology, data insights and public-private partnerships at the Global Inclusive Growth Summit in Washington. D.C. on April 13.
Register for the livestream