Inclusion
Elevating Atlanta's Black entrepreneurs takes a 'Village'
June 25, 2021 | By Sophie Hares
Atlanta entrepreneur Ikeda Myers had long dreamed of transforming her Love Ground Candle Co. from a successful side hustle into a full-time job.
But renting studio space for candle making and investing in industrial-scale equipment to expand have been serious roadblocks. That left her to hand-pour her fragrant soy candles in her kitchen, working on her passion project before her two young daughters wake up in the morning.
Now, thanks to a new incubator program for Black microbusinesses, she is a step closer to making her ambition a reality.
Selected from more than 200 applicants, Myers was one of 41 Black business owners to take part in the first Elevate program created by Our Village United, or OVU. The Atlanta nonprofit brings tools, training and mentorship to a community of entrepreneurs that has been cut off from traditional paths to success.
"Once upon a time, it was unheard of for us to have our own businesses, let alone receive resources," says Myers, 39, who also works full-time as operations coordinator for a food rescue program. "Having this platform with entrepreneurs, investors, experts who look like me means so much."
The program is part of a larger push in the U.S. to provide greater support to Black businesses to address long-standing inequalities. Many major corporations and the public at large have stepped up with increased funding, giving organizations like Elevate an opportunity to reach more Black business owners.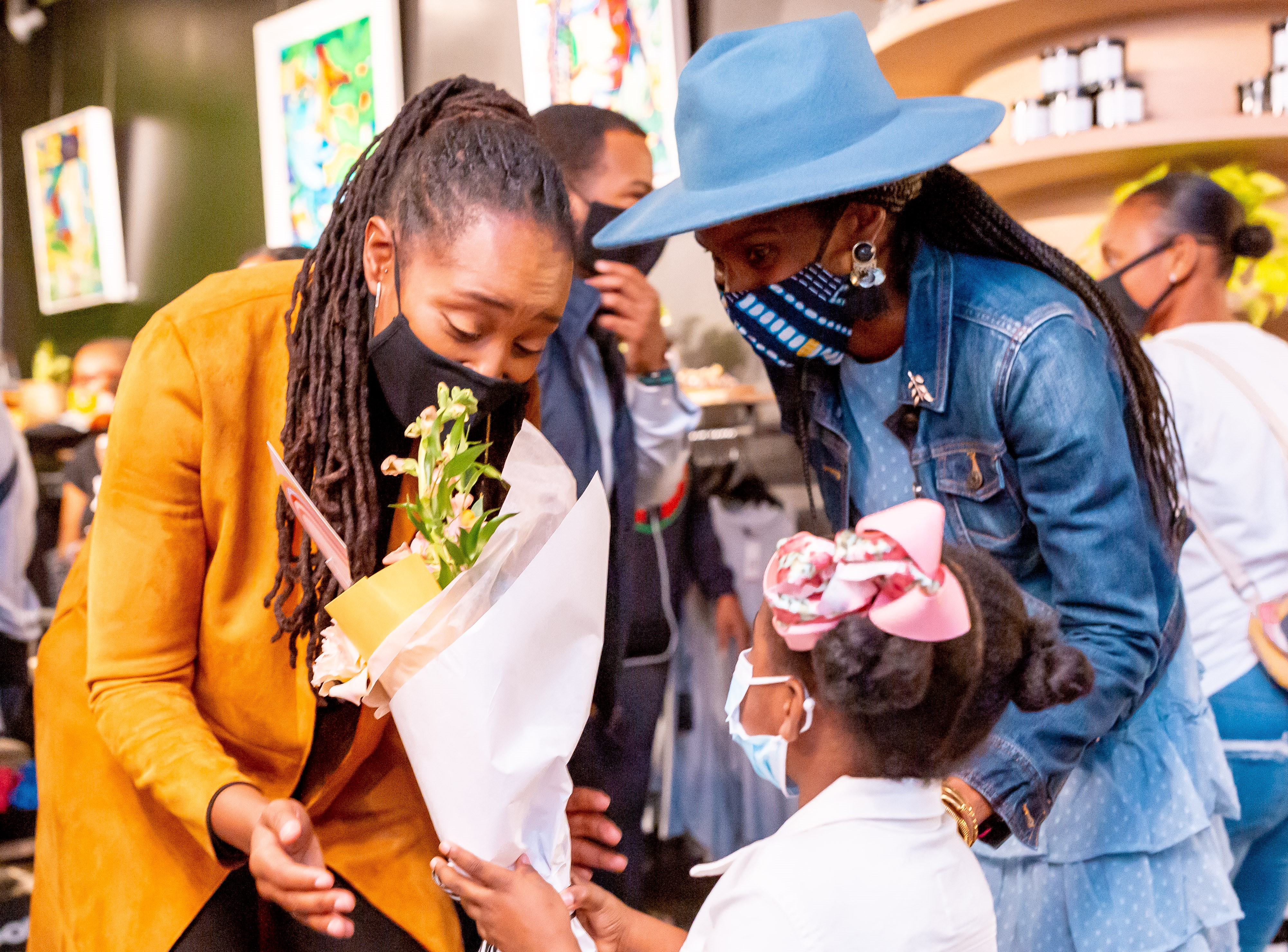 Lakeysha Hallmon, left, receives a bouquet from Ikeda Myers' 4-year-old daughter at the grand opening of The Village Retail at Ponce in December. "Being surrounded by Black entrepreneurs who are walking in their light, breaking barriers, owning businesses and inviting others to have a seat at the table is something that she will keep with her for years to come," Myers says. (Photo credit: Carol Lee Rose/Colurwrk)

Elevate is a 12-week online program that, in addition to traditional training — sales, digital marketing, business coaching and mentoring — provides one-on-one sessions with a clinical psychologist to help entrepreneurs avoid the burnout that often comes with building their businesses.
She launched the nonprofit in 2017 to combat deep-rooted inequalities and institutional racism that prevent many from accessing mainstream financing. Throughout the year, in partnership with Hallmon's other company, the Village Market ATL, she and her staff curate retail events that introduce Black businesses to thousands of consumers. With more revenue at their disposal, these businesses can then hire more people of color, increasing their community impact as they grow. So far, OVU has generated $4.5 billion in sales and contracts for Black-owned microbusinesses and helped almost 1,000 people through its training sessions and educational workshops.
But the pandemic dealt a body blow to Black businesses, with more than 40% forced to close between February and April 2020 alone, according to a study for the Stanford Institute for Economic Policy Research.
In Atlanta, shutdowns forced OVU to call off its popular market events and it was "slammed," Hallmon says, by calls for help from Black business owners desperate for advice and struggling to access federal Paycheck Protection Program, or PPP, loans.
"The pandemic crippled Black businesses. They were not getting the support they needed through PPP, so it was foreclosure," she says. And because so many entrepreneurs of color do not have access to generational wealth, they lack a financial cushion when things go wrong.
To help micro-entrepreneurs "pandemic-proof" their businesses, Hallmon had to drastically shift tactics. She worked closely with participants to figure out how to build online stores and devise digital strategies, expanding her team to cope with the heavy demand.
She also offered "Saturday school" classes that connect entrepreneurs with accountants and small-business lawyers. Experts walk them through the process of applying for loans, building business credit and preparing investor pitches.
And, to help businesses stay afloat, OVU recently opened The Village Retail store in Atlanta to sell products from nearly 30 Black entrepreneurs, including candles made by Myers as well as jewelry, T-shirts and hoodies with OVU's "Support Is a Verb" slogan. Customers can either shop online, pick up orders in-store on the same day or shop at the store, which must adhere to COVID-19-safe protocols.
Through its In Solidarity commitment, Mastercard is working with The Village Market to strengthen Atlanta's Black-owned companies, increase financial inclusion and boost economic development.
Mastercard, which has committed $500 million in support of Black communities to help close the racial wealth and opportunity gap, will partner with The Village Market to work with Black entrepreneurs in Atlanta to enhance their online presence, grow and manage their business, accept payments and strengthen cyber security through the Mastercard always-on Digital Doors program and a collaborative digital education series. The Mastercard partnership will also provide grants for small businesses that participate in The Village Market's Elevate program, tailored to serve the most urgent needs identified by local small businesses.
As Hallmon continues work to expand OVU and roll out Elevate nationwide, she is heartened that many of her participants, most of whom are female, are starting to see a boost in sales already.
"I've been crying, we're looking at their exit responses right now," Hallmon says. "Businesses have shared that they've hired people for the first time, they've got grants for the first time. We are an extremely impactful small organization, which is amazing."
This story was originally published April 20, 2021. It was updated to include new details about Mastercard's partnership with The Village Market.