Inclusion
How DA SPOT NYC pivoted to survive the pandemic
February 9, 2021 | By Amy Kover
On a rainy night in 2015, Michelle Cadore was walking home from work feeling dejected about her stalled career. Then a cab drove by, splashing her from head to toe. That was her wake-up call. "There's got to be something more to my life," she thought to herself.
As a little girl, Cadore was always enlisting her neighbors to help her sell anything – lemonade, old books, toys – to passing cars on her block. Many years later, she helped entrepreneurs as a program manager for New York City's Department of Small Business Services. It wasn't until that night that she realized she'd rather be in business for herself.
What she envisioned: A brand with reaffirming messages designed to inspire and empower, as well as a space where Black fashion designers and other creators could showcase their work, helping the people in her community realize their own dreams.
So that year, with the help of her design mentor Frantz "FACE" Farnoile, she launched Yes I Am, an apparel line featuring playful yet empowering messages such as "Black Girl Magic: It's Real," "But She Didn't Quit Tho …," and "All She Knows Is Hustle." (And, true to the last slogan, she also found a new job with a nonprofit and negotiated a hefty salary increase.) A year later, she, FACE and another partner pooled their money to launch DA SPOT NYC, a 100-square foot boutique for creators of color featuring more than two dozens brands from Black designers.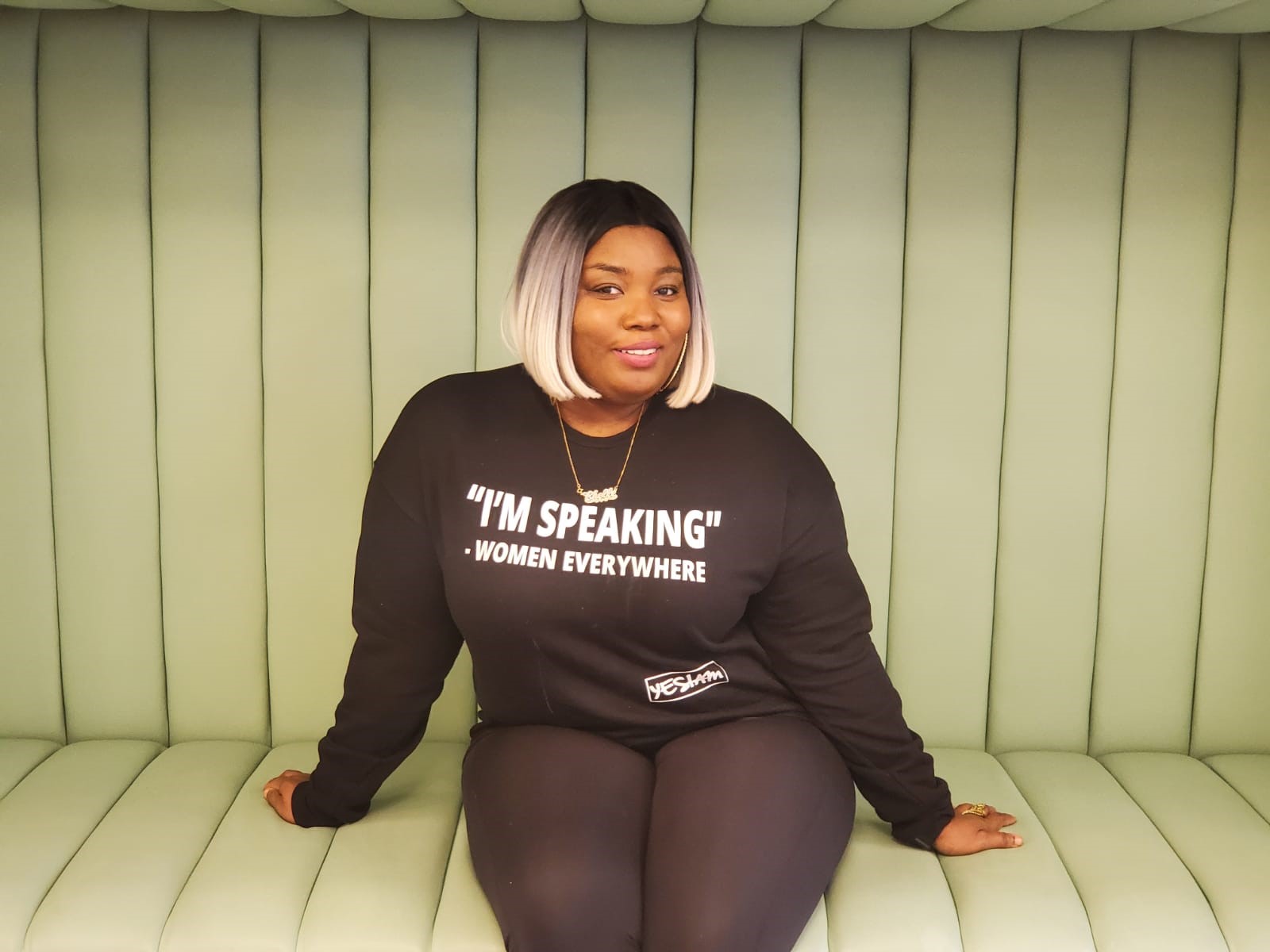 Pictured: Michelle Cadore, founder of Yes I Am.
But dreams don't often come easily. There are so many challenges that can stand in the way of entrepreneurs – particularly Black entrepreneurs and doubly so as the economy pulls itself out of a painful pandemic. While there's a lot of work to do to level the playing field for minority businesses, there have been material efforts to bring about that change following a wrenching 2020. Some of that help has come through government funding and new digital services to bring more retailers online, where many customers have migrated this past year.
These aren't simple fixes, of course. For instance, Cadore mentioned that Black designers often struggle to get their work picked up by retailers. According to a 2020 report from McKinsey Consulting, 20% of Black Americans start their own businesses, but only 4% of those ventures survive the startup stage. Even nonwhite entrepreneurs with strong credit are half as likely to receive full funding from lenders than their white counterparts.
The struggle of Black entrepreneurs to grow is also one with which Cadore is familiar. In 2019, she expanded DA SPOT NYC to a 1,000-square-foot space in City Point, a trendy Brooklyn mall. "We saw this space three years ago and envisioned this as ours," she says. "We actually spoke it into existence."
After three years of working full-time while growing two businesses, by December of that year Michelle was finally able to realize her dream of transitioning to full-time entrepreneurship. But just as she was getting into the groove of the new location, everything came crashing down when COVID-19 hit. What she hoped would be a two-week shutdown stretched into six months as stores in malls were among the last permitted to reopen in New York City. 
So, like millions of other business owners, she applied for an emergency federally-assisted loan. Initially, Cadore was rejected because her credit score wasn't high enough. However, she was able to improve her credit and successfully appeal her request. "It's sometimes hard, especially if you are self-funding, to stay on top of your personal credit. Then add an economy-halting pandemic to the equation. That was a sobering reality," Cadore says. "I had to buckle down, shift my relationship with debt and get disciplined quickly."
As she was appealing her request, she also discovered that because her shop works on consignment and carries little inventory expenses, she was eligible for more assistance than initially offered. 
Cadore also adopted a new daily survival mantra: "Pivot, pivot, pivot." That meant increasing her online presence. She revamped her website, adding curbside pickup, and developing partnerships with online retailers. Then she turned to Mastercard's Small Business Digital Readiness Diagnostic, a free online program that helps entrepreneurs determine what their digital business model needs to be effective and then provides them with the necessary tools and services.
In Cadore's case, she pulled together a suite of tools from Mastercard and its partners. It included a year's worth of Salesforce Essentials software to manage customer data and build loyalty, as well as Mastercard's cybersecurity and identity theft protections. As part of her digital makeover, Mastercard also coordinated training from a CPA on Intuit's QuickBooks to help speed up account reconciliation and inventory management. Since then, she reports that her online business has increased from 5% of total sales to about 50%.
In September, Cadore was able to reopen her physical storefront, welcoming more than 125 eager shoppers that very first month. Since then, she has had a steady stream of visitors and has other plans in the works, such as partnering with City Point to host the Black Creatives + Culture Market, an indoor event that will feature brands from creators of color, a live art exhibition and a DJ.
With each new venture, Cadore hopes to carry forward her message to Black entrepreneurs and creators: "We have the power to create our reality."