Press Release
Is Your Business Ready for the Digital Future? Mastercard Launches Small Business Digital Readiness Diagnostic to Help Businesses Go Digital
October 1, 2020 | Purchase, NY
Company adds diagnostic to its Digital Doors resource center providing end to end solution and furthering its efforts to bring 50 million small businesses into the digital economy

Digital Makeover of NYC Small Business Brings Solution to Life
As small businesses accelerate digital transformation efforts in response to the pandemic, today Mastercard is announcing the U.S. launch of the Small Business Digital Readiness Diagnostic, a free online tool to help entrepreneurs future-proof their businesses for a digital world. The new Diagnostic tool is an expansion of Mastercard's Digital Doors curriculum, which helps to ensure businesses have the right tools to maximize their digital presence.
"In the midst of a massive shift to digital spending, businesses everywhere and of every size are trying to appeal to a changed and changing consumer," said Dimi Dosis, President of Advisors for Mastercard. "With the Mastercard Small Business Digital Readiness Diagnostic, our mission is to help as many small businesses as possible better understand and expand their digital capabilities so they are positioned to seize the online opportunity and future-proof their business."

Determining Digital Readiness
Beyond expanding a business' reach, going digital allows business owners to play a bigger role in the customers' journey. In fact, according to a Mastercard study, 76% of small businesses across North America say the pandemic prompted them to become more digital. The Digital Readiness Diagnostic is a carefully developed solution that gauges a business' strengths and weaknesses across the digital space and generates customized recommendations to help owners meet the needs of today's digital environment.
The Digital Readiness Diagnostic tool helps assess a business across six key dimensions, including:  
Overarching Business Strategy

Management & Operations

Business Growth and Marketing

Getting paid

Making payments

Protecting Your Business Including Employees & Customers
 Based on the online evaluation, the Diagnostic tool provides a performance score and benchmarks a business against industry best practices to provide clarity on how well-equipped the business is for the digital future. It also provides customized, expert recommendations on considerations for each of the assessed dimensions to drive greater efficiency and effectiveness.

Implementing and Opening Digital Doors: A Digital Makeover Case Study
Small business owner Michelle Cadore – founder of Yes I Am clothing brand and DA SPOT NYC boutique based in downtown Brooklyn, was forced to close her doors for six months when the pandemic hit. Fortunate for Cadore, she was able to quickly pivot her business and focus on online sales, and partnerships with online retailers. In June, seeing the shift in consumer behavior she added curbside pick up to her customer offerings. DA SPOT NYC reopened to the public in September, and Cadore is welcoming back foot traffic under new retail guidelines, while continuing to reinforce her digital presence. In an uncertain retail environment where things can change at any given moment, Cadore wants to ensure that she can continue to serve her customers and her community without interruption.
"DA SPOT sells over 25 local and independent creative brands so having our doors closed impacted more than just my bottom line. By shifting our focus to e-commerce, we were able to stay connected to our customer base and keep our creative community alive," said Michelle Cadore, Founder of Yes I Am clothing brand and DA SPOT NYC boutique. "We realized the strength of our online presence in this new environment, and by working closely with Mastercard were able to identify additional digital resources to improve our business efficiencies and customer engagement."
As a part of her digital strategy, Cadore took the digital diagnostic to assess opportunities for enhancement to her business and day to day operations. Thanks to the Mastercard diagnostic, Cadore was able to identify a customized suite of solutions to improve four areas across her digital strategy. Leveraging Mastercard resources and partner solutions, Cadore's business underwent a Digital Makeover that includes the implementation of the following tools and resources:
To help improve her customer data management and further foster customer loyalty Cadore will receive a year of Salesforce Essentials management
To streamline account reconciliation and foster greater inventory management Mastercard has coordinated Intuit training on QuickBooks
To ensure Cadore's business, employees and customers are protected against cyber threats, she has received a free cybersecurity vulnerability assessment from RiskRecon and access to Mastercard ID Theft Protection™
To enhance her customer digital payment & acceptance experience Mastercard consulted with Cadore on best practices around digital payment acceptance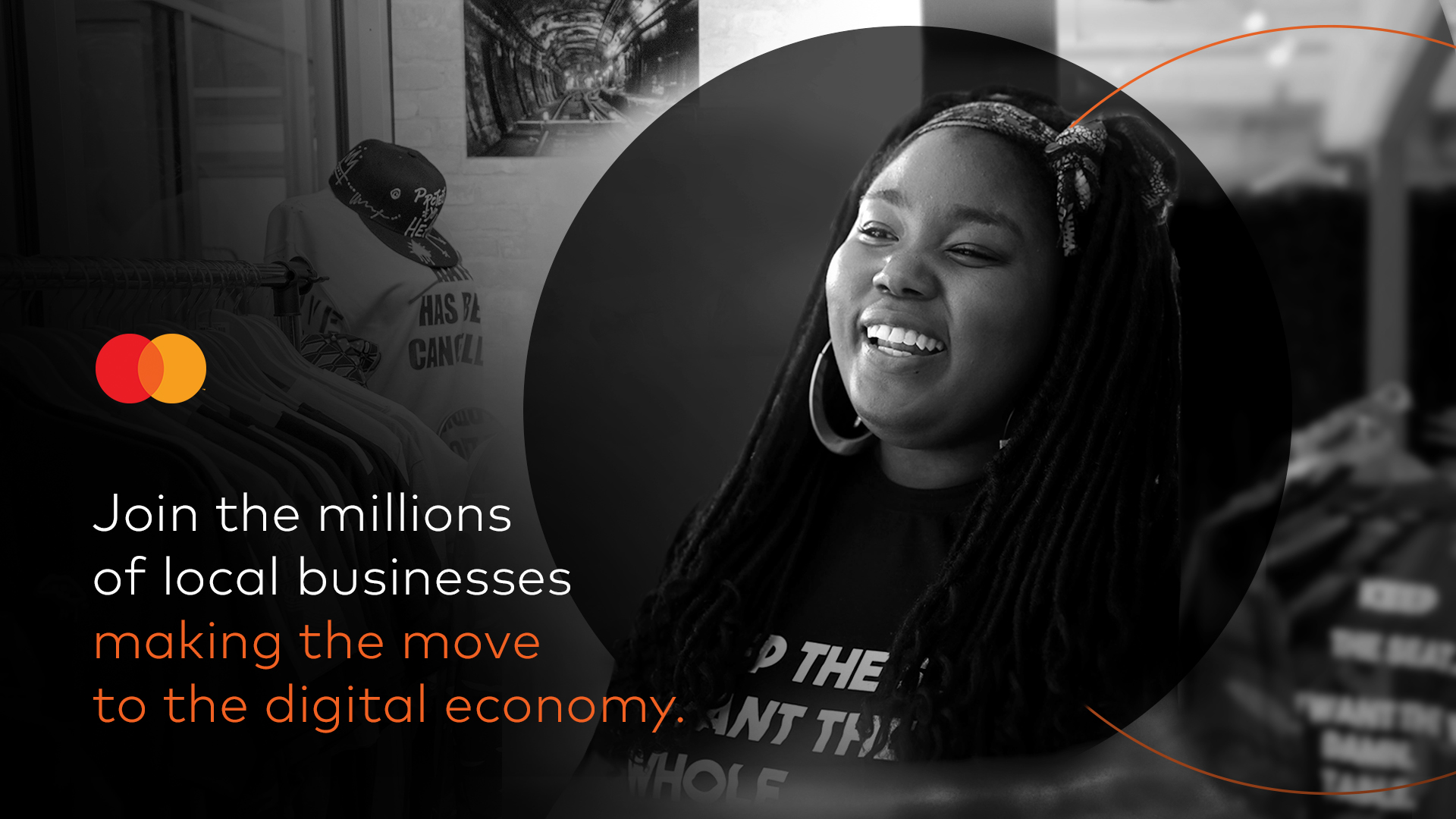 Building An Inclusive Digital Economy
Supporting small business owners is nothing new for Mastercard, which has long been committed to building an inclusive digital economy. The Digital Readiness Diagnostic tool, and broader Digital Doors program, is just one way this commitment is coming to life. These efforts build on Mastercard's pledge to bringing 50 million small businesses and 25 million women entrepreneurs into the digital economy by 2025.
Our local main streets have been amongst the hardest hit from the COVID-19 pandemic. To help support U.S. small businesses through this crisis, Mastercard announced in April a commitment of $250 million over five years to support small businesses in the United States and other markets where we operate. As part of the commitment, we will provide U.S. small business owners with access to necessary resources to help protect their business and their employees.