Innovation
Could alcohol monitoring and speed control come standard?
October 20, 2022 | By Anthony Venutolo

The National Transportation Safety Board is throwing its support behind a measure requiring alcohol impairment detection systems or advanced speed monitoring systems in all new vehicles to stem the rise in drunk driving and speed-related crashes. Though the NTSB has no authority to implement the measures, it is calling on its sister agency, the National Highway Traffic Safety Administration, to do so.
How soon? Well, the call for a passive alcohol monitoring system comes after the passage last year of the Infrastructure Investment and Jobs Act, which gave the U.S. Department of Transportation three years to come up with a requirement for such a feature in new vehicles — although, as news reports note — such requirements are often delayed. And the NTSB has been calling for years for what is known as an intelligent speed adaptation system, which can warn drivers they are speeding or even electronically override a lead foot. 
Autonomous driving systems and safety-oriented tech are becoming more common (and budget-friendly), but that doesn't necessarily mean that all drivers will be on board with what could be seen as Big Auto meets Big Brother. The European market is already there — intelligent speed adaptation systems will be required in all new automobiles sold starting in July 2024.
According to the European Commission, the new vehicles would either emit a "cascaded audio warning," a "cascaded vibrating warning," "haptic feedback through the accelerator pedal," or a "speed control feature." Interestingly, the system may be bypassed by a driver, according to the commission.
A fleet of city cars equipped with this speed-adapted system is also being tested in New York City. Fifty city employee-driven vehicles will have devices that will set a maximum speed for the vehicle and "will also be adaptive based on the local speed limit," the city stated in August. The device comprises a passive mode that warns the driver when they are speeding and an active one that immediately slows down a vehicle.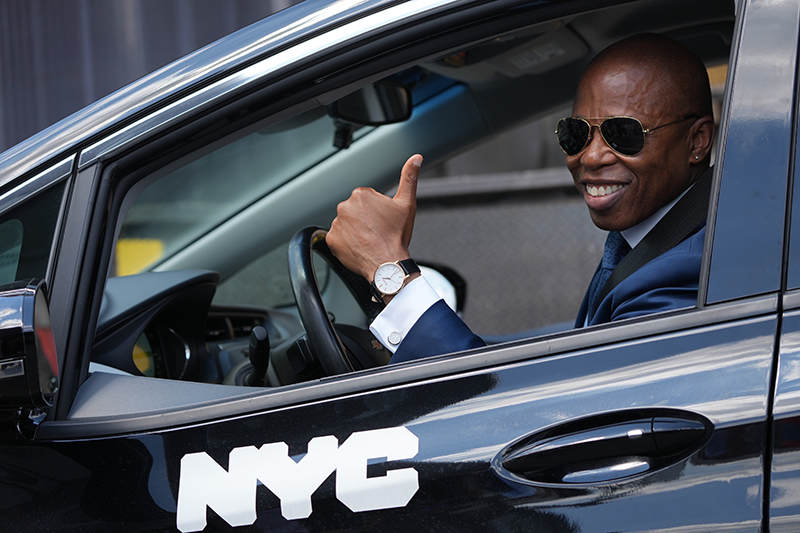 New York City Mayor Eric Adams at the August launch of a pilot program installing active intelligent speed assistance technology in 50 of the city fleet's cars. (Photo courtesy the Office of the Mayor of the City of New York)
"We must ensure that everyone can share the street space safely, because traffic safety is public safety,"  Mayor Eric Adams said in a statement.
The automobiles will be retrofitted across a variety of city departments. The program will also be tested on 14 all-electric (and very cool) Ford Mustang Mach-Es.
Using blockchain to fill jobs faster
More than a dozen board members from organizations such as Oracle, SAP, UKG and ZipRecruiter have backed The Velocity Network, an online resume-validating blockchain network in an effort to speed up and lower the cost of interviewing prospective seekers, reports Computer World.
Employers can instantly verify a job candidate's degrees, certificates and work experience through the Velocity Network. In addition, employers who use HR software can also provide verified credentials to staff members, who can subsequently access and share that data via an online database built on the blockchain.
The network was developed and is managed by the Velocity Network Foundation, a Delaware-based nonprofit whose goal is to enable employees to save and share with potential employers their verifiable educational, license and experience credentials.
"Verifying applicant career records can take days, weeks, if not months, to complete," Dror Gurevich, founder and CEO of the Velocity Network Foundation, told Computer World. "Hiring methods are severely outdated to the point that one in three Americans have admitted to lying on their resumes, which slows the hiring process immensely."
But why now? "There's literally no easy way of verifying records today other than making phone calls and procuring information from various sources," he said.
And The Great Resignation didn't help. He says too many corporations are relying on unverified resumes and LinkedIn profiles. "If you want to hire a developer in Serbia, you can't do that because you have no idea who they are, and you don't have that trust factor to comply with regulations."
The big rub, however, may be convincing employers to use the service. Matthew Merker, a research manager for International Data Corporation's Talent Acquisition & Strategy practice, told Computer World that trust is another issue. "They have to say, 'I trust Velocity,' and for a lot of these companies they're likely to say, 'I've never heard of these companies before, so why should I buy into this?'"