Blockchain
Paxos thinks the financial world will be dominated by digital assets. Here's how
May 16, 2022 | By Ben Fox Rubin

When PayPal wanted to let its hundreds of millions of users buy and sell crypto, it turned to Paxos to make it happen. Facebook's Novi tapped Paxos to power remittances in digital currencies between Guatemala and the U.S. The company connected its crypto wallet services to Mastercard's payment network to let people easily convert their cryptocurrencies into dollars so they can spend them anywhere payments cards are accepted. And when Interactive Brokers … you get the idea.


Paxos, a regulated blockchain infrastructure platform based in Manhattan, has quickly become an integral part of bringing digital assets to the mainstream, using its know-how in both payments infrastructure and government regulations to help a growing list of companies add digital assets to their repertoires.
If you've ever used a digital asset service, like Venmo's crypto trading, it's Paxos handling the heavy lifting behind the scenes to make your trades possible. And the startup says it's just at the beginning.
It's far from the flashiest name in digital assets — its logo isn't plastered on a sports stadium and it didn't air any Super Bowl commercials. But Paxos runs on a big idea: It sees a future where just about every asset — stocks, bonds, derivatives, not just crypto — become powered by blockchain technology.
"All global assets — today that's nearly $700 trillion of assets like gold, stocks, real estate, art — all of them, over time, are going to be re-platformed on the blockchain," says Walter Hessert, head of strategy at Paxos, in a recent interview at the Paxos office. "And we're building the infrastructure to enable that platform upgrade."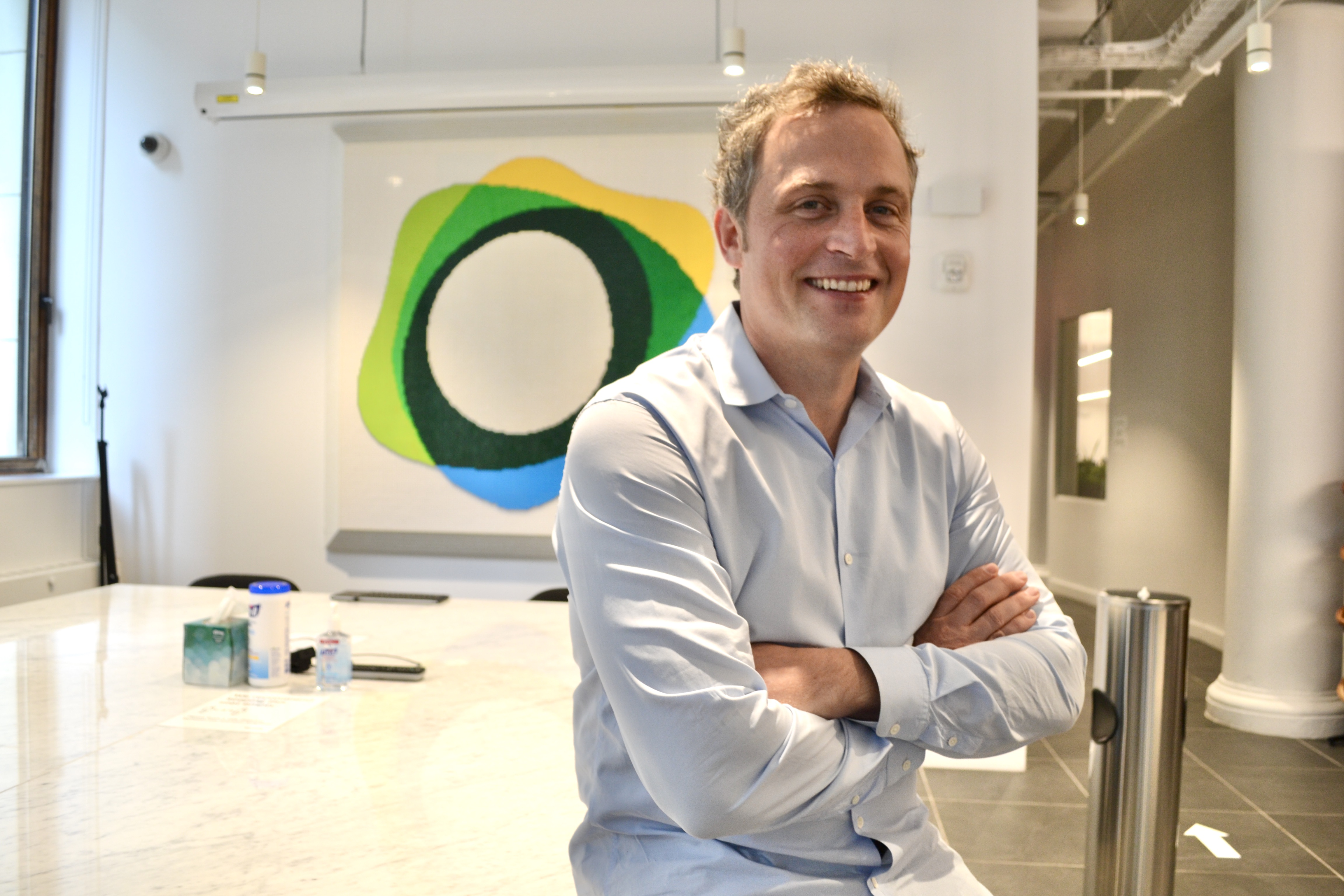 Walter Hessert, Paxos' head of strategy, says the company is building the infrastructure to support the trillions of dollars of financial assets that will one day live on the blockchain. (Photo credit: Ben Fox Rubin)

So, why should people care if their money is powered by the blockchain? Because this tech has the potential, Hessert says, to unlock instantaneous payments that are available 24/7. That upgrade to the financial system could ensure you can get a payment immediately, not a day or week later. It could also provide more people with basic financial services, with blockchain-powered digital wallets becoming a new choice for people beyond a traditional bank account. For businesses and fintechs, that could translate to more customers.
Paxos' partnerships with PayPal, Interactive Brokers, Mercado Libre and others offer an early hint at what this future could look like. There is, of course, a long road ahead. Blockchain tech manages only a tiny piece of the financial system today, so these big promises will have to be followed by a lot of execution to make these changes a reality.
Oliver Bussmann, chief executive of consulting firm Bussmann Advisory, predicts blockchain-based assets will become far more common over the next five years as this evolution gains momentum, bringing bonds, listed stocks and home equities worth trillions of dollars into blockchain-based networks.
If this future happens, he says, Paxos is in a great spot.
"Paxos is one of the only players that covers the cash and the asset sides," says Bussmann, whose company advises financial institutions about up-and-coming technologies. "It's one of the only players that can do both."

It all started with horses
Paxos' office takes up two floors in a Flatiron District high-rise, in the heart of Manhattan's ever-growing startup scene. At the entrance, there's a big wall of plants and a communal space lined with knee-high bookshelves stocked with financial titles like "The Billionaire Who Wasn't." The walls around the open-concept office are lined with brightly colored motivational sayings — "Be an Owner." Owing to Paxos' techie roots, one area has cornhole, table tennis and a long table stocked with Legos.
Sitting in a nearby conference room, Hessert runs through his story about how he and several of his brothers ended up at Paxos. (Yes, he's one of six brothers and three of them work at the startup.)
In 2013, Hessert and his brothers Tom and Bill launched a betting site for horse racing, Derby Jackpot. The experience proved extremely relevant to their current work in financial services, as the gaming industry is highly regulated and they needed to spend a lot of time developing their payments systems.


"I didn't want to be on the sidelines. If this space, and this technology, really became a part of all of our lives, I don't want to be working on something else."
He took notice of bitcoin back in 2012, a few years after the digital token launched, and continued to follow the crypto industry as it grew. But it wasn't until 2018 that he started looking for a new opportunity in digital assets.
"I didn't want to be on the sidelines," he says. "If this space, and this technology, really became a part of all of our lives, I don't want to be working on something else, because I've been too close to it for six years at that point."
He got to know Charles Cascarilla, CEO and co-founder of Paxos (the name comes from a computer science term: Paxos is a protocol for achieving consensus), and joined the team, along with his brothers Tom and Patrick. The Hesserts also continue to own Derby, which is still in operation.
Paxos' products include a stablecoin, Pax dollar; one token can be purchased or redeemed for $1. These tokens today are typically used to trade between cryptocurrencies such as bitcoin and fiat currencies like the U.S. dollar. Paxos makes money from fees collected on transactions to buy and sell crypto, as well as yields from its cash reserves and holding cryptocurrencies for customers.
Paxos spent years building out its payments and regulatory infrastructure, including getting chartered as a New York trust company in 2015 and securing a digital payments license in Singapore earlier this year, rare moves in a digital asset industry that's lacking in oversight. After all that work, it rolled out a series of major deals with partners just as crypto was gaining enormous attention in 2020, followed by the explosion of non-fungible tokens of unique digital art, collectibles and other objects.
It's now using its regulated infrastructure for a pilot program with Mastercard, where Paxos converts stablecoins into dollars to allow crypto enthusiasts to spend their digital currencies in more places.
"Digital assets like ethereum and NFTs have obviously captured people's interests, but some of the most critical parts of the blockchain world are the stuff most people don't see," says Raj Dhamodharan, global head of crypto and blockchain at Mastercard. "It's great to work with partners like Paxos to build that infrastructure to really expand blockchain's potential."
The total cryptocurrency market is now worth around $2 trillion, more than double since the start of last year. Hessert says he expects the market will continue to grow as more people see the value of using blockchain.
"It's a more open system, it's a more accessible system," he says. "These are some of the value propositions that are that are the catalyst for change now."


Banner photo: Walter Hessert, left, with Alex Guttler, vice president of business development, at the Paxos headquarters in New York City's Flatiron District. (Photo credit: Ben Fox Rubin)