Mastercard at Smart City Expo World Congress: Experience the Power of City Possible
November 12, 2019 | By Bernhard Mors
A year ago, Mastercard launched the City Possible global network to enable cities, companies and communities to work together to advance inclusive and sustainable urban development.

City Possible has made great strides to help cities #MakeTechWorkForPeople by applying the company's best assets: innovative partnerships, leading edge technology and critical data insights, to solve urgent urban challenges raised by the community. Convening City leaders for a series of knowledge sharing events across the globe in partnership with Harvard TECH, has resulted in innovative solutions that can make a meaningful impact:




At this year's Smart City Expo World Congress (SCEWC) in Barcelona (Nov 19-21), Mastercard will showcase how we are making urban life more inclusive by tapping into the superpower of collaboration. We will convene partners from the public, private, nonprofit, and academic communities to bring to life the City Possible vision through a series of tech talks, workshops, and case studies.

True to the collaborative spirit of City Possible, Mastercard will premiere a unique partnership with SCEWC to create an immersive "Plaza" that is an official feature of the conference program.

Over three days, the City Possible Plaza will feature city, industry and community leaders to share their vision in a series of on-stage conversations.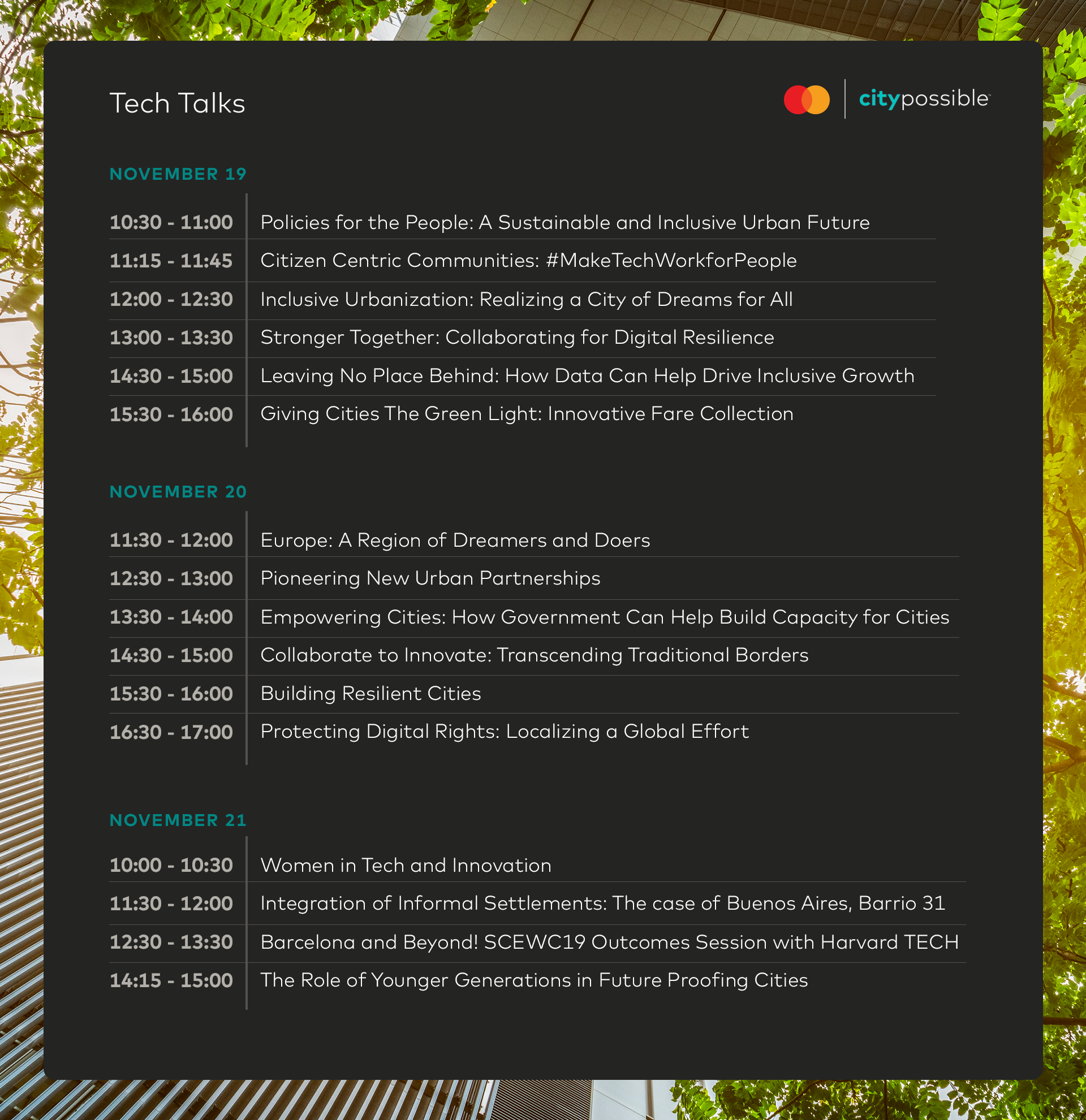 In addition, Mastercard executives will participate in a number of congress sessions:

Tuesday, November 19th:

Wednesday, November 20th:


If you are attending Smart Cities Expo World Congress, visit the City Possible Plaza located in hall 2 (space #B300). To schedule interviews or booth tours, please contact casey.jaquez@mastercard.com.

Follow us for updates on Twitter @MastercardNews & @CityPossible.