Data for good
How 'govtech' can push the future forward — one community at a time
September 26, 2023 | By Caroline Morris

Over the past few years, new government technology, often dubbed "govtech," has emerged to help public officials improve people's daily lives. Properly implemented, govtech has the power to help these officials — from small-town mayors to national leaders — draw closer to building the world we all deserve to live in.
This work dovetails with the mission of the United Nations General Assembly, which convened for its 78th annual session last week to tackle some of the world's most pressing challenges. Those include reducing inequalities, spurring economic growth, and building sustainable and safe communities for everyone — issues government leaders face regularly.
To shed light on how new technologies can make a significant impact, Mastercard hosted its inaugural GovTech Idea conference this month, with partners StateUp, C40 Cities, World Resources Institute and Digital Planet. At Mastercard's New York City Tech Hub, about 80 policymakers, civil servants, international organizations, innovators and thought leaders discussed how tech and digitization can drive greater efficiencies in administration, enhance transparency and deliver more inclusive and sustainable economic growth.
"The idea was to bring together the brightest minds in government and govtech," says Nicola Villa, global head of public sector at Mastercard. "We hope that this is the beginning of a longer conversation."
Here are some of key insights.
01
Think 'gov' before 'tech'
"Digital technologies have an opportunity to be the great equalizer of humanity if applied well," says Paula Ingabire, minister of information and communications technology and innovation for Rwanda. The African country experienced this firsthand when earlier govtech investments helped its economy bounce back after the COVID-19 pandemic.
Now, as countries like Rwanda seek to push their digitization process further, they can follow the lead of Estonia. For the last few decades, the Eastern European country has become known as the ultimate digital nation, weaving innovation into everything from identification to transportation. However, Nele Leosk, the country's ambassador at large for digital affairs, says the Estonia never sought this reputation for technological prowess — rather, it wanted to create more transparent and useful services for its citizens.
To do so, Estonian public sector officials consistently built their digital initiatives on core data principles, including data protections for citizens and accountability if something goes wrong, Leosk says. As a result, the country was able to build trust with its citizens and could roll out initiatives as ambitious as its mental health support preparedness program.
02
Collaborate for speed
To integrate new technologies quickly, governments would be wise to collaborate with others, whether it's public-private partnerships or the citizens themselves. "Lots of governments don't understand what's needed with technology, so the instinct is to stifle," says Sara Pantuliano, chief executive of ODI, a global independent think tank. "It is incumbent on corporations to help governments, or else the governance journey won't happen."
At the same time, new technology can't be slotted into old structures — there must be foundational reform to create new systems that actually work with tech instead of trying to make it conform to old, outdated models.
"The way to accelerate is not to do the same thing faster. You need to work in teams, rely on others and fix the analog version before digitizing it," says Roby Senderowitsch, practice manager for public administration, governance, at the World Bank.
Arūnė Matelyte, who oversees the GovTech Lab in Lithuania, agreed that governments should break their habits of trying to shove new technology into old processes. "Governments need to have more flexibility," Matelyte says.
03
Let data tell the story
Most government challenges revolve around determining how to make their communities more livable. For instance, New York City must focus on building up housing and public spaces to improve quality of life for residents, as well as attract employees back to the city in the age of the hybrid workplace.
Seleta Reynolds, chief innovation officer at the Los Angeles Metropolitan Transportation Authority, acknowledged that the city needs to improve its mass transit infrastructure, a significant factor for landing a job since there are 12 times more job opportunities available to those with cars. And in rural areas, government officials must connect with residents, who are often spread out and harder to reach, to determine what their needs may be. In all these cases, data can serve as a key element for transformation, because it provides the evidence for changes that may be unfamiliar or counterintuitive.
"Data tells the impact and the story," says Ya-Ting Liu, chief public realm officer in New York City. By using data to pinpoint peoples' needs and — sometimes — unearth solutions, cities like New York and Los Angeles can become better places to live from an economic, environmental and social perspective.
But to capture everyone's voice, governments must take pains to generate inclusive data, soliciting input from local businesses and individuals from the start, and continuously asking for feedback as initiatives progress. For data to make a change, it must be both citizen-centered and citizen-driven. "The only transition possible is a just one," says Caterina Sarfatti, who runs inclusion and global leadership at C40 Cities, a global network of mayors taking action on climate change.
04
Find flexibility in both processing and updatings
Even in the age of digitization, some governments still resist updating their systems and infrastructure. Part of this stems from a lack of understanding about how technology can work. That's why govtech experts are working to show officials how today's platforms can adapt to the specifications unique to their city, region or country. There is no value in clinging to familiar legacy platforms.
As founder and former CEO of FutureGov govtech consultancy Dominic Campbell put it: "We need to fall in love with making 21st century organizations and governments."
Banner photo, Jody Barnett, global lead for Mastercard's Public Sector Center of Excellence, Ya-Ting Liu, New York City's chief public realm officer, and Caterina Sarfatti, managing director for inclusion and global leadership, C40 Cities, shared insights into creating more livable cities at Mastercard's GovTech Idea summit. (Photo credit: Tanay Davis)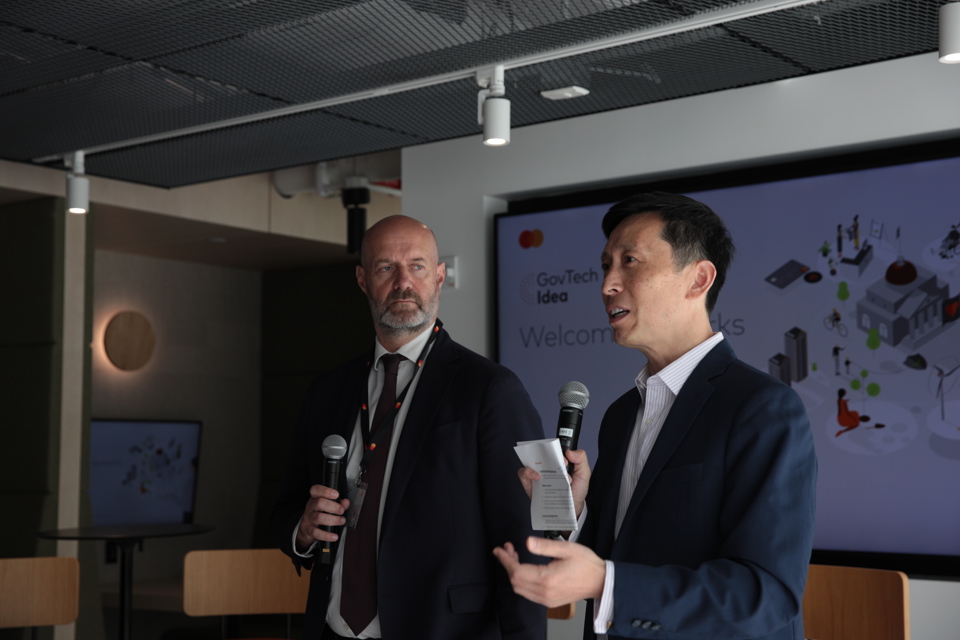 Nicola Villa, left, the global head of public sector at Mastercard, and Ling Hai, Mastercard's co-president of International Markets, opened the GovTech Idea summit at the company's New York City Tech Hub last week. (Photo credit: Jane Chu)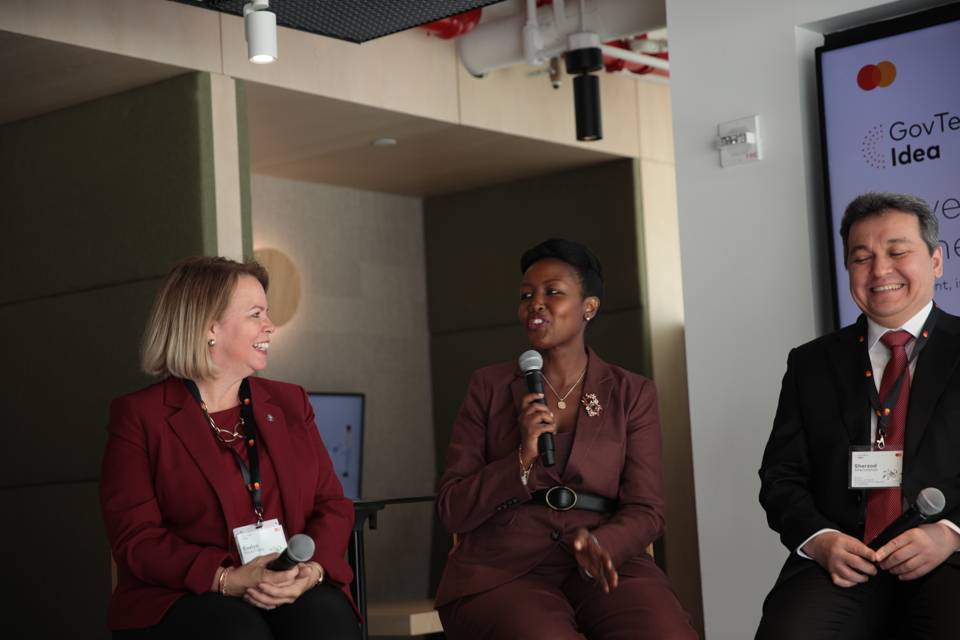 From left, Evelyn Wever-Croes, the prime minister of Aruba, Paula Ingabire, the minister of information and communication technology & innovation for Rwanda, and Sherzod Shermatov, the minister of digital technologies for Uzbekistan, shared insights on what's needed to deliver cutting-edge digital government and the role of public-private partnerships in creating public value. (Photo credit: Jane Chu)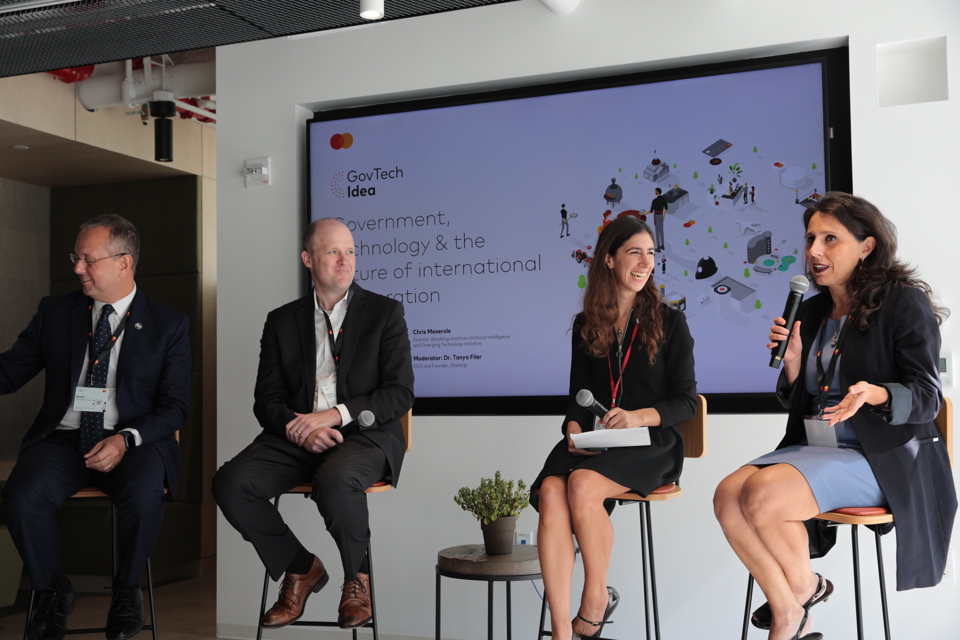 A session on government, technology and the future of international cooperation brought together, from left, Roby Senderowitsch, practice manager for public administration at the World Bank, Chris Meserole, director of the  Brookings Institute Artificial Intelligence and Emerging Technology Initiative, Tanya Filer, the CEO and founder of StateUp, and Sara Pantuliano, chief executive, ODI. They discussed  how governments can best cooperate to harness the possibilities of technology while mitigating the risks. (Photo credit: Jane Chu)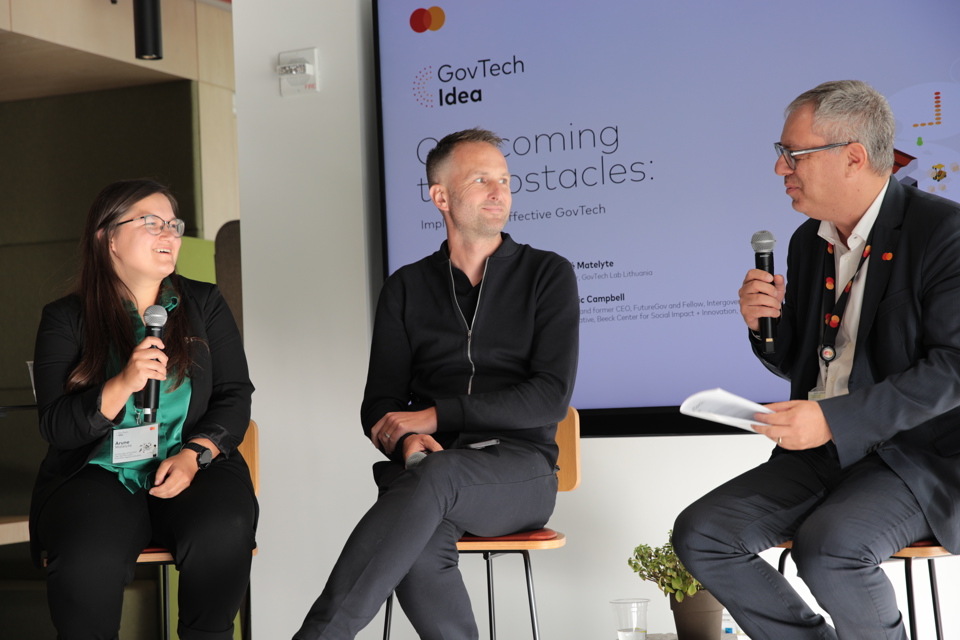 Exploring the obstacles to implementing transparent, effective govtech and why is the environment for the public sector more complex: Arūnė Matelyte, left, manager, GovTech Lab Lithuania, Dominic Campbell, a fellow at the Intergovernmental Software Collaborative at Georgetown's Beeck Center for Social Impact + Innovation, and Selim Ergoz, senior vice president for global strategy and sales enablement for the public sector at Mastercard. (Photo credit: Tanay Davis)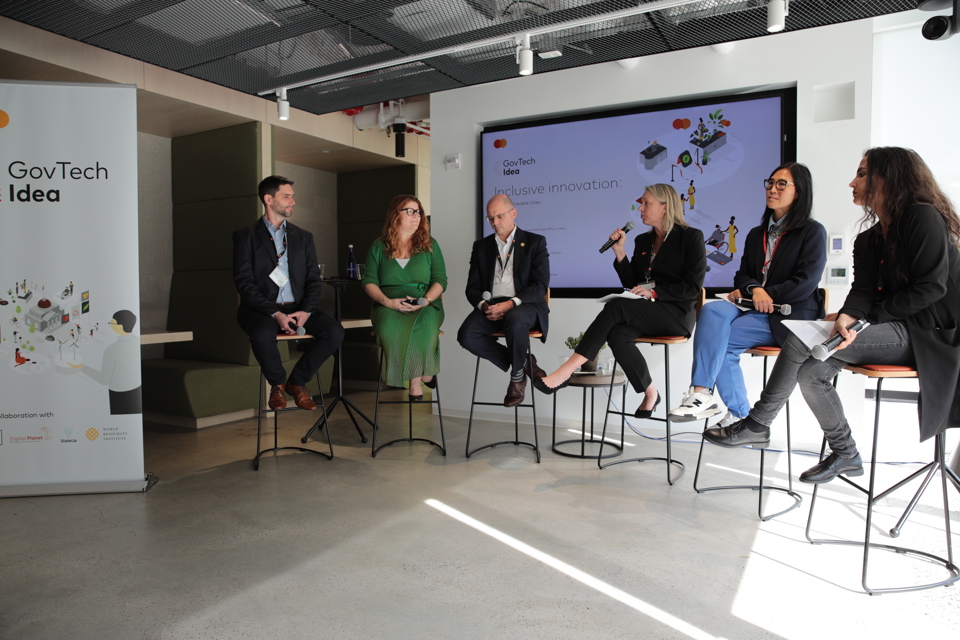 Cities and municipal governments are at the frontline of innovations driving inclusive, sustainable economic growth. Exploring how  digitization and data can transform transportation and public spaces, from left, : Robin Oakley, co-founder of the Urban Movement Innovation Fund; Seleta Reynolds, center, the chief innovation officer for LA Metro; Rogier van den Berg, director of the World Resources Institute's Ross Center for Sustainable Cities; Jody Barnett, global lead for Mastercard's Public Sector Center of Excellence; Ya-Ting Liu, New York City's chief public realm officer; and Caterina Sarfatti, managing director for inclusion and global leadership, C40 Cities. (Photo credit: Tanay Davis)