Data for good
Mapping hope: How data is helping Ukrainian refugees find new homes in welcoming communities in Poland
September 27, 2023 | By Caroline Morris
When the Russian bombings began in February 2022, Alona knew she had to flee Ukraine for the sake of her son. Leaving nearly all of their possessions behind, the two left Dnipro on a train across Ukraine. Finally, after 30 hours waiting at the Polish border, amid gunfire, Alona and her son made it to safety on February 26.
"When we crossed the border to Poland, we could take this first breath of relief," says Alona through an interpreter. "I could finally feel that there's no danger to myself or my child. It was my first calm moment."
But even after gaining asylum in Poland, Alona still had to figure out how to start over there. Many refugees headed to one of the major cities in Poland, thinking they would be the easiest places to find resources and opportunities. But these cities soon became crowded with new émigrés, making living space and work opportunities scarce. Alona, a pediatrician, discovered Sochaczew, a small town with fewer than 40,000 residents in the center of the country, about 50 miles west of Warsaw, through Mastercard's Where to Settle platform, released in July 2022.
Using Mastercard's anonymized spending trends data mixed with stats from the Polish government, the website and app helps Ukrainian refugees figure out the ideal place to live by presenting users with the estimated cost of living, potential job opportunities and in-app housing offers through real estate publisher Grupa Morizon-Gratka. Mastercard was able to get the platform up and running in just five weeks.
"We wanted to make this as robust and as easy to use as possible because we know that moving out of your country, even not under war, is stressful," says Marek Kolano, director of data-driven solutions at Mastercard, who helped develop the platform. "You need something that will ease your decision process."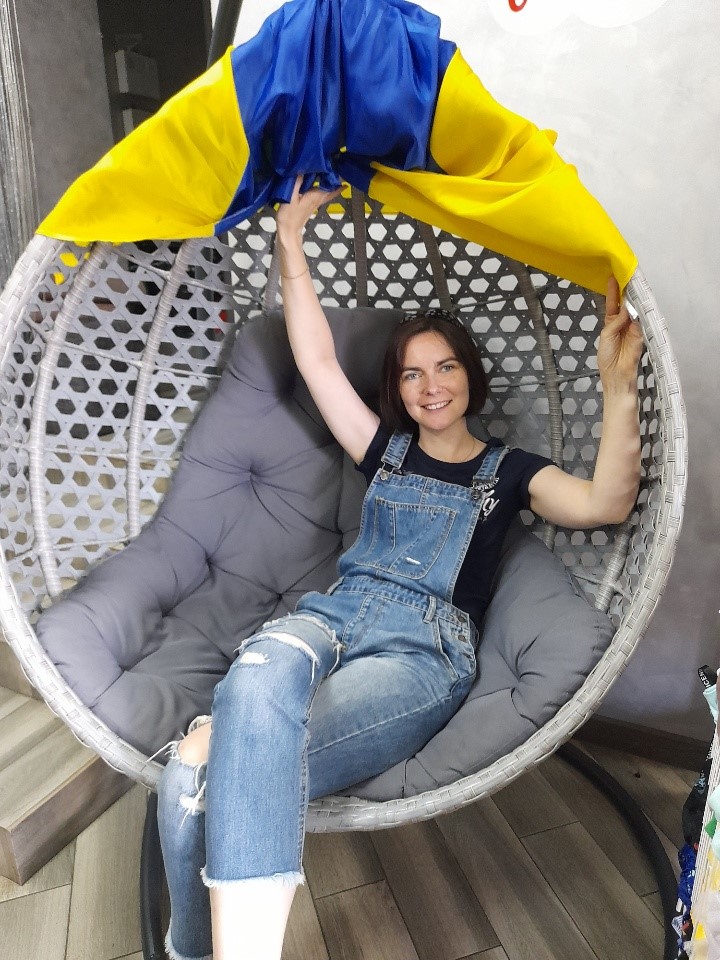 Alona fled Ukraine with her son and found a welcoming new community in Sochaczew, a small town west of Warsaw.
The need is huge, as Russia's invasion caused the largest population outflow in Europe since World War II. Where to Settle is now one of many new humanitarian efforts and digital services cropping up in Ukraine and all around Europe to support Ukrainians impacted by the war. New startup incubators, including a cohort of Mastercard's Start Path startup engagement program specifically for Ukrainain fintechs, and other programs were created to keep Ukraine's tech industry going. Education initiatives were started. A new nonprofit called Superhumans fits wounded Ukrainian soldiers with state-of-the-art prosthetics.
Finding housing and work is critical for Ukrainian refugees, so Mastercard and its partners in Poland focused their efforts there. To find options for places to move, Where to Settle users answer questions about how many people they need to accommodate, their occupation, expected standard of living and where they are currently living. Then the app returns information on the average monthly gross earnings for their field, costs of living (including rent, groceries and transportation), how many local job openings there are in their field and the number of housing offers in their current location. It also shares the same information from two nearby cities to allow users to compare different locations. In Poland, it often turns out that there are more opportunities, with lower costs of living, in towns outside of the biggest metropolitan areas.
Users can even filter their results based on the factors that are most important to them, including highest gross earnings, lowest living costs, job openings and number of apartments for rent.
In Sochaczew, Alona and her family have been able to thrive. "When you need to learn how to survive, work and build your life in a new place, it is much better that this new place is slower so you can adapt to its rhythm," Alona says. "And the app was so helpful, because it provides comparisons and it's available in Ukrainian, so I could understand everything, which is extremely helpful when you come to Poland and know nothing."
Where to Settle doesn't retain any user data and populates data into the app by aggregating and anonymizing all spending analytics. This means that no single cardholder or merchant can be singled out, thus protecting their privacy as the platform serves those in need.
"With this platform, we can show people that data analytics and data collection, if done properly and with respect to anonymization, can benefit everyone," says Kolano.
And the platform is expanding beyond refugees. Polish students are taking advantage of the app as they move for university. The hope is that Where to Settle will eventually be available wherever Mastercard is available.
In Sochaczew, Alona has found stable housing, a job as a pediatrician and a supportive community. One Saturday shortly after she got to town, she went grocery shopping and, being low on funds, grabbed only the items she absolutely needed for the day. What she didn't realize was that stores were closed on Sundays. When the other shoppers heard this, they began giving her food they'd bought straight from their own baskets so Alona's family would make it through to Monday.
"I'm very happy and very lucky to get into Poland, especially Sochaczew, and for everything I've found," she says. "I'm so grateful for such acceptance."
---
Read more: Fortune magazine recognized Mastercard and Where to Settle in its annual Change the World list of companies "mobilizing the creative tools of capitalism to help solve social problems."