Commerce
'From the war zone with peace': How Ukrainian fashion designers are rebuilding their brands
September 14, 2022 | By Vicki Hyman

Lilia Litkovska hails from generations of tailors in her native Ukraine, where her clients include First Lady Olena Zelenska. She was working at her Kyiv atelier on an exclusive collection for the British retailer Selfridges in February when Russia invaded Ukraine, sending her fleeing across Europe with her 2-year-old daughter, leaving her husband, who works in national security, at home.
From Paris, she tried to keep the Litkovska brand afloat. As missiles rained on Kyiv, her team mailed her patterns for the Selfridges collection to Lviv, near the Poland border, where they could pick up production at another factory. When the postal depot between Kyiv and Lviv got shelled, a relative of one of her employees who worked at the post office dug through the rubble to retrieve the package.
Litkovska returned home in March to rebuild her business in a country changed — bombs have fallen close even to her Lviv factory. The supply chain is not reliable and production remains difficult. But she has continued to travel to fashion events across Europe, raising awareness of the war's humanitarian toll, with 7 million citizens displaced from their homes inside the country and millions more now refugees. Her European visits also promote the Ukrainian fashion industry — the estimated 6,000 textile factories there employ as many as 220,000 people.
"It's not really about just fashion," Litkovska said, showing off a flowing white tunic embroidered with verses about the defenders of Mariupol, the eastern port city largely demolished during the war and which remains in Russian hands. "It's about influence and culture. We are opening our culture through our collection and our messages."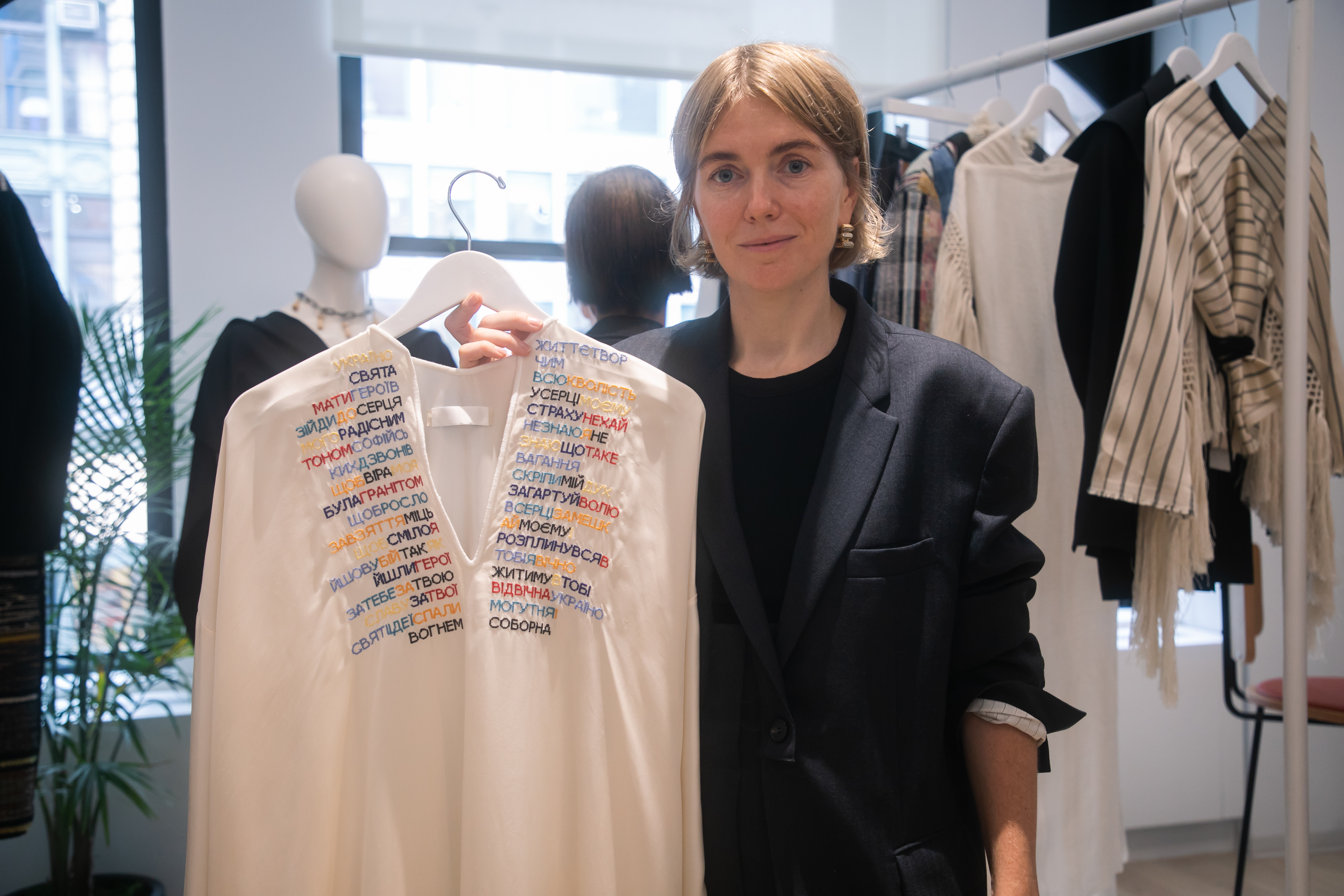 Kyiv designer Lilia Litkovska paid tribute to the defenders of the Ukrainian city of Mariupol in the collection she showcased at New York Fashion Week Tuesday.  (Photo credit: Rebecca Abraham)
On Tuesday, Litkovska showcased her designs and shared her story alongside five other Ukrainian fashion brands at a group presentation to fashion insiders, influencers and press at Mastercard's New York City Tech Hub, followed by a panel discussion about supporting small businesses struggling to survive there during the conflict.
The showcase was the brainchild of Keanan Duffty, a fashion designer and director of programs at Parsons School of Design, who had visited Ukraine last year for Kyiv Art and Fashion Days, a four-day festival that brings an international audience to the city. In the wake of the Russian invasion, he reached out to the festival's organizer to see if he could help the Ukrainian designers he had met on his trip by bringing them to New York Fashion Week in the fall.
To secure travel and hotel arrangements as well as opportunities like the showcase, he found support from Parsons, other companies and fashion designers — Tommy Hilfiger stopped by the showcase, and Donna Karan will host another event for the designers this week.  
"I really believe creativity is what gives us humanity," Duffty said at the event. "The first thing that dictators try to get rid of is our creativity, our art, our design, our culture, really … Fashion is one of those communication formats that allow us to say something about how we are. This may seem frivolous but I do think it's important that these folks get a chance to tell their stories. Life should go on. They're creative artists and they should be able to express themselves."
"We are building, we are challenged, we are empowered. Our work is the manifestation of the indomitable spirit of Ukrainians."
The invasion has left the Ukrainian economy — almost entirely dependent on small businesses like these fashion brands — in shambles. Mastercard has already announced it would extend its Start Path startup engagement program to Ukrainian startups, sharing mentorship and networking opportunities and access to the company's resources to help them accelerate their businesses. On Tuesday, the company made a donation to Razom, an NGO providing humanitarian war relief and recovery in Ukraine.
"At Mastercard, this is part of a larger effort where we put our time and energy to empowering people who power economies around the world," said Michael Froman, vice chair and president, Strategic Growth. "Today it means giving these leaders in the Ukrainian fashion industry a platform to share their art and their stories in the hopes that we can all better understand their unique needs and help them through this difficult period."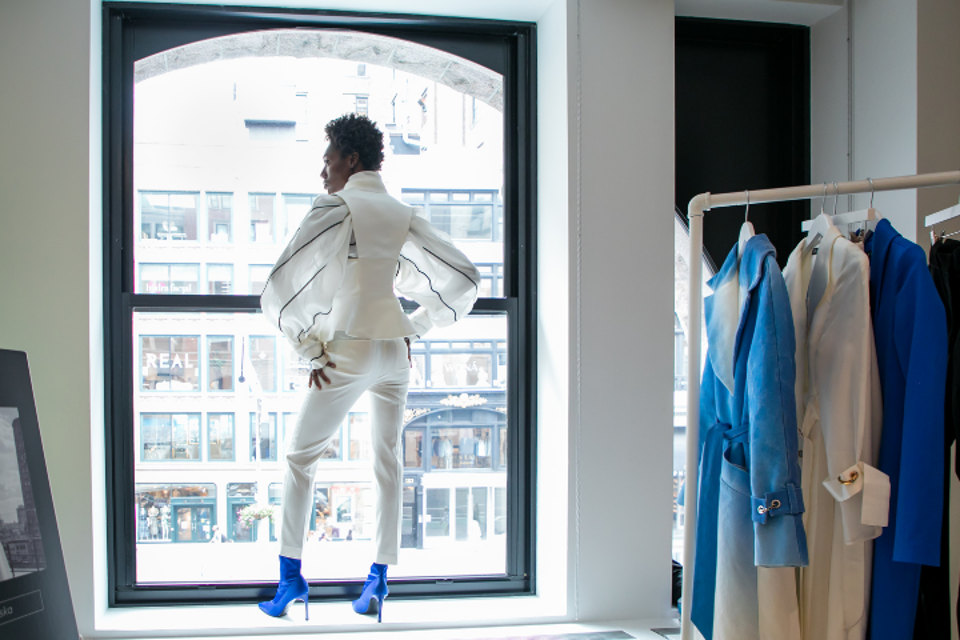 A model wears a Valery Kovalska design at the Ukrainian fashion showcase at Mastercard's New York City Tech Hub during New York Fashion Week. (Photo credit: Rebecca Abraham)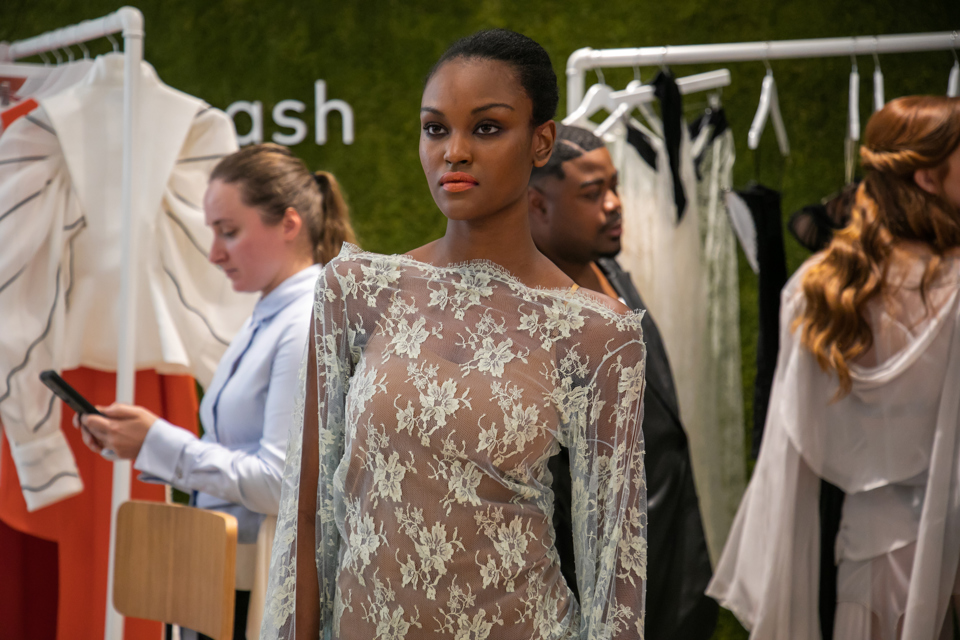 A lace look from Ivan Frolov, whose showed off his "couture-to-wear" line and participated in a panel discussion about keeping his brand Frolov afloat during the war. (Photo credit: Rebecca Abraham)
Another look from Frolov's Spring 2023 collection. (Photo credit: Rebecca Abraham)
Designer Lilia Litovska, right, talks with Mastercard's Sue Kelsey, who is wearing a Litovska jacket made from recycled clothing that is shredded and rewoven by women artisans in Ukraine. (Photo credit: Rebecca Abraham)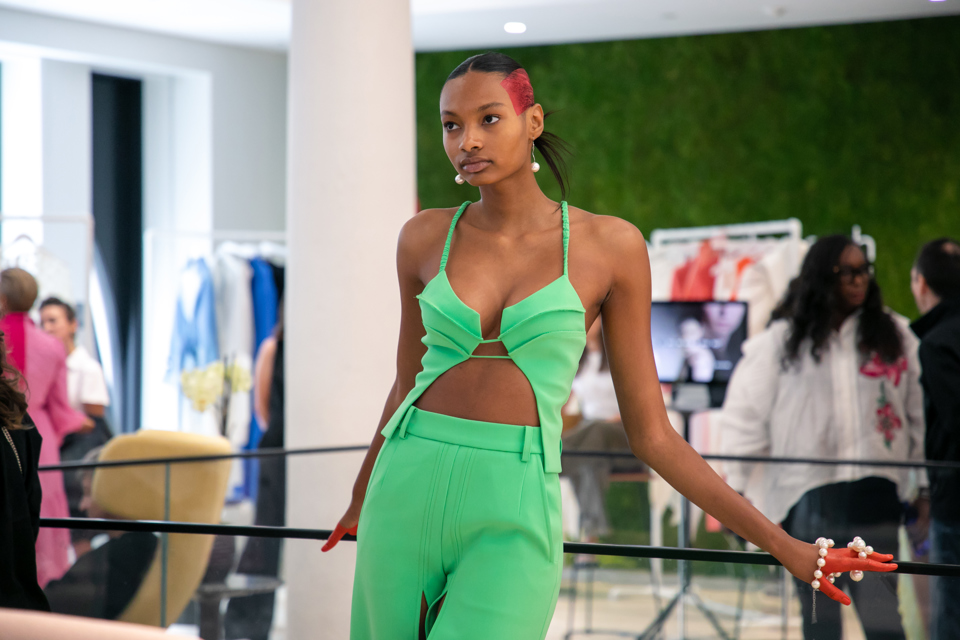 A design by Kyiv's Elena Burenina. (Photo credit: Rebecca Abraham)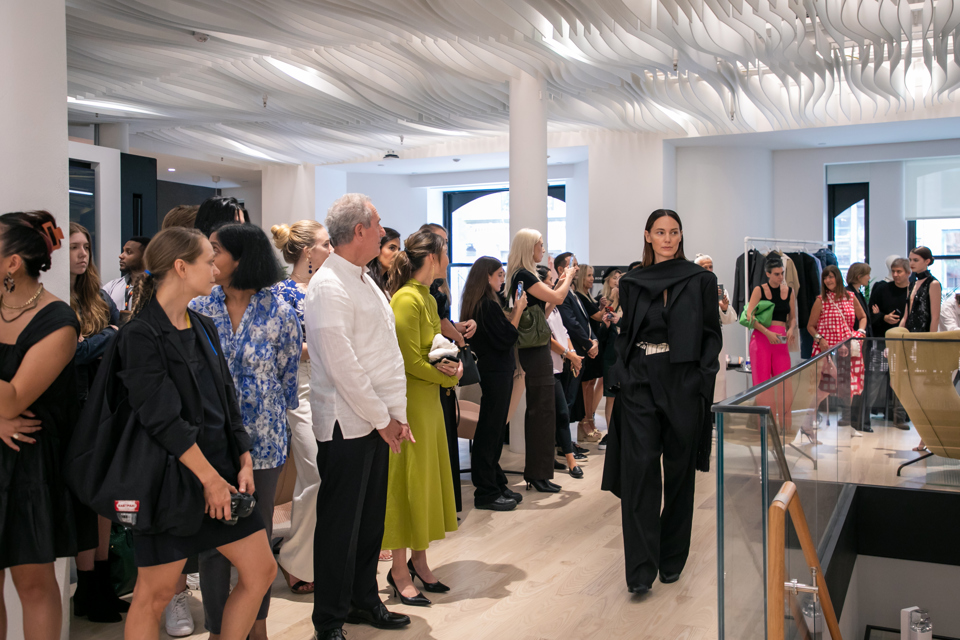 A model in a pantsuit from the Ukrainian brand Gudu walks the impromptu runway at Tuesday's presentation featuring six designers from the war-torn nation. (Photo credit: Rebecca Abraham)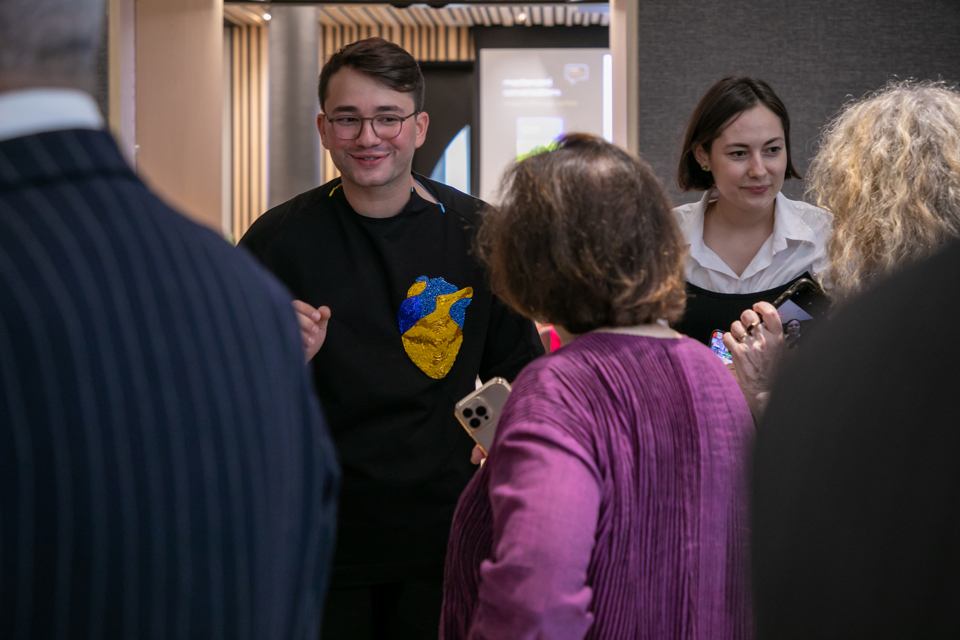 Ivan Frolov wore a T-shirt with an embellished heart in the Ukrainian national colors. (Photo credit: Rebecca Abraham)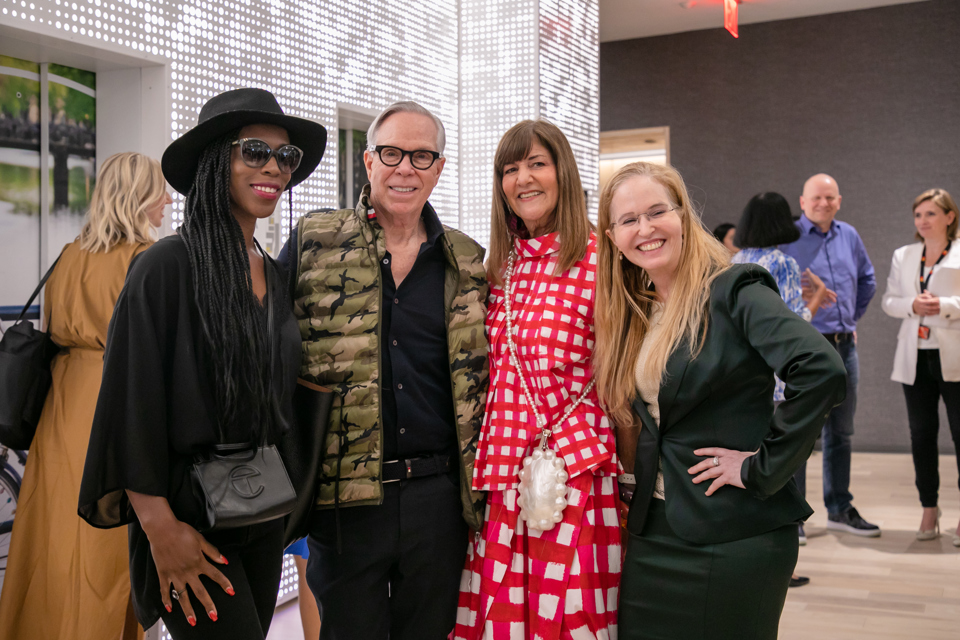 From left, Carly-Ann Fergus from the Parsons Entrepreneur Academy, designers Tommy Hilfiger and Kay Unger,  and Deborah Weinswig of Coresight Research, who hosted the panel on supporting businesses in Ukraine. (Photo credit: Rebecca Abraham)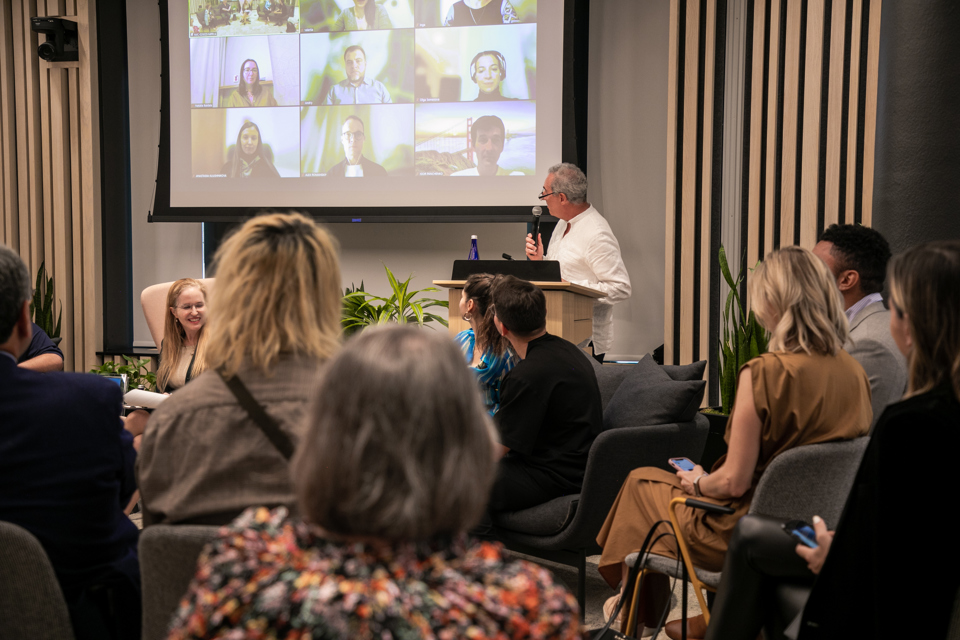 Mastercard's Michael Froman, in a traditional Ukrainian men's shirt called a vyshyvanka, opened the discussion in New York City with a special callout to Mastercard employees from Ukraine who beamed in to the panel. (Photo credit: Rebecca Abraham)
After the war began, Valery Kovalska landed in New York City, where she now works out of a former restaurant — "I have to learn to make cocktails," she joked — and now works with her team, scattered across continents, to return to production and make up for the orders her design house was forced to cancel earlier in the year. "We are building, we are challenged, we are empowered," she said in a video message accompanying the showcase. "Our work is the manifestation of the indomitable spirit of Ukrainians."
Kristina Bobkova suspended work on her eponymous brand while her team sewed supplies for the defense and humanitarian workers, and relocated the business to Germany. "The main purpose of our brand is to save Ukrainian traditions and Ukrainian culture, which is trying to be destroyed by the Russians right now," she said through an interpreter.  
As Litkovska chatted with an admirer, her husband Alex Danylyuk looked on from an armchair. Injured during the fighting and still using a cane, Danylyuk had surprised his wife in New York City. He said she, like the other designers interviewed, is committed to keeping her business in the country: "It's easy to move it away from the Ukraine, but then it's not a Ukrainian brand," he said. For her upcoming collection, he said, she even came up with a new label to sew inside her clothes: "Made in Ukraine, from the war zone with peace."
Banner photo: Models wearing the designs of Elena Burenina at the Ukrainian fashion showcase. (Photo credit: Rebecca Abraham)