Inclusion
Keeping track of health care records, keeping children in Africa healthy
July 5, 2023 | By Deborah Lynn Blumberg

Mauritana has made great strides in delivering life-saving childhood vaccinations, but the immunization gap persists, particularly in rural communities.
And while securing vaccination doses and delivering them to remote health care clinics is a large part of the challenge, another factor can get overlooked: tracking them. In the case of multi-dose vaccines like measles or hepatitis, a missed dose can reduce or even eliminate the protection it affords.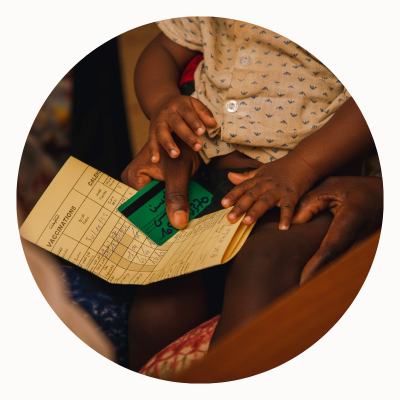 Mastercard works with Gavi, the Vaccine Alliance, to boost immunization through a digital platform known as Wellness Pass, which allows clinics to securely store and track patients' health care histories on a card, even in areas where connectivity is erratic. It's a much-needed solution for patients who lack digital identity and may struggle to keep track of unruly paperwork.
"Reliable timely health information is of paramount importance as it enables good decisions to be made and good planning to be carried out," says Abdellahi Bouhabib, deputy general director of public health at Mauritania's Ministry of Health, which is working with Mastercard and Gavi to implement the initiative.
Wellness Pass — which is expanding to Ethiopia later this year — is part of Mastercard's Community Pass digital platform, which helps governments, NGOs, banks, agritech companies and other organizations increase access to critical services and lower costs for people living in remote communities. That includes digitizing agricultural marketplaces, ensuring farmers can get fair prices for their crops; helping cash-only micro-merchants offer digital payments, which creates transaction records they would need to access loans to grow; and delivering humanitarian aid via e-vouchers that beneficiaries can redeem at local merchants.
In 2023, Community Pass users have grown by 26% to 3.5 million, and they're on track to climb to six million by year-end, says Mastercard's Tara Nathan, the executive vice president who founded the platform.
Here's how Wellness Pass is part of this far-reaching solution.