Blockchain
In Zimbabwe, a blockchain startup is taking the bull by the horn
January 31, 2022 | By Sophie Hares

If Elvis has left the building, Max Makuvise will be the first to know.
Makuvise is a Zimbabwean accountant turned cattle farmer who runs a vast ranch where elephants and giraffes coexist with 8,000 head of cattle, and owns a large stud operation nearby. He's also the co-founder of E-Livestock Global, a startup that uses blockchain technology to help farmers large and small track the health and location of their cattle. He also hopes to use the startup to jump-start beef exports from the southern African country.
Zimbabwe was once a major exporter of beef to the lucrative European market, with sales in most beef-producing provinces accounting for 80% of their income. But the country's cattle industry has been hit hard in recent years by disease, drought and economic sanctions.
Enter Elvis.
Makuvise commissioned Elvis, a mini wire-cage bull, to serve as a model to teach his fellow cattle farmers how to attach ultra-high-frequency ear tags, which are scanned every time the animals are dipped (a process that prevents parasites), vaccinated or sold.
The information is recorded on the blockchain-based solution Mastercard Provenance, which ensures products can be traced from their origin all the way to a restaurant. This platform is already being used for foods ranging from Australian avocados to shrimp from Baja California, and can be for any trackable assets, from freight to pharmaceuticals to luxury goods.
Ensuring this so-called traceability for Zimbabwean cattle is crucial for commercial farmers because it could reinvigorate beef exports to Europe and the Middle East and provide a much-needed boost to Zimbabwe's economy. It would also give small-scale farmers — who own up to 90% of Zimbabwe's cattle — a chance to grow in the export market.
"Someone in an upmarket restaurant in the U.K. would love to be able to scan a barcode on a piece of steak, trace it back to a small-scale farmer and say they're helping this guy," Makuvise says. The blockchain not only provides importers with the insights they need into the health of the animal, but it allows smallholder farmers with only a few heads of cattle the ability to use them as collateral for bank loans.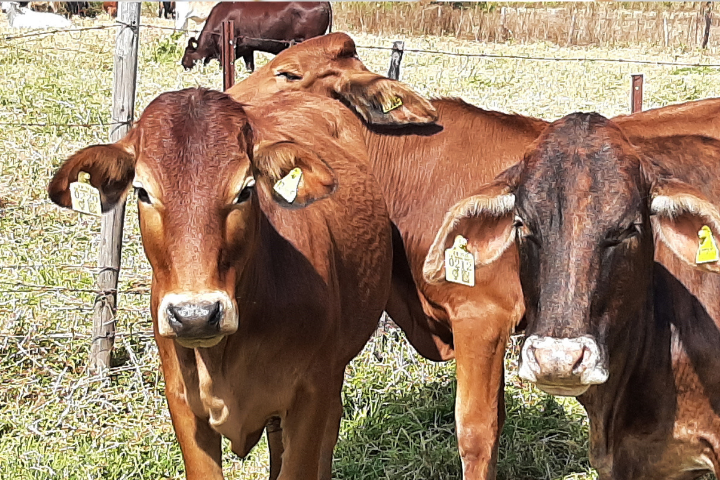 Registering cattle on blockchain's immutable ledger makes it much easier for banks to accept cows as collateral, Makuvise explains. Using E-Livestock technology, lenders can track the location of cattle and ensure that owners cannot sell them until their loans are repaid.
In sub-Saharan African, where two-thirds of people do not have a traditional bank account, blockchain — the distributed database technology that powers most cryptocurrencies — is a way to bring rural communities into the financial fold and improve lives and livelihoods across the world's fastest-growing continent.
"If a farmer can use his animal," Makuvise says, "we're now going to find ourselves in a situation where he can now start living a life and be economically empowered by having those tags."
Makuvise and Chris Light, a former high school friend and blockchain expert who now lives in the Washington, D.C., area, started E-Livestock in 2020 after realizing they could solve the issue of traceability by storing cattle data on the tamper-proof blockchain.
"Blockchain is proving to be a transformative technology, but the opportunities it creates should be accessible to all," says Mark Elliott, Mastercard's division president for Sub-Saharan Africa. "In this case, it can boost confidence in products and reduce risk for buyers while expanding the realm of possibility for farmers currently outside the global supply chain.
Soon there could be more Elvis sightings all across Africa. E-Livestock wants to take a wire bull to each new market as it looks to roll out its technology to farmers in other countries, including South Africa and Kenya.
"They say teach a man to fish, feed him forever," Makuvise says. "We're trying to do just that: allow him to be able to borrow the money to invest in himself and do something for his family."
Photos courtesy of Max Makuvise