Open banking
'Making interesting things possible': This startup has opportunity on speed dial in Africa
June 15, 2022 | By Stephanie Vozza

More than half of all Africans do not have a traditional bank account, but what close to half of them do have is a mobile phone.
A few years ago, Nigeria-based tech innovators Abdul Hassan and Prakhar Singh recognized that the ubiquitous cell phone could do more than just connect people to friends and family; it could both unlock financial opportunities for Africa's unbanked citizens and help African banks and businesses better innovate for consumers.
In June 2020, they launched Mono, an open banking platform in which consumers can securely share access to their financial data — their account balance, transaction history and account owner identity — with third parties to access more personalized financial services. A person could do the same with their telecom data, says Hassan, a serial entrepreneur whose previous companies include a mobile payment app. This can, for example, help lenders better understand the user's financial history and whether to extend credit to them.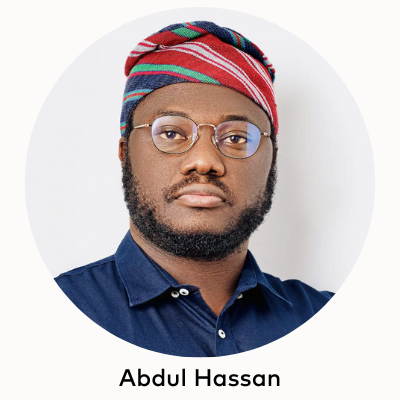 "Using a mobile network, we can bring offline people into the financial ecosystem," Hassan says.
By extending digital services to more people, open banking can be a force multiplier. Access to savings and lending products could boost the gross domestic product (GDP) by up to 30% in some African economies, according to consulting firm EY Global. For unbanked people, access to financial services reduces their risk of money being lost or stolen when they carry cash, and they no longer have to rely on check cashing centers to cash paychecks or pay bills, sometimes with exorbitant fees.
Mono builds the APIs that aggregate that data and help people benefit from it. The biggest challenge, Hassan says, is getting consumers comfortable with sharing their financial details online. He and Singh have been working to build trust through consumer education and strong partnerships, including 16 financial institutions in Nigeria, Africa's largest economy, and more than 100 businesses — such as Carbon, Flutterwave, and Evolve Credit — on its platform.
Mono is also part of Mastercard's inaugural Start Path Open Banking class, a three-month global engagement program for open banking startups to help them grow and find new ways to innovate with the company and its customers and partners.  
Currently, Mono's primary market is Nigeria, but the company will soon launch in Kenya and South Africa. "Our plan is to grow our coverage, expanding to new countries and new data categories," Hassan says.
"What gets me up every day is building the infrastructure that can enable new innovators," says Hassan. He cites Sproutly, a virtual bank app for teens that leverages Mono's entire infrastructure, from account linking to payments to card issuance, and Bridgecard, which provides users with a single debit card that can access all their bank accounts.
"Our platform makes interesting things possible," he says. "If people can build their company or model and raise money and become successful … That's exciting. Our mission is to power Africa's internet economy."