Innovation
NFTs, robots, the metaverse and more: The biggest trends from CES 2022
January 10, 2022 | By Anthony Venutolo
CES has always been nirvana for techies itching to find their next cool toy, from the camcorder to Xbox. This year's tech conference, shortened by Omicron and without CES staples such as AT&T, Amazon, T-Mobile, Meta and Google, raised the bar once again — foldable laptops and 8K cameras! — but it was clear that the pandemic has altered the way we think about technology and how we use it.
"Over the past two years our expectations of technology have changed," said Samsung CEO Jong-Hee Han in his keynote. "We have found greater value in togetherness and being closer to friends, family and society."
Gary Shapiro, the president of CES organizer Consumer Technology Association, refers this as the "new normal," where companies will need to more quickly adapt in the face of challenges to embrace new consumer preferences and needs, not just dream up new bells and whistles.  And isn't that what technology is all about — understanding new realities and reacting to them in innovative ways?
Here are four big examples from the show of how tech is responding to the new ways we live, work and play:
01
Automakers double down on EVs
Whether it's autonomous drone-like taxis of the near future or tech that will change your car's exterior color at the press of a button (it's already here – thank BMW for that), CES has always been home to automotive innovation. Last year's showcase was more how the industry is evolving to an all-electric, zero-emissions world, but the 2022 show is concerned with making EVs the norm instead of the novelty, sooner rather than later.  
After all,  Canada announced in June it would ban the sale of fuel-burning new cars and light-duty trucks in 2035 in an effort to reach net-zero emissions by 2050. Norway revealed it would do the same. Ditto for the state of California.
The writing is on wall. Make room, Tesla, because practically every automaker wants a piece of your EV pie.
"We intend to transform clean mobility and seamlessly-connected customer experiences," said Chrysler CEO Christine Feuell, unveiling the new Airflow concept EV. Chrysler aims to launch its first EV model by 2025,  with an all-electric stable of vehicles by 2028.
Mercedes-Benz's reveal of the Vision EQXX resembled a sculpture direct from MoMA. The solar-powered concept car can drive 648 miles on a single charge. And while a production model of the Vision EQXX would certainly make enthusiasts giddy, Car and Driver reports that the first Mercedes to use a version of this long-range EV powertrain will be in production by 2024.
General Motors CEO Mary Barra, reinforcing last year's mission to deliver 30 new EV vehicles over the next five years, said her goal is to develop cars and trucks that have longer range, faster charging times and — here's the biggie — cost less. And that proof is coming from the compact (and sleek) Chevrolet Equinox crossover SUV, with a starting price of around $30,000. Also in the pipeline are EV variants of their bestselling truck the Chevy Silverado pickup and its Blazer SUV.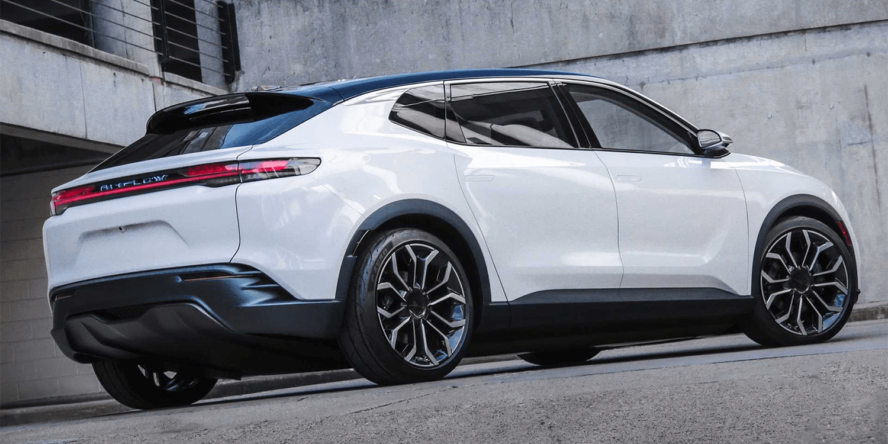 Chrysler unveiled its Airflow concept car, one of an anticipated stable of electric vehicles from the carmaker, including a Silverado EV, at CES 2022. (Photo credit: Consumer Technology Association)
02
NFTs will become mainstream entertainment
When creativity meets technology, the result can be legendary — think of how DJs harnessed turntables to pave the way for hip-hop.
And now, the unlikely pairing of blockchain and art that resulted in last year's explosion of non-fungible tokens is now taking over creative properties across the board.  
But first … what is an NFT? Simply put, it's the proof of ownership of a digital asset — art, music, trading cards, videos and more — minted with  blockchain technology.
Lesley Silverman, head of Digital Assets at United Talent Agency, said she had her first "ah-ha" moment about NFTs when she realized that the smart contract that powers the transfer of NFTs can guarantee its creator a royalty. "For me, that was revolutionary," she  said on her panel. "It's essentially a participation in their ongoing revenue stream. I knew it would upend the art world because it's something that never existed before."
NFTs aren't just for an artist starving over a can of beans. World Wrestling Entertainment got into the NFT game early, Scott Zanghellini, WWE head of New Revenue, said, releasing a limited number of digital assets tied to their wrestlers John Cena and The Undertaker.
Scott Greenberg, CEO at Blockchain Creative Labs, said his company is handling the dedicated NFT marketplace for "Krapopolis," a new animated FOX show from Dan Harmon that he calls "blockchain-powered." What does that mean? Simply put, Creative Labs will curate and sell digital goods ranging from NFTs of the show's characters, background art and GIFs.
"It's about connecting fans, giving them the feeling that they have utility and access to the creators," he said. 
03
Robots ... and the metaverse?
Isn't the point of the metaverse that you never have to leave your house? Well, Hyundai has a different vision. And that vision includes robots.  
While several auto manufacturers use collaborative robots ("co-bots") in their factories, some are branching into robotics beyond the assembly line. Toyota, for example, has been developing humanoid robots that will aid people who have issues with mobility.
Last year, Hyundai acquired the engineering and robotics company Boston Dynamics, and at CES, the Korean powerhouse explained its bold vision on just how it plans to utilize Boston Dynamics' innovative technology.
Marc Raibert, chairman and founder of Boston Dynamics, told the crowd at CES about two dog robots (both named Spot) they're using at Chernobyl to map radiation levels without the need for people to enter exposed areas.
But Hyundai said they want to use what they call a person's physical avatar or "companion robot" to bridge the virtual and physical worlds. It's something the company calls metamobility.
Through the connection of smart devices and robots, users will have unlimited freedom of movement between two worlds, said Chang-Hyeon Song, president and head of Hyundai's Transportation-as-a-Service division. "Let's say I'm at a future CES show here in Las Vegas and I enter the digital replica of my home in the metaverse in South Korea," he said. "I can hug and feed my actual dog with my physical avatar and feel all the joy and love of being next to my dog."  
Song said that he doesn't believe the metaverse is simply just a virtual world. "We believe the possibilities of the metaverse are infinite," he said. "When it becomes more commonplace, it will occupy an important space in our daily lives." 
So yes, robots may eventually be in our future — but let's just breathe a sigh of relief they're not from Skynet.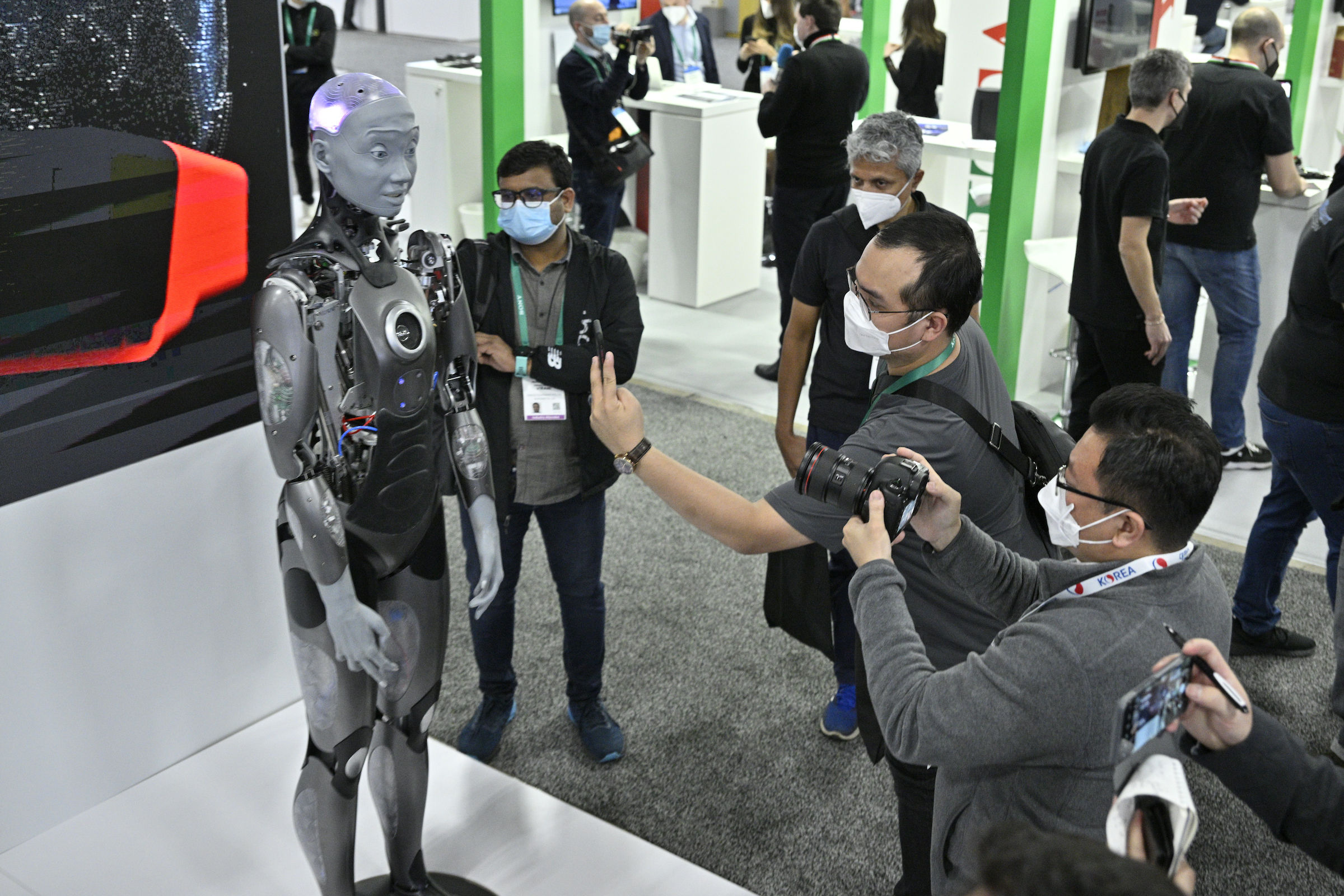 UK company Engineered Arts showed off Ameca, a humanoid robot with natural facial expressions and movements that could interact with visitors to CES's Eureka Park showcase of startup technology. (Photo credit: Consumer Technology Association)
04
Screen fatigue paves the way for social audio
"The key is that there's a sense of participation and interactivity," said Stephanie Simon, head of community and creators at the popular social audio app Clubhouse.
Clubhouse was originally invite-only when it launched in March 2020 and only available on iOS. In July, the company opened the app to everyone, and millions of downloads soon followed. As did the competition from Meta, Spotify and Twitter.
But why audio? "Clubhouse founder Paul Davison says that it's about hearing people's heart, and I agree with that," said Toni Thai Sterrett, co-founder of Audio Collective, a production house that partners with Clubhouse creators, agencies, brands and studios to build audio events.
Voice is the oldest medium, Simon said. "We knew how to talk long before we knew how to shoot video or text quippy things," she said. "The first time I went into a room I felt like I was inside of the internet. You talk with people on social audio, not at them."
While the crowds may have been significantly smaller than in years past, CES 2022 was still eye-opening. Clocking more than 600 miles on an EV charge is no longer a pipe dream; content creation and blockchain have merged, and in the metaverse, our robot avatars can bridge two dimensions. And in a pandemic, that could be the biggest innovation of all.