Innovation
This cryptocurrency enthusiast wants to help you create NFTs
November 19, 2021 | By Peter C. Beller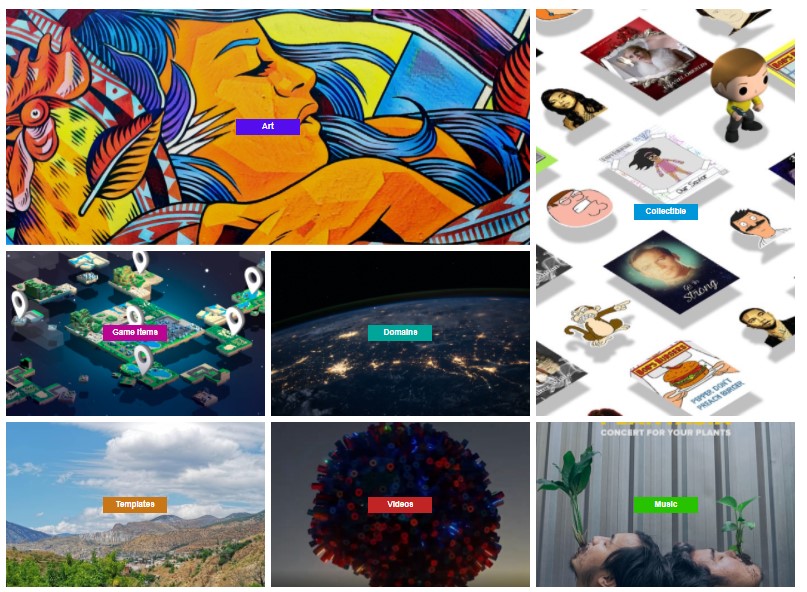 In October 2017, Zach Burks fell in love at a hackathon.
The self-taught programmer and cryptocurrency enthusiast was attending an Ethereum coding event in Canada when four competitors, dressed in matching rainbow-colored shirts, began handing out digital cats to other participants.
Most people went mad for the kitties, the cute digital stars of "CryptoKitties," a game that would become the first blockbuster NFT built on the Ethereum blockchain. These cats popularized the idea that a digital asset could be worth real money. But Burks was obsessed with the code behind the cats. 
Today he has transformed this fascination into Mintable, a Singapore-based company dedicated to enabling anyone to create (or mint) and sell nonfungible tokens (NFTs). NFTs — a tech "CryptoKitties" pioneered — are essentially a digital version of a piece of art or collectible. They use electronic ledgers called blockchains to ensure each NFT is one-of-a-kind and can have a direct owner. That unique nature can give NFTs real-world value, as opposed to any GIF you see on Twitter.
With clients that include professional athletes and well-known artists (Jacksonville Jaguars quarterback Trevor Lawrence's NFT collection with Topps sold for more than $400,000), Mintable has already attracted investment from billionaire entrepreneur Mark Cuban. But Burks believes NFTs will go far beyond trading collectibles: "NFTs are the killer app of the blockchain," he says. 
Mintable, one of the crypto startups joining Mastercard's Start Path development program, is on the cutting edge of how art, gaming, money and collectibles are being reinvented by crypto and blockchain. The startup, along with a few other NFT marketplaces like Nifty Gateway, OpenSea and Rarible, is essentially the next wave of what Amazon and eBay were during the first dot-com boom. And, just like the crash that came afterward, there's an expectation that a lot of hyped NFT projects will eventually fizzle.

That's why Burks is planning for the long term and setting his sights on bringing NFTs to the mainstream, not just to a core of enthusiasts. 
Burks has always gravitated toward the inner workings of software, even teaching himself coding skills as a child. After high school and a two-year stint in the U.S. Army, the California native took computer science classes at a community college but left school armed with little more than some Bitcoin purchased for next to nothing (a point of pride) and some ideas for how to start a business based on the cryptocurrency technology he knew would change the world. 
This March, the financial world awoke to the power of NFTs when British auction house Christie's sold a work by an artist known as Beeple (South Carolina digital artist Mike Winklemann) at auction for $69.3 million. But that wasn't a fluke: As the NFT market grows, content creators of all stripes are beginning to mint digital assets and put them up for sale, such as the NBA teaming up with the maker of "CryptoKitties" to market video highlights that function as digital trading cards or the iconic "Charlie Bit Me" YouTube clip that sold this spring for $761,000. 
foundry live
How NFTs are redefining commerce
Non-fungible tokens, or NFTs, are unique digital assets that represent ownership of real-world items, with creators and brands tapping into new use cases, from art to collectibles to real estate, to engage consumers. In this Foundry Live session, watch leading futurists share their perspectives on how NFTs are shaping the future of commerce and what businesses can do to prepare for tomorrow. 
What Burks has figured out is how to simplify the process to create and sell NFTs. Mintable removes fees, known as "gas," charged by blockchain participants to link the tokens to their network. Those fees fluctuate but average $25. Instead, the site invites users to "turn any creation into an item on the blockchain," with no upfront charges for the seller. And whereas the NFT market can be difficult to parse for noncrypto fans without technology skills, Mintable devotes much of its energy to simplifying the process. Even Burks' mom has minted an asset or two.
"NFTs are going to be the main driver of adoption for millions of people into crypto," says Burks, noting that while many people are still hesitant to touch something like Bitcoin, they can more easily grasp the concept of an NFT. "It's not a financial instrument, you don't need to have Wall Street experience."
Femi Odunuga, senior vice president at Mastercard Foundry, the company's research and development arm, agrees that NFTs could be an on-ramp — and to more than just cryptocurrencies. "It may prove to be an avenue through which smart contracts, provenance solutions and other blockchain-based technologies gain awareness and adoption on a broader scale."
With a recent funding round of $13 million, including investment by the purchaser of Beeple's blockbuster NFT, Burks plans to use the Start Path program to connect with financial platforms that want to gain experience with this new asset class. The company makes money by taking a small cut of every transaction on its platform, as well as by offering marketing and other services to creators looking to sell their works.
But Burks thinks NFTs, and Mintable, will one day grow well beyond a marketplace for collectibles. Just as YouTube birthed an ecosystem that's only tangentially connected to television broadcasting, NFTs have the potential to reshape how we interact with everything, from music and insurance policies to automobile registrations. 
"It's something that everyone is going to be consuming in their daily lives in some way, shape, or form."
---
This story was originally published on Aug. 23, 2021. It has been updated to include the Mastercard Foundry Live session on NFTs.