Commerce
Buy now, pay later 101: Budgeting gets a digital makeover
September 1, 2022 | By Stephanie Borise

If you're old enough to have owned a hi-fi stereo, there's a chance you bought it with a layaway plan. For years, retailers offered budget-minded consumers the option to spread out expenses by paying for big-ticket items in installments. So if you paid a deposit on your new stereo system in February, you'd have it by the time Madonna released her "Like A Prayer" album in April.


Though shopping habits have since gone digital, pay over time plans remain a relevant tool for anyone — from the millennials and Gen Z shoppers driving the trend to older customers starting to embrace it — to practice financial responsibility. With the rise of e-commerce, the old brick-and-mortar store layaway plans have transformed into pay-over-time models. It's estimated that about a third of shoppers have used buy now, pay later financing, or BNPL, according to Credit Karma.  
But these aren't the old-school layaway plans you remember. For starters, the BNPL model  provides the immediate gratification of receiving an item or service now, rather than waiting until the debt is paid off. Also, many of these installment plans offer zero interest on purchases. And these programs apply to small purchases as well as larger-priced items such as furniture, electronics or airline tickets — without onerous paperwork or wait times for approval.
To be sure, with any reward comes some level of risk. If you struggle to stick to a budget, these loan plans might encourage you to spend more than you should. And, depending on the buy now, pay later offering, if you forget to pay on time, you may incur late fees or your credit score might suffer. The key is to think about the total cost of the purchase you are making and ensure that these tools are simply used to pay the debt over time versus all at once.  
What is buy now, pay later (BNPL)?
Buy now, pay later is a form of financing that lets consumers pay for purchases over time. Buy now, pay later, also called installment lending, is surging in popularity as technology has made it easy to offer fast, seamless experiences in store and online.
How does buy now, pay later work?
Buy now, pay later works by splitting purchases into equal payments. Shoppers typically go through a simple online application process, which does not impact their credit score unless they do not make the scheduled payments. Failure to pay may also result in late fees. 

What are the benefits of buy now, pay later?
"Buy now, pay later plans allow you to manage your budget on a purchase-by-purchase basis, helping you spread out a purchase over time to make it easier to manage your finances," says Mastercard's Chiro Aikat, who oversees its BNPL offerings in North America. Typically these plans can be opened from a bank or lender's app or a merchant's website in a matter of minutes without impacting credit scores — the providers conduct a "light" or "soft" credit check to get a sense of how you manage your money, as opposed to a "hard" credit check, a more formal assessment that can affect your credit score.

What types of buy now, pay later plans are available?
While there are pay-in-installment plans for any type of consumer, keep in mind that some programs in total will cost you more than others. Before selecting a plan, figure out what you want to purchase and assess whether you will be able to make the repayments on the specific schedule. 
For instance, merchants typically offer plans that promise high credit limits and repayment terms ranging from six weeks to 60 months. Some don't even require an initial payment. However, those plans may charge fees or interest rates (sometimes as high as almost 30%) depending on your credit score and the length and value of the loan. Those charges can add up. For instance, if you opt to pay for the latest high-end gaming laptop, listed online at $3,000, over a six-month period paying 17% interest, you will ultimately spend $3,510 ($585 per month) before sales tax and shipping fees.

What are some of the potential risks of buy now, pay later plans? 
Be mindful that quick approval processes and light credit checks make it easy to be impulsive and overspend. Using buy now, pay later plans for a $45 pair of sunglasses at one store, a $25 moisturizer at another, and a $300 pair of boots somewhere else can lead you to underestimate how much you will owe, especially if each loan is with a different provider. That could mean late payments, potentially late fees, and a hit to your credit score.

What happens if I pay my installment late?
Late payments are always a risk, and depending on the provider could result in a late fee or a higher interest rate. A recent Credit Karma survey found that 34% of buy now, pay later users have fallen behind at least once on payments. To avoid late payments, set up a reminder or use auto pay from your checking account or debit card.

Do buy now, pay later loans affect my credit score?
Not if you pay on time — for now. When approving an installment loan, providers typically conduct a soft credit check, which doesn't appear on your credit report and doesn't impact your credit score. That is changing, however. The three major U.S. credit bureaus have announced plans to include installment loans on their credit reports, which could boost a score if you pay on time — and would benefit people who have thin credit histories. But, as with other loans, late payments can lower your credit score. Research the terms of the loan on a lender's site to find out if the provider reports your account activity.

Are there consumer protections for buy now, pay later purchases?
While consumer protection is stronger with more heavily regulated credit and debit cards, some safeguards do exist for buy now, pay later plans too. For instance, if you repay loans with a Mastercard debit card, you receive Zero Liability Protection. That means you are not responsible if a bad actor adds your card to a buy now, pay later transaction fraudulently. While the return and dispute resolution process is relatively straightforward with credit and debit cards, the process with buy now, pay later may differ from provider to provider — for example, whether you have to continue making payments on an item while the return is being processed.
Buy now, pay later provides plenty of smart ways to upgrade that old stereo system or pay for a trip to the Caribbean. The key is to stick to a repayment plan that works for you.
---
This story was originally published April 26, 2022. It was updated to reflect additional information about buy now, pay later.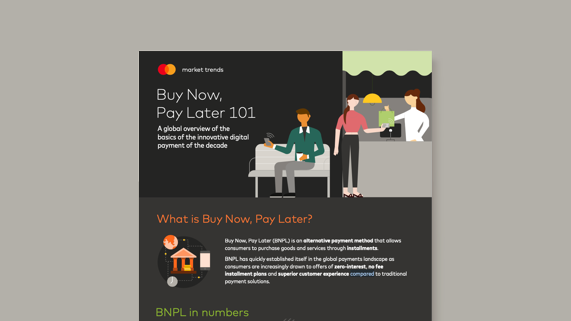 Infographic
What is buy now, pay later? 
This alternative payment method is catching on with consumers, creating new opportunities for merchants and other players. Mastercard customers and partners can learn more in "Buy Now, Pay Later 101," a new white paper available on Market Trends, Mastercard's business intelligence platform. 
View the infographic here