Innovation
Why buy now, pay later is about to be everywhere
September 28, 2021 | By Vicki Hyman

Older generations don't always get the credit they deserve for starting hot trends.


But your great-great grandparents, who coveted phonographs, player pianos and the first electric refrigerators, were pioneers of buy now, pay later, which has exploded in popularity over the last few years. Buy now, pay later lending, also known as installment payments, can give people the flexibility to finance purchases without added interest.
Now it's back, with digital technology making it easy to split the cost of a purchase — online or in store — into a set number of payments integrated into the checkout experience. And unlike traditional layaway, consumers get their purchases immediately instead of waiting until after their final payment.
Mercator projects BNPL to surpass $100 billion by 2024 in the U.S., with variations broadening beyond retail, says Brian Riley, the director of Mercator's Credit Advisory Service. "While BNPL does not fit in some everyday spending categories, such as dining," he says, "we see BNPL developments in health care, home improvement and auto repair."
Mastercard's Chiro Aikat says BNPL became an important tool for three reasons. First, the simplicity of getting an offer approved. Second, the choice of how and when to pay, which allows consumers to manage their money better. And third, the ease of repayment, typically pulled from the consumers' debit card or directly from their bank accounts.
For merchants, they bring increased sales by making seemingly out-of-reach purchases more attainable and boost loyalty.


1,200%
Increase in buy now, pay later lending volume in the U.S. between 2019 and 2020

Adding to the growing interest in buy now, pay later, Mastercard on Tuesday unveiled a service called Mastercard Installments, a new platform to allow banks, lenders, buy now, pay later players and mobile wallet developers the ability to offer BNPL to their customers in many more places.
"In the pandemic, consumers were looking to make purchases online, especially in health and fitness, and they were looking at other lending options," Aikat says about the growth of buy now, pay later.
Not just a lockdown trend
BNPL lending volume in the U.S. rose tenfold from 2019 to 2020, from $3 billion to $39 billion, according to a May report from consulting group Mercator Advisory Group. You can credit the lockdown for the 2020 spike — people sought buy now, pay later financing to upgrade their nests and keep themselves fit – but this type of credit isn't going anywhere.
An August survey by Credit Karma shows that 44% of Americans have used a BNPL offer, and 75% of that group have used them at least twice.
But, to put a financial services spin on the famous Spider-Man adage, with great credit comes great responsibility. Consumers shouldn't overextend themselves financially to take advantage of these offerings, the Consumer Financial Protection Bureau warns.
While they won't pay interest on their purchases, consumers are likely to be charged fees if they miss payments, according to the government-run consumer watchdog. Those late payments could be shared with credit reporting companies and lead to lower credit scores. The Credit Karma survey showed that 34% of BNPL users have fallen behind at least once on a buy now, pay later payment.
Regulators in countries where buy now, pay later companies have thrived — Australia, the U.K. and the U.S., among them — are looking more closely at these delinquency rates. BNPL has largely flown under the radar of regulators until recently, but Riley expects that to change: "Most regulatory agencies want to make sure you are doing safe and sound lending."
Consumer protections among BNPL services can be inconsistent. A credit card purchase through Mastercard, for example, comes with certain guarantees: zero liability in case of fraudulent transactions, and clear steps for dispute resolution.
"It's about trust, about offering consumers full transparency to make the right decision, which in many cases today doesn't exist in the buy now, pay later space," Aikat says.

Bringing more responsibility to BNPL
As buy now, pay later continues to gain traction, there's an opportunity to keep building on the service to make it available in more places while also boosting consumer protections.
Looking to do that, Aikat, an executive vice president in the company's North America business, is spearheading the launch of Mastercard Installments, which can be offered at  merchants across the company's vast acceptance network — 78 million acceptance points, starting in the U.S., Australia and the U.K. — without the need for expensive integration work.  Mastercard Installments offers the same consumer protections as its card payments, including responsible data use and free transparency, Aikat says.
When he looked at the already crowded BNPL space, he saw the clear need to instill more trust in these transactions. Mastercard's responsible lending practices include a requirement that lenders consider a borrower's repayment ability and other outstanding debt obligations.
"It comes with a great level of safety and security that consumers are already used to with Mastercard's credit, debit and prepaid [services]," he says. "That level of consistency is what we bring instead of placing the onus on the consumer — what trade-offs are they making in order to get that offer?"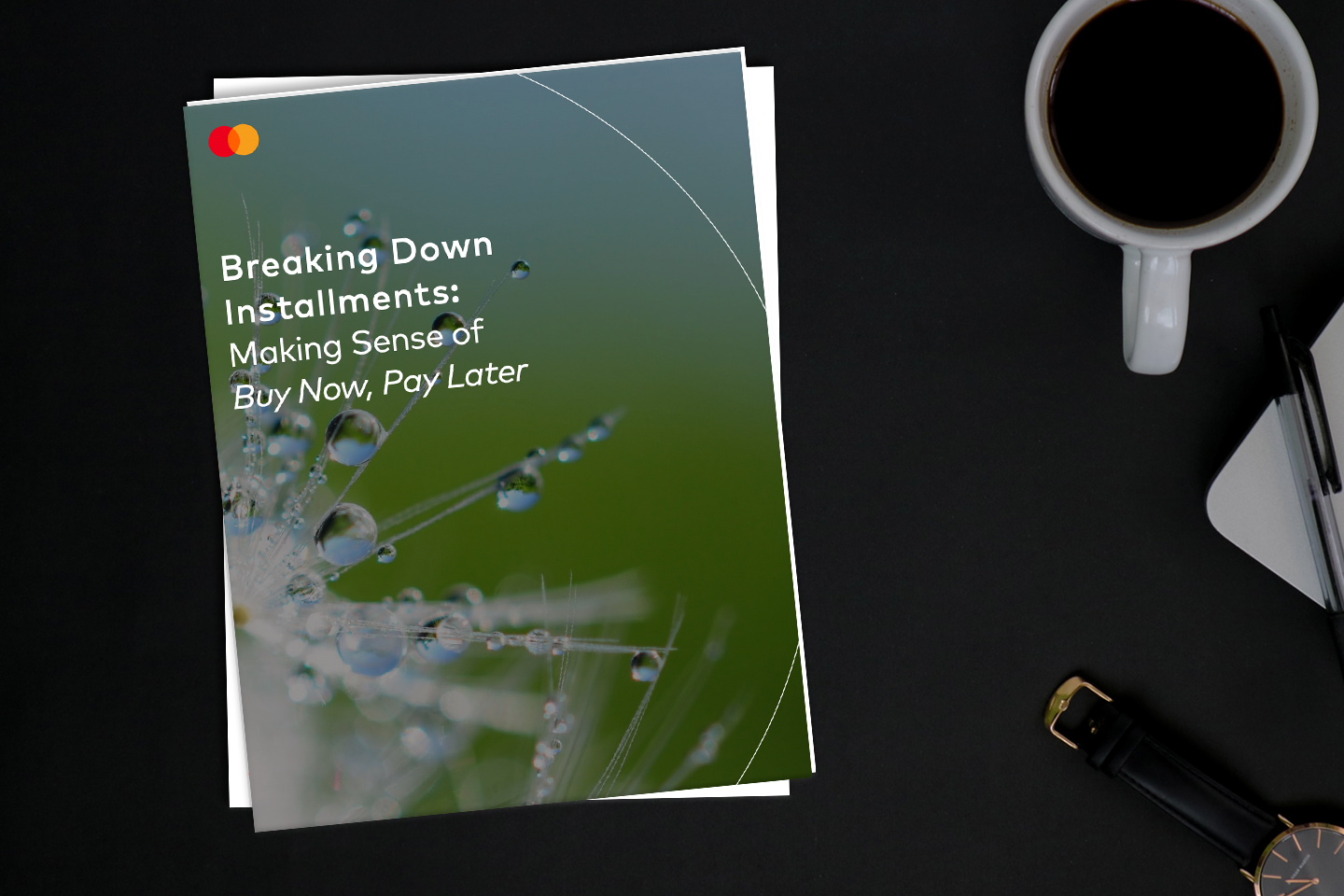 report
Breaking Down Installments: Making Sense of Buy Now, Pay Later
A new report by Mastercard Data & Services dives into the fast-growing installments space and offers four data-informed building blocks to help issuing banks and fintech companies build a strong buy now, pay later proposition.
Download here