Loyalty
How airlines are keeping loyalty programs first-class
November 16, 2022 | By George Wilson-Howell
People are taking to the skies with real gusto. After slumping to 60% below 2019 levels during the first year of the pandemic, global flight bookings through the end of August 2022 were 16% higher than in 2019. This is great news for airlines, whose bottom line suffered during the lockdowns and restrictions of the pandemic.
But they are dealing with a public that has profoundly changed its traveling behavior. People want booking flexibility in case COVID-19 interrupts their plans. Some will still drive farther and forgo flights, reserving airline travel for must-do long-distance trips.
And while travel loyalty programs originally gained currency among frequent business travelers with deeper pockets, business travel has yet to see a full recovery. That means airlines are upping the ante on their loyalty programs to attract a wider range of members — even those who don't even travel that often — and to deliver the kind of engaging, timely experiences that the digital-savvy consumer has come to expect.
Here are five loyalty trends taking flight:
01
Subscription models will continue to grow. Low-cost airlines have long been fans of membership subscription models, offering priority boarding or dedicated bag-drop facilities. Lured by the promise of more revenue, full-service operators are piling on too. Emirates offers Skywards+, a three-tiered paid subscription, through its Skywards program. Each level comes with perks like a 20% bonus on miles, coveted lounge visits and an increase in baggage allowances. Alaska Airlines is bundling flights within California, Nevada and Arizona — for a monthly fee, travelers can buy a set number of flights for as little as one cent (plus taxes) each way.
02
Data becomes paramount to creating personalized customer experiences. Airlines will increasingly harness data from bookings, email engagement, loyalty transactions and social media engagement to give customers the experiences they want. By tapping into data from a customer's flight booking and loyalty member profile, an airline could remind a passenger to renew her passport before an upcoming international trip or offer day use of nearby hotel facilities when travelers are facing long layovers.
03
Airlines will zero in on less frequent travelers. Smart airlines have already taken steps to generate traffic from infrequent travelers, such as lowering requirements to qualify for elite status. Now airlines are hunting for more ways to deepen those relationships, such as perks through a co-branded card or using data to send discounted mile redemption offers to a customer's preferred locations.
04
More gamification — with a focus on sustainability. Gamification creates excitement and keeps people engaged through a mix of social collaboration and healthy competition. One Mastercard partner reports that applying gamification to its loyalty marketing campaign drove engagement up tenfold. In addition, some airlines are tying sustainability efforts to gamification by offering miles redemption for carbon offsets or green rewards, helping the companies reach their own sustainability goals while appealing to the growing number of consumers who connect their values to their wallets.
05
Everyday earn and co-brand opportunities will grow. Airline loyalty programs are increasingly focusing on opportunities for members to earn points in between flight purchases. A recent Harvard Business Review study shows that, even now, more than 50% of airline miles aren't earned on flights. That may increase as airlines invest in co-branding opportunities beyond travel, such as new ways to benefit from e-commerce rewards platforms that let customers redeem points for popular brands.
At their best, airline loyalty programs will emerge as something of a life hack. With programs that can enhance shopping experiences, expedite travel and even align our lives with our personal values, consumers will view their membership as a necessity. And that's what brand loyalty is all about.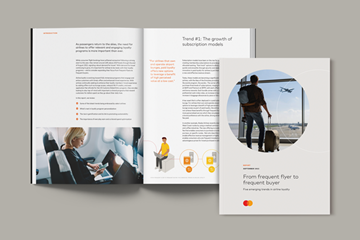 Report
From frequent flyer to frequent buyer
As passengers return to the skies, the need for airlines to offer relevant and engaging loyalty programs is more important than ever. For a deeper dive into the transformation of airline loyalty and its impact on how we experience travel, check out "From Frequent Flyer to Frequent Buyer," a report from Mastercard Data & Services.
Download the report