Inclusion
How a fintech founder sought purpose after injustice
February 26, 2021 | By Kristin Kloberdanz
In the late summer of 2014, Wole Coaxum was glued to the television in his Wall Street office. He watched in horror as violent riots broke out in Ferguson, Missouri, after police fatally shot unarmed Black teenager Michael Brown. To Coaxum, who is Black, it was unfathomable to see similar images he grew up watching in documentaries about the Civil Rights movement — and hear the same conversations about how to solve racial problems.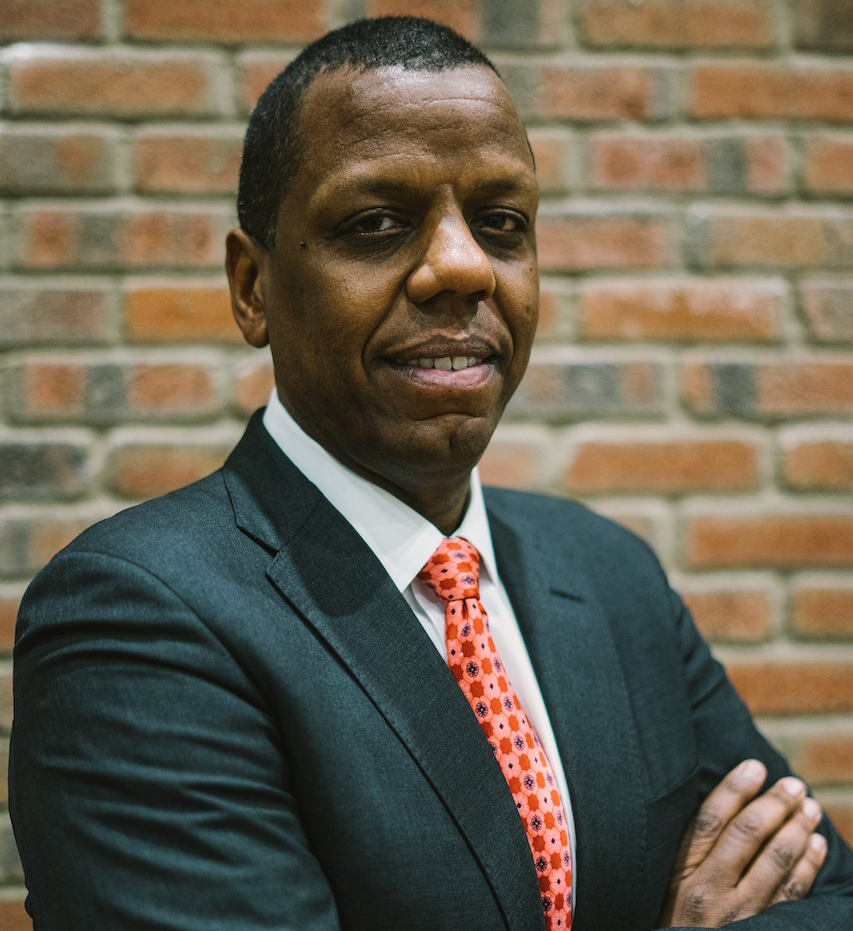 "I heard excellent analysis around what was going on and why — but I saw very little in terms of real sustainable solutions to bring economic plans to communities of color," says Coaxum, 50, who grew up in Cleveland, the son of activist parents. "I thought maybe this is the chance to use this moment and my skills to get involved."
At the time, he was a head of sales at JP Morgan Chase Inc. in New York. After spending a year puzzling over how to make a difference, Coaxum left his lengthy career in corporate finance. "Enterprise is all about going on faith," he says with a laugh.
In 2015, he joined four other partners to incorporate Mobility Capital Finance Inc., also known as MoCaFi, a fintech dedicated to providing financial services to suit the specific needs of people of color.
MoCaFi, part of Start Path, Mastercard's later-stage startup program, is based on two key insights: People of color are vastly underserved in banking, and the current banking system sets up people with little money for failure. In 2019, 13.8% of Black households in the U.S. were unbanked – more than double the number for all American households, according to the FDIC. "The numbers were staggering," Coaxum says.
A few of the reasons people of color are less likely to have bank accounts is because there are fewer branches in their neighborhoods, and traditional branch-based banking doesn't lend itself to people who can't afford to leave high balances in their accounts, he says. According to a 2018 report by the think tank New America, banks in communities of color charge more for opening and maintaining basic checking accounts than those in majority-white neighborhoods, and the minimum balance required to avoid fees is also higher — $145 on average — in predominately Black neighborhoods.
"Our belief was that people register with financial literacy when they are at a point when they need it — it won't resonate if they are trying to keep the lights on."
"I had an 'aha' moment in the field when I met a man who said he works 40 hours, cashes the check and gets paid for 30 hours." In other words, the man lost 10 billable work hours to check-cashing fees. MoCaFi sets out to serve people who need to dip in and out of their banking accounts without incurring high costs at the ATM.
Based on Coaxum's experience at Chase, he decided digital banking would best reach people who often don't have access to banking services. After building MoCaFi's mobile banking app, he connected with advocacy groups to get the app to those who most needed it, such as restaurant workers in New York City. As MoCaFi grew, it added tools to help users boost credit scores and gradually began developing courses and educational components.
"Our belief was that people register with financial literacy when they are at a point when they need it — it won't resonate if they are trying to keep the lights on," Coaxum says.
Today, MoCaFi has more than 25,000 users who can deposit checks, build up their credit scores and make payments, all without being crushed by fees. They can also use free ATMs in five countries at places such as CVS and Rite Aid to avoid check-cashing shops that charge high fees. And they have access to linked Mastercard debit cards.
MoCaFi first connected with Mastercard when Coaxum included the company's educational material as part of his platform. In 2018, MoCaFi joined forces with Mastercard to develop the Mastercard City Key program to embed banking features in some municipalities' ID cards. People without a typical debit card could use this card instead to open a mobile bank account and access city services.
Last year, MoCaFi joined the Start Path startup program to work with cities such as Honolulu, Los Angeles, New York, New Orleans and Chicago to continue building financial tools for underserved communities. And as part of Mastercard's $500 million commitment to help close the racial wealth gap in the U.S., the company on Wednesday invested $2 million in MoCaFi to help address these inequities and support the company's effort to provide banking, credit building and wealth coaching services to the underbanked.
Coaxum says he is working to have 100,000 users banking on MoCaFi by the end of this year. "It's a real opportunity to reimagine how our dollars are distributed to vulnerable people," he says, adding that there has been a surge of interest and support since last year's Black Lives Matter demonstrations. "Michael Brown did that for me, but George Floyd for others validated our mission."