An #LALOVE story: How the city got aid to its most vulnerable citizens in just 8 days
March 30, 2020 | By Amy Kover
Los Angeles Mayor Eric Garcetti was running out of time. It was mid-March, and the enormity of the coronavirus was beginning to take hold of his city. It was only a matter of days before LA would grind to a halt, leaving tens of thousands of Angelenos in financial peril. "For a lot of people, the difference between making it or not is one paycheck," explains Rick Jacobs, head of the nonprofit Accelerator for America and a longtime policy adviser to the mayor. He and Garcetti needed to get money into the hands of LA's most vulnerable citizens within the next couple of weeks. But how do you do that in a city of nearly 4 million people without putting more lives at risk?
Jacobs knew someone who might have an answer. Through Accelerator for America, which tackles urban poverty issues in cities across the United States, he had spent the last six months working with Miguel Gamiño at Mastercard. Gamiño runs City Possible, a platform where private and public organizations work together to solve big city problems. And, as part of his work, he and his team had been working on new ways to distribute funds to the neediest populations.
When Gamiño got a text from Jacobs on Sunday, March 15, he got right on the phone to see what LA needed.
The Plan
Jacobs quickly laid out the plan: LA would invite families in need to apply for up to $1,500 in assistance. To fund these aid packages, the city would use its nonprofit Mayor's Fund for Los Angeles to establish the Angeleno Campaign, a campaign dedicated to COVID-19 relief, with an initial goal of raising $10 million. Jacobs needed Gamiño and his team at City Possible to come up with a way to collect money and then disburse that direct relief as rapidly and safely as possible. 
Distribution was easy. Last year, the City Possible network created Mastercard City Key, a platform that combines an ID card with payment systems supported by the existing network of vendor partnerships and prominent prepaid companies. "If you took your driver's license and Mastercard, put them back-to-back and melted them together, you basically get a City Key," says Gamiño. Gamino, in partnership with Jacobs and the MA regional team, arranged to start by assisting 3,200 approved families, who would receive cards at one of 16 family resource centers located throughout the city. Eventually, they could ramp up to help more families and add other benefits, such as vouchers for local grocery stores or pharmacies.
Next came digital donations. To help solve the problem, Gamiño reached out to Cristina Paslar at Mastercard Cause Enablement, a division that launches cause-related initiatives for the company and its customers. As head of the program, Paslar often customizes technological solutions for fundraising. By leveraging the Donation Platform portfolio, she was also able to quickly size up what LA needed and deliver the solution. 


The Funds
Raising money requires reaching as many potential donors as possible. In this situation, those donors would be Angelenos who are stuck at home, yearning to help their community. "Since the city is sheltering in place, people are now very connected to social media and watching TV," explains Paslar. "We felt it was important to be where these audiences are." She worked with fintech partner Goodworld, which facilitates hashtag donations through social media, to come up with a system that spanned across social media, text and webpages. Anyone interested in contributing need only text LALOVE to the number 21000.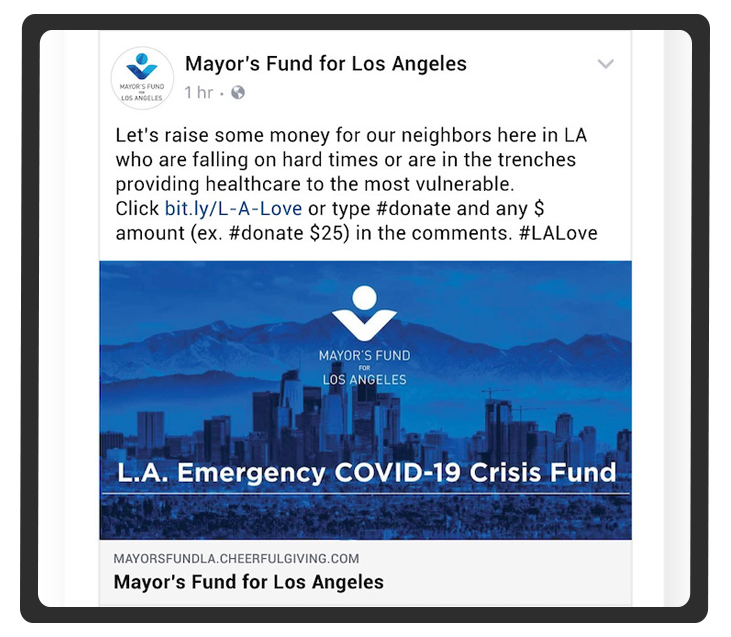 Yes, Even a Party
By Monday, March 23, at 11 a.m., Mayor Garcetti was standing in front of the podium announcing the launch of his Angeleno Fund and LALOVE campaign. Mayor Garcetti called the program "A priceless lifeline that's made possible by non-fee debit-cards made possible by Mastercard's City Possible Network." NBA All-Star and LA native Russell Westbrook made the first contribution and shared the campaign with his millions of followers on social media in a video with his wife. And because this is LA — a city full of stars who know how to put on a party — DJ DNice, who has been hosting virtual dance parties on Instagram Live, will get in on the act next weekend, promoting #LALOVE on #ClubQuarantine, which has attracted millions of avid fans.
From there, Jacobs and Gamiño plan to test out their disaster relief model in other cities around the United States. But before they get started, they are taking a moment to appreciate all that this public-private team accomplished. "We got this idea off the ground in eight days," marvels Gamiño. "And no one we asked for help said no."
Learn more about the latest efforts to support cities' inclusive recovery.
About City Possible
Launched in 2018, Mastercard's City Possible network enables cities, companies and communities to work together to advance inclusive and sustainable urban development.