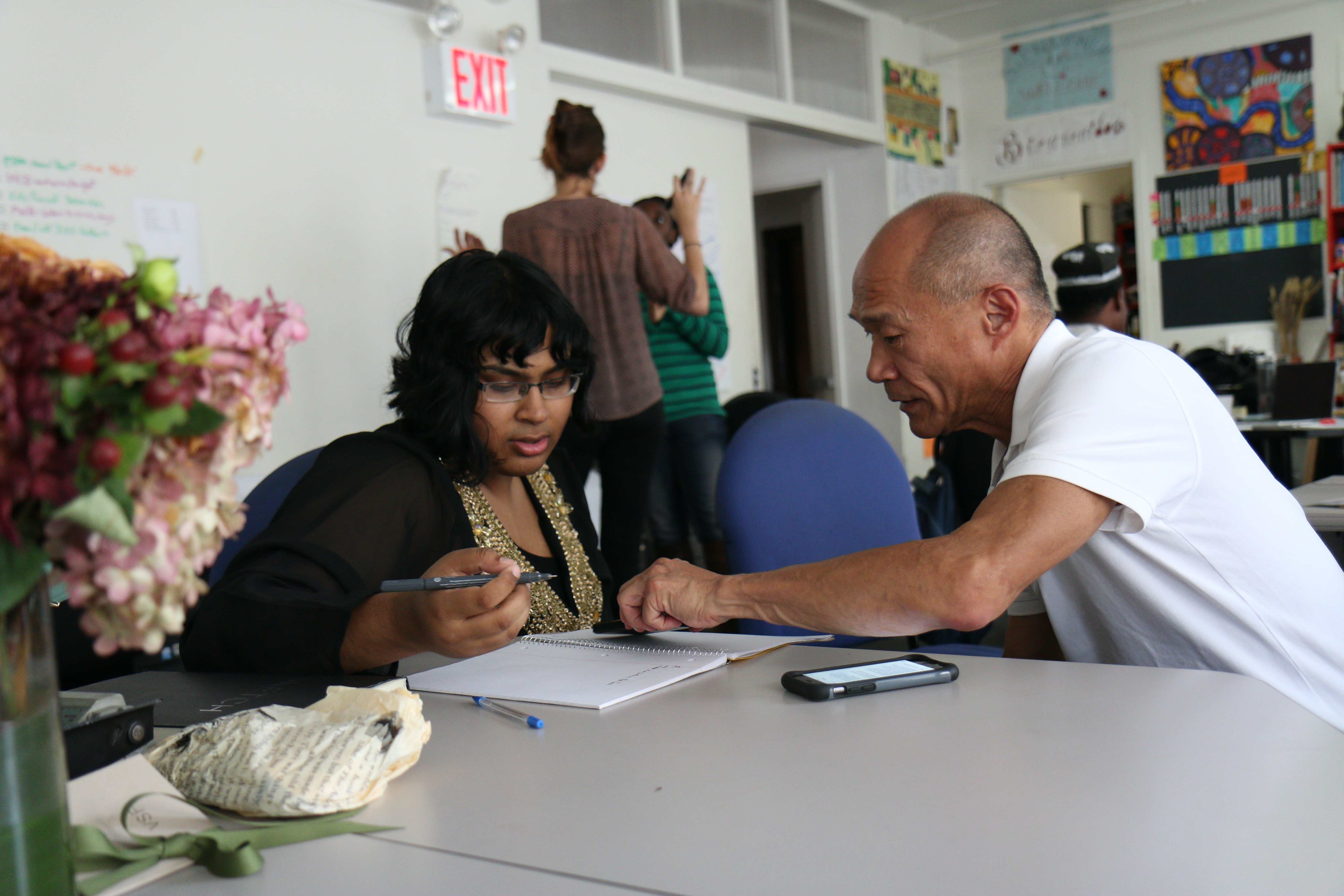 Making space to grow: An entrepreneur and her mentor exchange life lessons in South Africa
August 13, 2020 | By Amy Kover
Small business owners, particularly women, often have limited access to support, but mentorships can help them navigate these challenging times.
Amid the clamor of raising four sons, Nadia Roman was enjoying a rare moment of peace in 2018. As she scrolled through social media, something caught her eye. A local wholesaler was offering women's clothing at low prices. On a whim, she purchased two pairs of shoes and quickly resold them, using the profits for more shoes. "It wasn't like I had big visions for myself," says the 34-year-old resident of Cape Town, South Africa. "I just wanted something to get a little independence and some extra income." 
She kept selling and reinvesting 20% of her earnings until, by the next year, she had a full-fledged wholesale apparel business aptly titled Proudly Roman.
But as Roman's business grew larger, her house seemed to get small. To make room for new merchandise, she converted her front lounge into a makeshift store. The storefront looked somewhat convincing since her lounge has sliding glass doors overlooking her front yard. Yet the room itself was crammed with piles of boxes and no space to display merchandise. Outside there was not enough parking. With a burgeoning business and family to tend to, she never had a chance to consider what Proudly Roman's next phase would look like.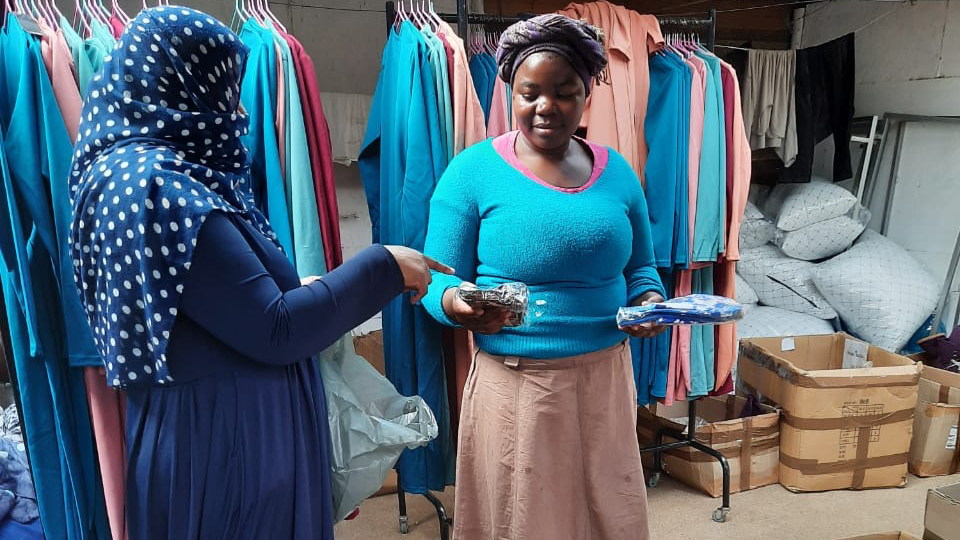 Photo: Nadia Roman, left, who is learning to grow her fashion business through a mentorship program, helps a customer at her Cape Town office.

Around this time, a friend invited her to attend business classes run by Junior Achievement South Africa (JASA). Sponsored by Mastercard, the 20-week Youth Enterprise Programme (YEDP) teaches 18-35-year-olds — nearly all of whom are women — how to write business plans, manage financials and develop marketing strategies. Launching a business remains one of the only roads to economic independence in South Africa, where the total unemployment rate is over 43% for people ages 15-35.
As the coronavirus pandemic threatens to suck up even more job prospects, Mastercard, which sponsors similar micro mentorship programs in developing markets across the globe, ramped up efforts in May by providing three remote mentoring sessions to 27 of South Africa's enterprising young minds.
For Roman, that meant pairing up with Birgit Deibele, a communications director at Mastercard in Johannesburg, which is 870 miles away from Roman's home. One of the upsides to a remote program is that Mastercard could match people regardless of distance, enabling it to cast a wider net for participants. Nevertheless, both women had their concerns. After enthusiastically volunteering, Deibele grew increasingly nervous about doing something she'd never tried before. And Roman was confused by the premise of working with a stranger. "Working with a mentor? I thought: What is this about?," Roman recalls.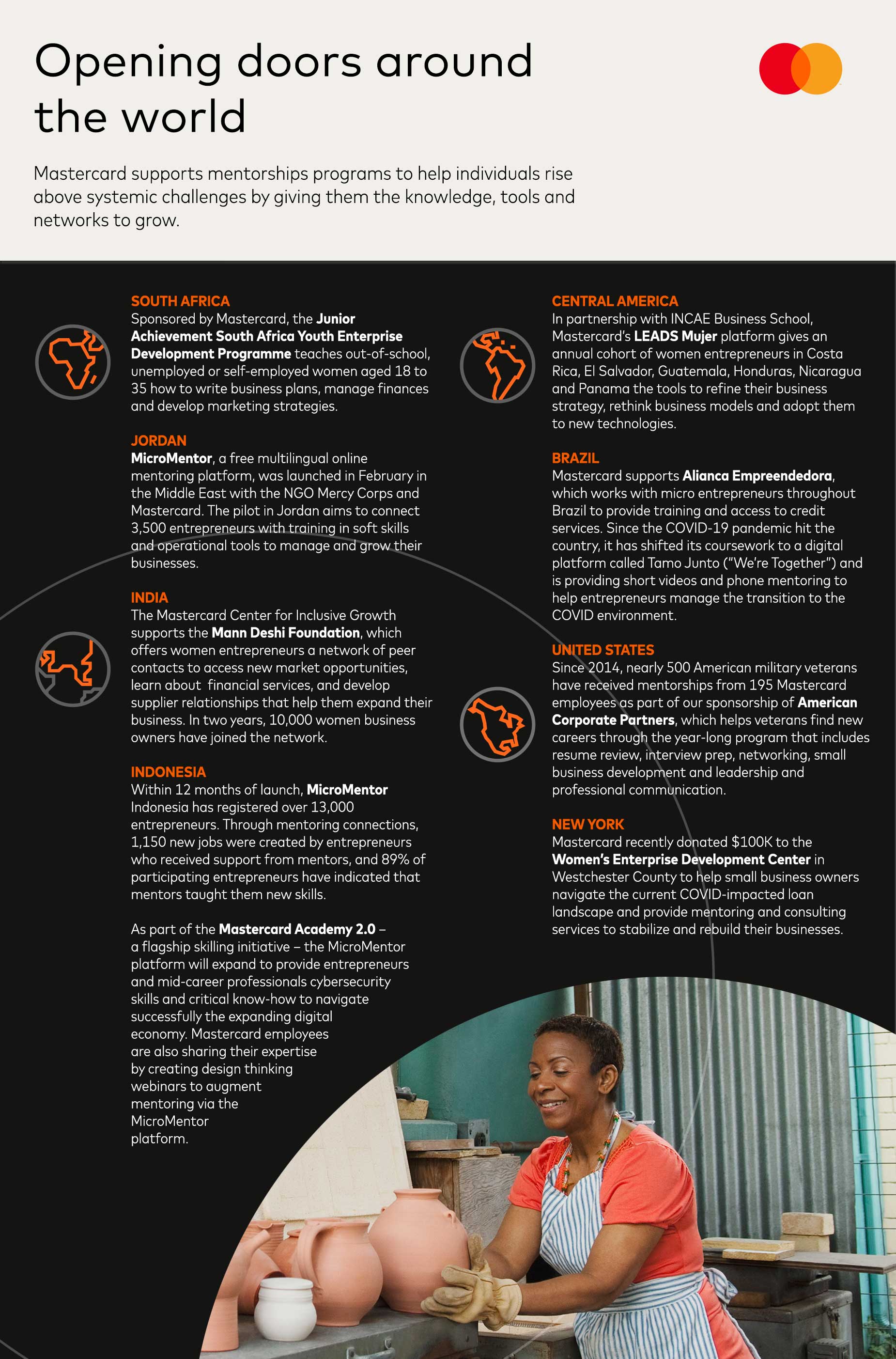 Their trepidation melted away within minutes of meeting. Deibele was impressed with what she calls Proudly Roman's "phenomenal growth," and Roman immediately felt at ease with her mentor, who, as a working mother of a toddler, related to feeling strapped for time and space. Before long, the two hatched a long-term plan: Open a warehouse/store — one not in Roman's living room — in the next three years. 
Since Roman wants to own her store's property, she will need a lot of capital. To that end, Deibele recommended that Roman investigate several savings options, such as a fixed deposit account or investing in a unit trust. She has encouraged Roman to expand into children's clothes and set up a professional Facebook page to market her wares.
Like many working mothers, they have also examined strategies for time management. Noticing that Roman spent much of her workday dealing with operational details, Deibele suggested hiring an employee. That was a big ask for a take-charge perfectionist like Roman. "It's very hard for her to trust somebody in her business. It's her baby," Deibele explains. "We discussed how to think about handing over that responsibility — not only for her sanity but to free up some time so that she could focus on her business goals." A week later, Roman hired her cousin to oversee the store and is now devoting those extra hours to strategic planning.
Come the end of June, the two women held their final official mentoring session. Yet neither were ready to say goodbye. They both felt they still had plenty more to work on. Deibele recently planned a cashless payment session to help Roman — and other entrepreneurs who participated in the mentoring session — to understand the benefits and different types of card payments' acceptance tools to be able to better cater to customers' preferences. And Roman is now helping other women in her community launch resale ventures. 
Most importantly, their partnership has spawned a friendship, an invaluable gift during these dark days. As Deibele puts it, "Nadia is such a shining light and inspiration. I have learned so much from her."

Related Content
No one climbs a mountain alone: Lessons from Kilimanjaro
In March, a team of Mastercard employees embarked on a fundraising mission to Africa's tallest peak. They left with a new appreciation of the power of determination, kindness and connection.
Helping farmers bank on a robust future for coffee
Your morning cup of coffee depends on smallholder farmers. A partnership in Mexico and Colombia is bringing them the digital tools and financial training to sustain their business for future generations.
One billion stronger
We believe the only sustainable growth is inclusive growth. The only way we're going to achieve that is by building a more connected world where everyone has equal access to a better life.