Mastercard Recognized as Top Growing Brand by Interbrand #BGB2019
October 17, 2019 | By Jennifer Stalzer
Mastercard has been named the Top Growing Brand on Interbrand's Best Global Brands 2019 report: Iconic Moves. The recognition comes with the company's 25% increase in Brand Value, which resulted in an eight-spot leap from No. 70 to No. 62 in the top 100 rankings. Read the full press release.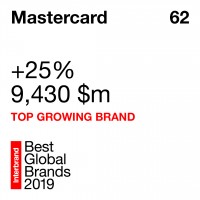 "The brand management playbook is being rewritten for the digital age.  Bold moves are a must for being top-of-mind and unexpected initiatives that anticipate peoples' latest desires are a must for staying there," said Raja Rajamannar, chief marketing and communications officer, Mastercard. "It's fantastic to see our efforts being recognized across all industries--it's a validation that we are forging the right path."

In addition to evaluating the company's financial performance, the role the brand plays in consumer selection, and the overall strength of the brand, Interbrand recognized Mastercard for the following:
Demonstrating a clear understanding of the changing consumer landscape and continued growth through innovation and partnerships
Evolved brand identity enabling the company to maintain recognition in an increasingly digital world – including the roll out of its sonic brand
Consistent delivery of the Priceless platform and new sponsorships like League of Legends Esports
Strong employer brand recognition

For more information, visit the Interbrand Best Global Brands 2019 report site.