Mastercard SpendingPulse: U.S. retail sales expected to grow 3.7%* this holiday season
September 19, 2023 | Purchase, NY
This holiday season, running November 1 through December 24, U.S. retail sales excluding automotive are expected to increase 3.7% year-over-year (YOY), according to Mastercard SpendingPulse™. The anticipated growth in retail in the U.S. reinforces continued consumer resilience. Mastercard SpendingPulse measures in-store and online retail sales across all forms of payment and is not adjusted for inflation. 
Looking back at the 2022 holiday shopping season, inflationary pricing and pent-up demand, coupled with excess savings and rising wages allowed consumers and retailers to navigate the season well. After years of inventory and spending habits being in flux, the 2023 season will bring a broader rebalancing across categories, channels, and sectors in alignment with macroeconomic trends. 
"While the consumer of holidays past may have been a consumer trying to find footing in a rapidly shifting economy, the consumer of holidays present has taken their power back," said Michelle Meyer, U.S. Chief Economist, Mastercard Economics Institute. "We expect these individuals to impressively navigate the holiday season, making choices and trade-offs that best suit their lifestyles."  
Key trends to watch in 2023 include:  
Spreading Cheer Across Channels: While digital shopping habits became the new normal during the pandemic, this season's shopper is looking to make purchases anytime, anywhere – in-store and online. With this omnichannel approach in mind, consumers are anticipated to shop across channels, with e-commerce expected to increase +6.7%, and in-store sales to increase +2.9% YOY. 
Tech the Halls: Electronics, gadgets and gaming might be at the top of many wish lists this year as AI, immersive experiences and digital workspaces continue to evolve the way we work and play. Further, consumers who purchased new gadgets during the pandemic could be looking to upgrade to the latest model. Electronics are anticipated to increase +6.0% YOY this season.
Festive Feasting: The Restaurant sector is expected to continue its growth streak, increasing +5.4% YOY and outpacing Grocery growth (+3.9%), as consumers make plans to gather around tables and with loved ones for shared meals, activities, and festivities outside of the home.



"This holiday season, retailers will be vying for consumer dollars. With numerous choices and tightening budgets, you can anticipate shoppers to be increasingly selective and value-focused," said Steve Sadove, senior advisor for Mastercard and former CEO and Chairman of Saks Incorporated. "We expect the most effective holiday strategy will be to meet consumers where they are – personalized promotions to in-store experiences will be key in doing so."   
For additional holiday insights check-out the latest blog from the Mastercard Economics Institute on the US consumer: Holiday spending 2023: Meet this year's holiday shopper.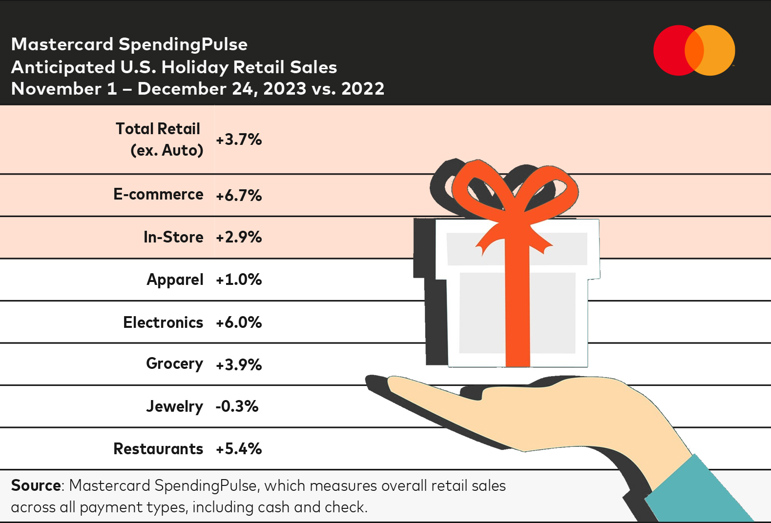 About Mastercard SpendingPulse 
Mastercard SpendingPulse reports on national retail sales across all payment types in select markets around the world. The findings are based on aggregate sales activity in the Mastercard payments network, coupled with survey-based estimates for certain other payment forms, such as cash and check. 
Mastercard SpendingPulse defines "U.S. retail sales" as sales at retailers and food services merchants of all sizes. Sales activity within the services sector (for example, travel services such as airlines and lodging) are not included in the total retail sales figure. SpendingPulse insights are not indicative of Mastercard company performance; insights and forecast are subject to change.  
About Mastercard (NYSE: MA)
Mastercard is a global technology company in the payments industry. Our mission is to connect and power an inclusive, digital economy that benefits everyone, everywhere by making transactions safe, simple, smart and accessible. Using secure data and networks, partnerships and passion, our innovations and solutions help individuals, financial institutions, governments and businesses realize their greatest potential. With connections across more than 210 countries and territories, we are building a sustainable world that unlocks priceless possibilities for all.