New Mastercard Lounge at Scotiabank Arena to deliver exclusive Priceless Experience for fans
October 10, 2023 | TORONTO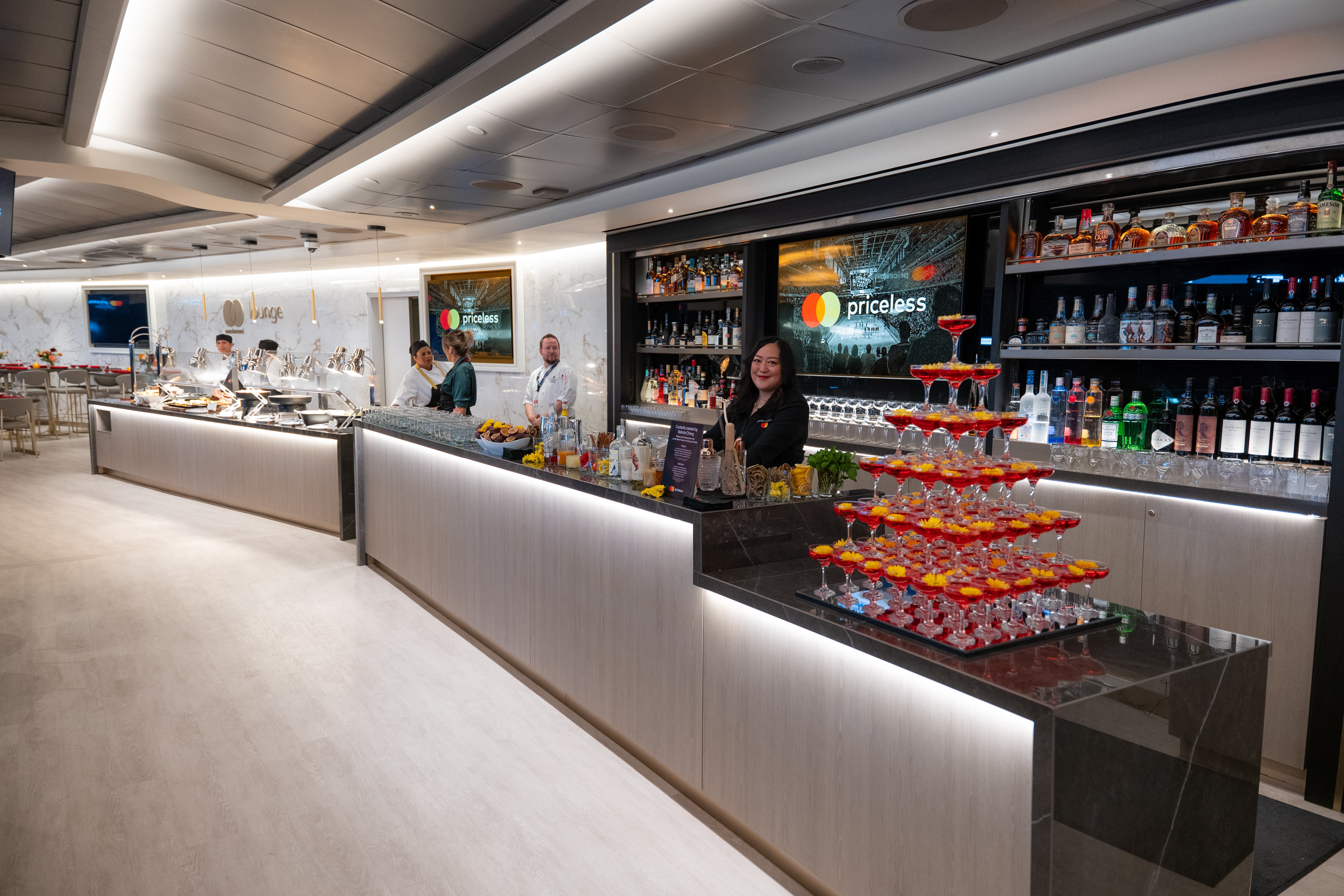 Toronto lounge the latest iteration in Mastercard's global multisensory branding approach
Mastercard, in partnership with Maple Leaf Sports & Entertainment (MLSE), announced today the launch of the Mastercard Lounge, a first-of-its-kind shared members-only space in Scotiabank Arena. The Mastercard Lounge, overlooking the bowl from the 200 Level, delivers a premium viewing and dining experience for sporting games and entertainment events.
Opening its doors ahead of the Toronto Maple Leafs and Toronto Raptors seasons, the sleek and modern Mastercard Lounge taps into fans' desire to push the traditional boundaries of the live sporting and entertainment experience. Featuring an immersive culinary adventure each day, the lounge's dynamic menu will highlight premium Canadian ingredients from coast-to-coast-to-coast. Paired with curated cocktails, the lounge's mixologists have designed a playful selection of refreshments to both intrigue and relax guests. All aspects have been purposely included to enrich the essence of the experience through Mastercard's multisensory identity.
"Mastercard is focused on connecting people to their passions – and each other. That's what Priceless is all about," said Raja Rajamannar, chief marketing and communications officer, Mastercard. "In partnership with MLSE, we're thrilled that the new Mastercard Lounge offers a stunning backdrop to world-class sports and entertainment, defying expectations and enriching an already exciting experience. We look forward to bringing truly memorable Priceless Experiences to life for cardholders."
The Mastercard Lounge will officially open to members on October 11 for the Toronto Maple Leafs' home opener.  
"Over the course of MLSE's longstanding partnership with Mastercard, we have worked together to create extraordinary moments for our fans, and the all-new Mastercard Lounge is no exception," said Jordan Vader, Senior Vice President, Global Partnerships, MLSE. "We are proud to introduce this one-of-a-kind premium space alongside Mastercard and unveil this unique environment that facilitates even more special experiences and memories for our fans."
With a partnership dating back to 2008, Mastercard and MLSE have been bringing exceptional experiences to fans of the Toronto Maple Leafs, Toronto Raptors, Toronto FC, Toronto Argonauts, Toronto Marlies, Raptors 905, TFC II, and Raptors Uprising for well over a decade.
 Exclusive benefits to Mastercard cardholders
Mastercard cardholders will enjoy exclusive privileges for the Mastercard Lounge, such as: 
Priceless Experiences: Mastercard cardholders have the chance to access the Mastercard Lounge at a Toronto Maple Leafs or Toronto Raptors game through a sweepstakes on Priceless.com.*

Inaugural membership incentives: Mastercard cardholders will receive a discount for the Mastercard Lounge membership fee when they pay with a valid Mastercard credit card for the first year.

Member perks: Mastercard cardholders who are members of the Mastercard Lounge will receive merchandise delivery in-lounge for any purchase on the Toronto Maple Leafs and Toronto Raptors mobile applications.
Outside of the Mastercard Lounge, Mastercard cardholders will continue to enjoy Mastercard Insider Benefits when a Mastercard is used in Scotiabank Arena or other MLSE venues, including: **
Exclusive ticket access: Mastercard cardholders have access to an exclusive quantity of tickets for Toronto Maple Leafs and Toronto Raptors games.

In-arena concessions offers: Mastercard cardholders will receive 10% off in-seat ordering at Scotiabank Arena on concessions purchases made via the Toronto Maple Leafs or Toronto Raptors mobile apps when using a valid Mastercard credit card.

Restaurant offers: Mastercard cardholders will get access to exclusive dining reservations at Real Sports and e11even restaurants, reserved only for Mastercard cardholders.

Retail offers: Mastercard cardholders will receive 15% off purchases at Real Sports Apparel when using a valid Mastercard credit card for purchase.
Mastercard's multisensory experiences
In recent years, Mastercard has made its brand tangible across all five senses: sight, sound, touch, smell and taste. With restaurants around the world including the award-winning Notiê in São Paulo, Priceless with Estoril in Mexico City, and LUMA in Hong Kong, Mastercard has forged deeper, more memorable connections with consumers. The Mastercard Lounge at Scotiabank Arena in Toronto builds on this footprint, up leveling the fan experience with world-class cuisine.
*The sweepstakes for the Priceless Experience at the Mastercard Lounge at Scotiabank Arena will run from October 10 until November 19. For full rules and regulations, please visit Priceless.com.  
**For the full terms and conditions on all the offers, please visit: https://mastercardbenefits.raptors.com/terms-conditions.
Scotiabank Arena
Scotiabank Arena is Canada's premier sports and entertainment venue and home to the NHL's Toronto Maple Leafs Hockey Club and the NBA's Toronto Raptors Basketball Club. Owned and operated by Maple Leaf Sports & Entertainment (MLSE), Scotiabank Arena opened its doors in February 1999 and has been recognized with dozens of industry awards. Scotiabank Arena is often ranked the #1 Canadian arena, is often within the top 10 in the world for live event ticket sales and has also hosted over 80 million fans at over 5,000 events including multiple NHL and NBA playoff runs, hub city for the Eastern Conference teams during the return of the 2020 NHL season, 2019 WWE SummerSlam, 2017 Invictus Games, the 2016 NHL World Cup of Hockey, 2016 NBA All-Star Weekend, 2015 IIHF World U20 Championship, 2000 NHL All-Star Game and looking ahead to the 2024 NHL All-Star Game.
About Mastercard (NYSE: MA)
Mastercard is a global technology company in the payments industry. Our mission is to connect and power an inclusive, digital economy that benefits everyone, everywhere by making transactions safe, simple, smart and accessible. Using secure data and networks, partnerships and passion, our innovations and solutions help individuals, financial institutions, governments and businesses realize their greatest potential. With connections across more than 210 countries and territories, we are building a sustainable world that unlocks priceless possibilities for all.