Mastercard SpendingPulse: Canadian retail sales increase marginally at +0.1% YOY in January
March 2, 2023 | Toronto
Canadian Retail sales, excluding Automotive, increase marginally at +0.1% YOY in January, according to Mastercard SpendingPulseTM, which measures in-store and online retail sales across all forms of payment. E-commerce sales also fall -11.1% YOY in January. In-Store sales were up +3.5% YOY as we enter a new year with no pandemic restrictions. Mastercard SpendingPulse accounts for nominal spending and is not adjusted for inflation.
"Retail sales in Canada are stabilizing as consumers continue to spend on passion areas like travel, live entertainment, dining and other experiential activities," said Steve Sadove, senior advisor for Mastercard and former CEO and Chairman of Saks Incorporated.
At a national level, key retail trends from January include: 
Restaurant sector shows strength: Canadians continue to seek entertainment outside of the home, travelling to dinners out, which is reflected by an increase in Restaurants +55% YOY and Fuel & Convenience +11.2% YOY. This remains consistent with a broader shift in consumer spending towards experiential activities.
Housing related sectors soften: As Canadians are once again able to travel, consumer spending is slowing in Home Improvements (-11.9% YOY) and Home Furniture & Furnishings (-6.5% YOY) sectors as experiential spending is prioritized over home enhancements projects.
Jewelry & Apparel sector experiences growth: As retailers prepare to launch Spring collections, many offered extended sales events and discounts to clear out remaining winter inventory driving up Apparel (+13.7% YOY) and Jewelry & Leather Goods (+13.6% YOY) ahead of Valentine's Day in February.



"The current uncertain economic environment continues to drive spending decisions amongst Canadians," said Michelle Meyer, Chief Economist, North America, Mastercard. "Consumers have become more selective with discretionary purchases transitioning their focus from larger buys in sectors such as Electronics, to smaller buys driving up sales in Apparel, for instance, along with experiences."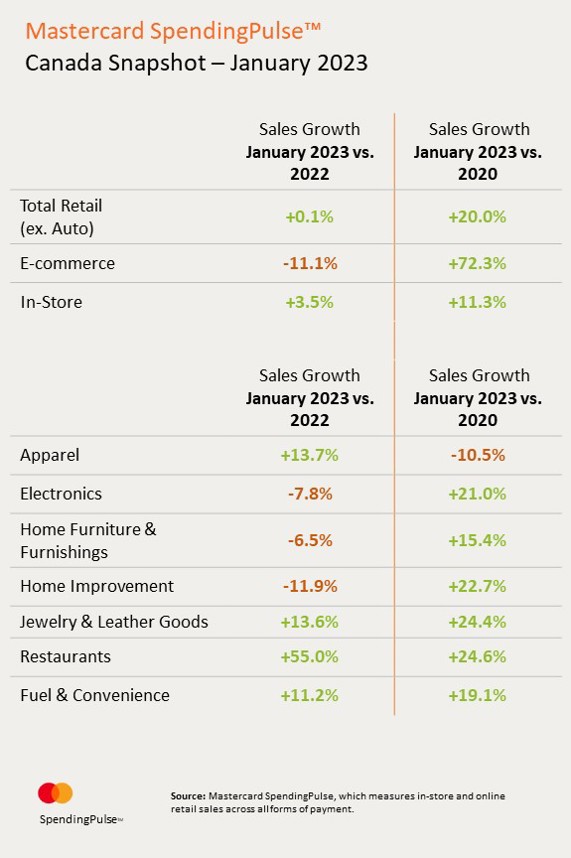 About Mastercard (NYSE: MA)
Mastercard is a global technology company in the payments industry. Our mission is to connect and power an inclusive, digital economy that benefits everyone, everywhere by making transactions safe, simple, smart and accessible. Using secure data and networks, partnerships and passion, our innovations and solutions help individuals, financial institutions, governments and businesses realize their greatest potential. With connections across more than 210 countries and territories, we are building a sustainable world that unlocks priceless possibilities for all.