Mastercard SpendingPulse: Canadian retail sales close out the year with +8.2%* year-over-year growth in December
January 19, 2023
Canadian retail sales, excluding automotive, increased +8.2% YOY in December, according to Mastercard SpendingPulseTM, which measures in-store and online retail sales across all forms of payment. In-store sales were up +10.4% YOY as Canadians returned to in-person holiday shopping. E-commerce sales were down marginally -0.1% YOY but were up +78.9% since pre-pandemic. Mastercard SpendingPulse accounts for nominal spending and is not adjusted for inflation.
"Without the pandemic restrictions of past holiday seasons, Canadians returned to in-store spending and celebrated the holiday season with family, friends and colleagues as seen by solid year-over-year spend increases in sectors such as restaurants, fuel and apparel" said Michelle Meyer, Chief Economist, North America, Mastercard Economics Institute.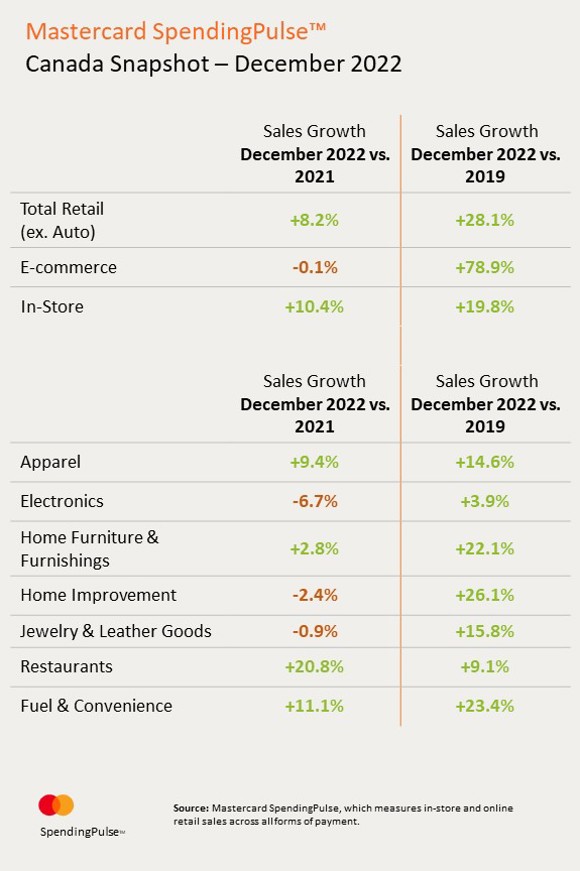 *Excluding Automotive
About Mastercard SpendingPulse
Mastercard SpendingPulse reports on national retail sales across all payment types in select markets around the world. The findings are based on aggregate sales activity in the Mastercard payments network, coupled with survey-based estimates for certain other payment forms, such as cash and check.
Mastercard SpendingPulse defines "Canadian retail sales" as sales at retailers of all sizes, excluding automobiles. Sales activity within the services sector (for example, travel services such as airlines and lodging) are not included.
About Mastercard (NYSE: MA)
Mastercard is a global technology company in the payments industry. Our mission is to connect and power an inclusive, digital economy that benefits everyone, everywhere by making transactions safe, simple, smart and accessible. Using secure data and networks, partnerships and passion, our innovations and solutions help individuals, financial institutions, governments and businesses realize their greatest potential. With connections across more than 210 countries and territories, we are building a sustainable world that unlocks priceless possibilities for all.