Press Release
Uber partners with Mastercard, Marqeta, and Branch to launch new Uber Pro Card, offering faster payments and fuel rewards for drivers
October 6, 2022 | PURCHASE, N.Y., & OAKLAND, CA
Uber drivers, couriers to get up to 10% cashback on gas; 12% on EV charging

Uber today announced a new partnership with Mastercard, Marqeta, and Branch to power the Uber Pro Card, an enhanced loyalty and payments experience that will help drivers and couriers save on gas, fees, and other expenses. Built for drivers and couriers, the Uber Pro Card offers customized perks including up to 10% cashback on gas and up to 12% on EV charging.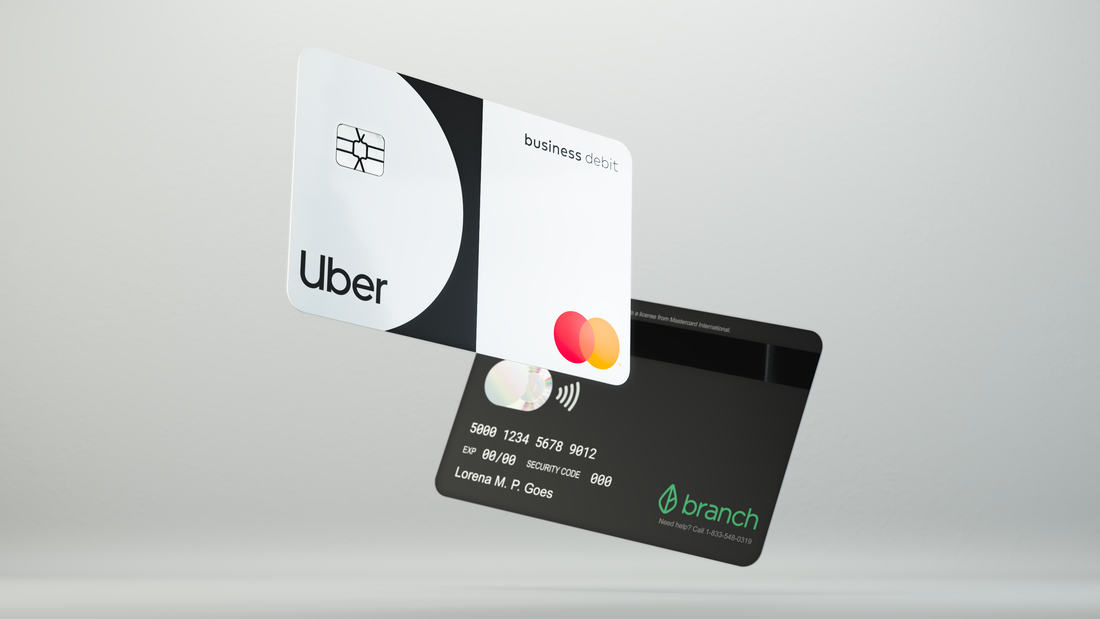 "At Uber, we are always looking for new ways to offer drivers and couriers more support on the road," said Andrew Macdonald, Senior Vice President, Mobility & Business Operations at Uber. "The new Uber Pro Card will allow drivers and couriers take home more of what they earn. Drivers and couriers will now have the ability to get more cash back on gas and EV charging and have their earnings automatically deposited to their accounts after each trip - free of charge."
Expanding the Uber Pro driver loyalty program, the Uber Pro Card offers Uber drivers and couriers up to 10% cashback on gas purchases when they achieve Diamond status as an Uber Pro driver, along with other exclusive perks and rewards.
The card also comes with a business checking account powered by Branch and designed to enable drivers and couriers to keep more of what they earn. Drivers and couriers that sign up for the card can have their earnings automatically deposited into their Uber Pro Card account after every trip—free of charge. The Backup Balance feature allows drivers and couriers to access up to $150 when they need it most.
The Uber Pro Card will be available via mobile wallets and enable seamless contactless payments, so drivers and couriers can begin spending immediately. They can track earnings, transfer money to other bank accounts, earn rewards, and manage savings all through the Uber Pro Card app.
The Uber Pro Card is a Debit Mastercard BusinessCard®, offering increased purchasing flexibility, as well as built-in tools and benefits to help drivers and couriers better manage cash flow, record keeping and safeguard their devices. This includes access to Mastercard Easy Savings®, a rebate program to reward small business owners when they spend, and Mastercard Receipt Management, in addition to advanced security features including Mastercard ID Theft Protection™ and 24/7/365 Global Emergency Services.
The Uber Pro Card will also offer Stride, the leading portable benefits platform designed for independent workers, enabling drivers and couriers to access simple, affordable coverage plans – from health to dental to vision. Mastercard and Stride partnered in 2020 to enable greater choice and relevant benefits options to gig and independent workers.
"Drivers and couriers are critical to our economy, and it's imperative that they have the financial tools and resources that make their lives easier," said Sherri Haymond, executive vice president, Digital Partnerships at Mastercard. "Bringing this new offering together in partnership with Uber, Marqeta and Branch, we'll be able to arm this segment with a dynamic and tailored product that not only meets their needs but exceeds their expectations."
Uber also recently announced other features, including Upfront Fares, which allows drivers to see how much they'll earn and where they're going before accepting a trip.
Quote Sheet
"Thanks to the benefits of modern card issuing, workers can access their earnings immediately, and with growing use of new digital wallets and payments capabilities can more easily manage their cash flow and better plan for their future," said Jason Gardner, Founder and CEO of Marqeta. "Uber is changing standards in payments and we're thrilled to partner with Uber, Mastercard and Branch to help them bring this vision to life."
"In today's hyper-competitive labor market, Uber recognized the need to provide a dynamic, real-time payments experience that engages workers and drives greater loyalty," said Branch Founder & CEO Atif Siddiqi. "We're incredibly excited to partner with Uber, Marqeta and Mastercard to create a modern banking solution that not only empowers drivers and couriers with greater flexibility, speed and support but also meets their unique business needs—from free, fast access to their earnings after every trip to extensive cash back rewards."
About Marqeta
Marqeta's modern card issuing platform empowers its customers to create customized and innovative payment cards. Marqeta's platform, powered by open APIs, gives its customers the ability to build more configurable and flexible payment experiences, accelerating product development and democratizing access to card issuing technology. Its modern architecture provides instant access to highly scalable, cloud-based payment infrastructure that enables customers to launch and manage their own card programs, issue cards and authorize and settle transactions. Marqeta is headquartered in Oakland, California and is enabled in 39 countries globally. For more information, visit www.marqeta.com, Twitter and LinkedIn.
About Branch
Branch is the leading workforce payments platform that partners with businesses to accelerate payments and empower working Americans. Businesses turn to Branch for a more cost-effective, faster way to pay workers and create a more streamlined, uniform payments experience. Employees and independent contractors that sign up with Branch can receive a zero-fee bank account, free instant access to earned wages, rewards, and personal finance tools to help them manage their cash flow between paychecks. Branch partners with some of the nation's leading payroll and workforce technologies to support companies in retail, restaurant, trucking/logistics, last-mile delivery, manufacturing, and healthcare. Branch has been honored with a Webby Award — Best Financial Services, Fintech Breakthrough Award, Gartner Eye on Innovation: Financial Services, Star Tribune's Top Workplaces in Minnesota, and Great Place to Work Certification. To learn more about Branch, visit https://www.branchapp.com.
About Mastercard (NYSE: MA)
Mastercard is a global technology company in the payments industry. Our mission is to connect and power an inclusive, digital economy that benefits everyone, everywhere by making transactions safe, simple, smart and accessible. Using secure data and networks, partnerships and passion, our innovations and solutions help individuals, financial institutions, governments and businesses realize their greatest potential. With connections across more than 210 countries and territories, we are building a sustainable world that unlocks priceless possibilities for all.