Mastercard SpendingPulse: Last-minute shopping prevails over one-day sales and promotions as Canadian retail sales expected to grow +5.7% this holiday season
November 17, 2022
This holiday season, from November 25 to December 24, Canadian retail sales (excluding Automotive) are expected to increase +5.7%* year over year (YOY) and +21.2% since pre-pandemic (2019), according to the Mastercard SpendingPulseTM holiday forecast. E-commerce retail sales are expected to grow +3.8% YOY (+63.1% YO3Y). Mastercard SpendingPulse measures in-store and online retail sales across all forms of payment and is not adjusted for inflation.
"While there are lots of pre-Black Friday sales and promotions happening to draw customers in early, we're expecting a return of last-minute gift buying this holiday season," said Steve Sadove, senior advisor for Mastercard and former CEO and Chairman of Saks Incorporated. "Easing supply chain issues coupled with a return to in-store shopping, has reduced the need for consumers to do their online holiday shopping well in advance."
This year moderate sales growth is expected on Black Friday (+2% YOY) and Boxing Day (+7.5% YOY) as these traditional single-day sales have become extended events. While Electronics were a popular purchase for consumers during these sales events in the past, Electronic sales are projected to be down -12.5% YOY (-54.3% YO3Y) on Black Friday and -8.2% YOY (-54.8% YO3Y) on Boxing Day this year as consumer behaviour shifts.  
The days leading up to Christmas are slated to be among the busiest days for retailers. A major boost for this season's retail growth is expected from in-store shopping as customers have more flexibility to shop in-store again. Total retail sales are projected to be up +24% YOY on December 23, and +17.5% YOY on Christmas Eve.
Jewelry and Leather Goods are expected to be popular last-minute gifts on December 23 with +25.4% YOY growth. Apparel is likely to be a go-to gift for shoppers on both December 23 (+17.1% YOY) and Christmas Eve (+4.9% YOY), in addition to Electronics (+10.7% YOY on December 23 and +5.2% YOY on Christmas Eve).
"This holiday season, consumers are looking to stretch their dollars as they deal with economic challenges, including higher interest rates, which makes it imperative for retailers to encourage spending through season-long sales," said Michelle Meyer, North America Chief Economist, Mastercard Economics Institute.
Mastercard SpendingPulse October Insights:
Canadian retail sales excluding automotive in October were up +9.1% year over year and +24.4% compared to 2019 with continued growth in experiential spending leading up to the holidays. Restaurants in particular saw continued strength in spend with a +15.0% increase YOY (+6.6% YO3Y). Consumers are returning to in-store spending ahead of the holiday season (+11.2% YOY/ +16.7% YO3Y); however, online sales also experienced steady growth (+0.5% YOY/ +78.5% YO3Y).
Electronics had a dip in spend (-2.5% YOY/ +13.2% YO3Y) and Home Furniture & Furnishings also experienced a decline at -2.3% YOY, while Apparel increased at +7.7% YOY.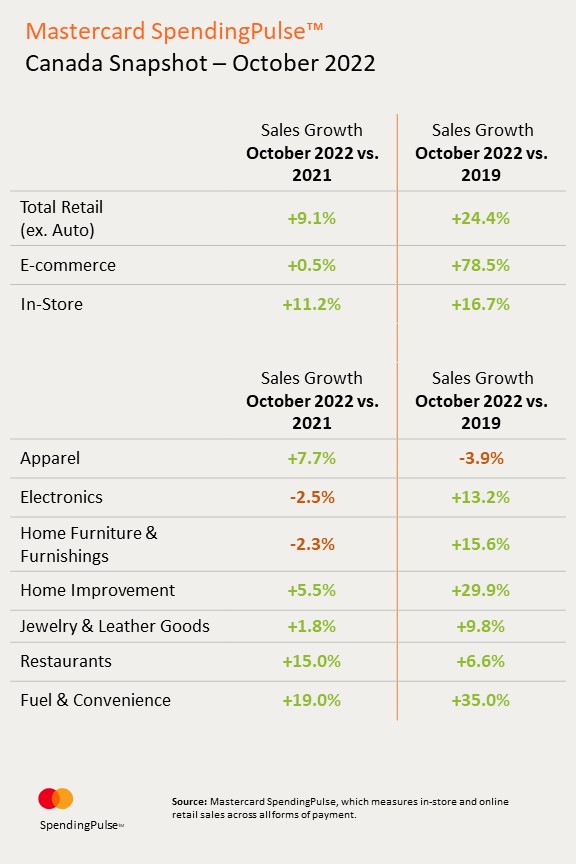 About Mastercard SpendingPulse
Mastercard SpendingPulse reports on national retail sales across all payment types in select markets around the world. The findings are based on aggregate sales activity in the Mastercard payments network, coupled with survey-based estimates for certain other payment forms, such as cash and check. Mastercard SpendingPulse defines "U.S. retail sales" as sales at retailers and food services merchants of all sizes. Sales activity within the services sector (for example, travel services such as airlines and lodging) are not included. For more information about Mastercard SpendingPulse or to subscribe, visit product page or the AWS Data Exchange.
About Mastercard (NYSE: MA)
Mastercard is a global technology company in the payments industry. Our mission is to connect and power an inclusive, digital economy that benefits everyone, everywhere by making transactions safe, simple, smart and accessible. Using secure data and networks, partnerships and passion, our innovations and solutions help individuals, financial institutions, governments and businesses realize their greatest potential. With connections across more than 210 countries and territories, we are building a sustainable world that unlocks priceless possibilities for all.