Mastercard SpendingPulse: Canadian consumer spending remained consistent in July, while navigating high inflation
August 16, 2022 | Toronto
According to Mastercard SpendingPulseTM, which measures in-store and online retail sales across all forms of payment, Canadian spending excluding automotive increased +15.4% since pre-pandemic (YO3Y) in July, indicating consistent levels of spending despite current high levels of inflation. Mastercard SpendingPulse accounts for nominal spending and is not adjusted for inflation. While sales for e-commerce showed steady YOY growth, online spending compared to pre-pandemic saw a significant surge (+74.7% YO3Y). Notably, in-store sales also increased (+7.7% YO3Y) since pre-pandemic.
"While we're seeing a slight acceleration in consumer spending, the latest retail trends clearly demonstrate the impact of decades-high inflation on consumer spending," said Steve Sadove, senior advisor for Mastercard and former CEO and Chairman of Saks Incorporated. "As retailers grapple with excess inventory and supply chain constraints, it's likely that promotional activity will continue to be an important strategy for retailers to continue to drive e-commerce sales. This will be especially important in the face of rapid price increases and consumers prioritizing necessities."
Spending growth in July compared to pre-pandemic levels in 2019, was the highest experienced thus far in 2022, reflecting increased prices as well as continued consumer demand. Of note:
Consumers continue to spend, with inflation's impact varying across sectors: Despite high inflation, consumers continue to spend on wants. The Apparel sector, for instance, saw sales up +17.1% YOY in July while Restaurant growth (+4.3% YOY) showed demand for experiences as Canadians continued to visit restaurants during summer's busy season.
E-commerce sales climb amid major summer sales events: E-commerce sales remain elevated, up +5.4% YOY/ +74.7% YO3Y, with major summer sales and promotions helping entice shoppers to splurge (and save) with online deals.
High season for vacation, with road-trippers continuing to spend at the pump: With gas prices still elevated across the country and summer vacation plans top of mind for Canadians, Fuel & Convenience spending rose +28.0% YOY / +40.4% YO3Y.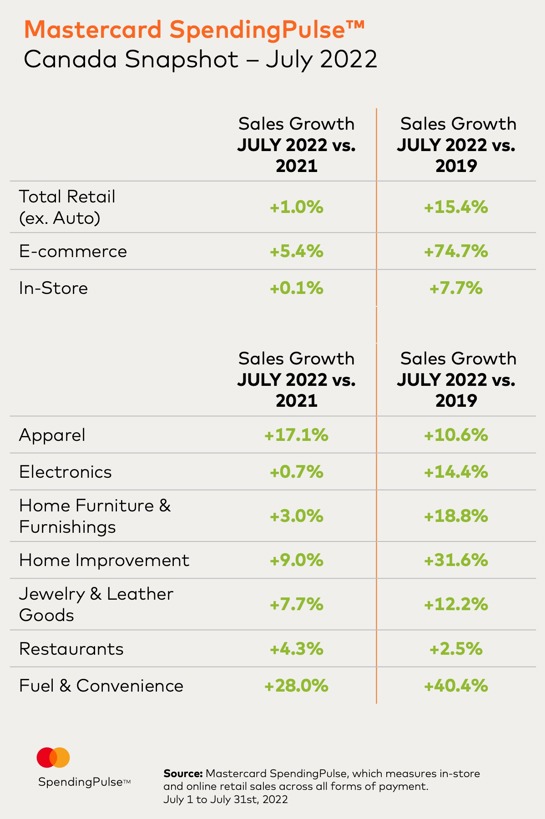 About Mastercard SpendingPulse
Mastercard SpendingPulse reports on national retail sales across all payment types in select markets around the world. The findings are based on aggregate sales activity in the Mastercard payments network, coupled with survey-based estimates for certain other payment forms, such as cash and check.
Mastercard SpendingPulse defines "Canadian retail sales" as sales at retailers of all sizes, excluding automobiles. Sales activity within the services sector (for example, travel services such as airlines and lodging) are not included.
About Mastercard (NYSE: MA)
Mastercard is a global technology company in the payments industry. Our mission is to connect and power an inclusive, digital economy that benefits everyone, everywhere by making transactions safe, simple, smart and accessible. Using secure data and networks, partnerships and passion, our innovations and solutions help individuals, financial institutions, governments and businesses realize their greatest potential. With connections across more than 210 countries and territories, we are building a sustainable world that unlocks priceless possibilities for all.