Testing, testing: Mastercard brings digital identity to student exams in Brazil
November 10, 2021
Partnership aims to transform education with a more seamless, secure and inclusive testing experience

Taking exams has changed. It's changed because students now, more than ever, have dynamic learning environments that are a mix of both physical and virtual learning. And with online learning and testing, proving that you are who you say you are – and minimizing the threat of cheating - can be a major challenge. 
Mastercard, Amigo Edu and idwall have partnered to help students simply and securely prove their identity when taking virtual exams. We recognize that digital interactions can be complex – often rife with friction, risk and lack of control for those involved. For example, the typical person now manages 100 passwords. On the flip side, identity fraud is one of the largest and growing challenges businesses and service providers are facing.
"Even as the world has gone digital, proving who we are is often still an analog process. It shouldn't have to be that way," said Ajay Bhalla, president for Cyber & Intelligence at Mastercard. "With digital identity, consumers can unlock new and enhanced experiences as they interact with businesses, service providers and their communities – making it safer and more efficient to shop online, open a bank account, file taxes or book travel."

How it works
Students will create a digital identity in idwall's Meu ID app, which verifies their identity information. Following this, individuals can easily prove their identity before taking exams such as University Admission Exams, all through Amigo Edu's platform. Mastercard provides a simple and flexible API-based integration for both organizations to connect to the ID network and enable the secure sharing of the verified identity credentials.
Once a student creates their digital identity, they will be able to use it across their academic life and beyond. For example, their digital identity can help them open a bank account, purchase an age-restricted product without proving their date of birth, or rent a car without having to hand over their driver's license.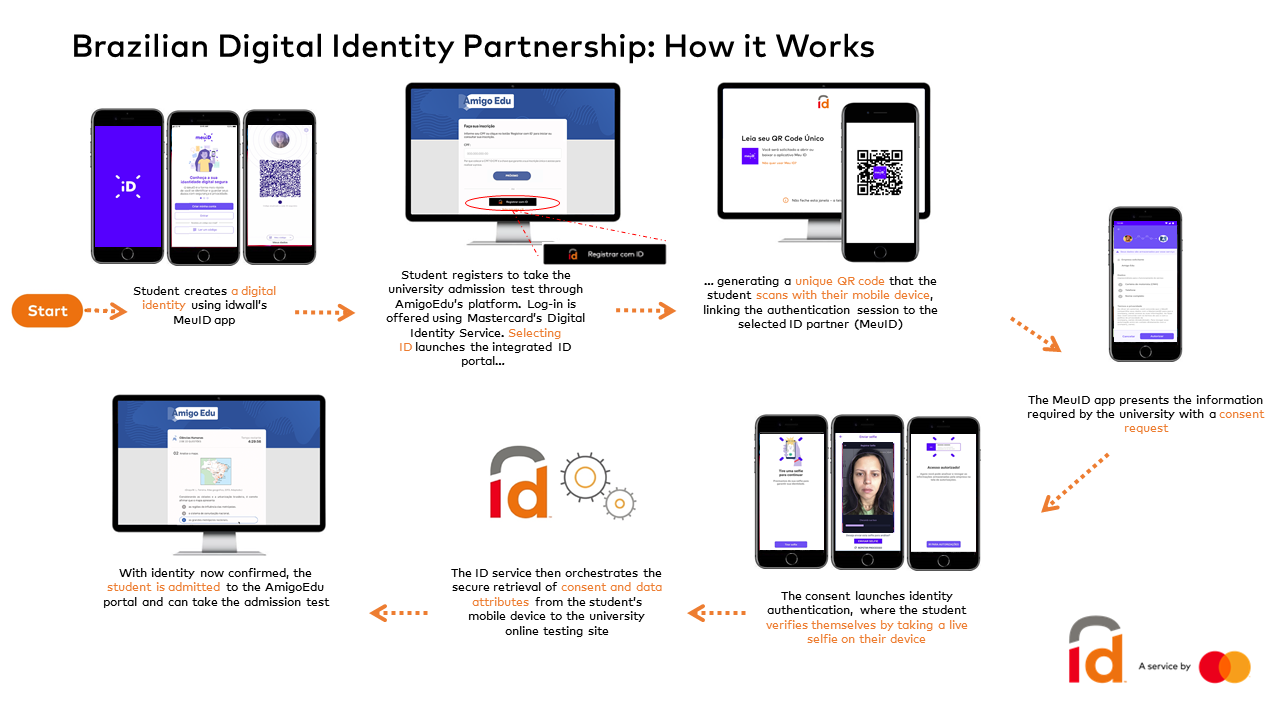 "With this partnership, we accelerate our ambition to create a global digital identity for Latin America.  This will create a new way for companies to implement digital identity and provide more privacy and security for users' personal identity data. We look forward to expanding our app into different services as we aim to continuously build, through technology, a trustful and more inclusive society for everyone", said Lincoln Ando, CEO of idwall.
"By combining our respective technologies and capabilities, we're providing safe and easy solutions for students and the wider education sector in Brazil," said José Roberto Dantas, CEO of Amigo Edu. "COVID-19 altered the education landscape, creating greater opportunities for hybrid learning, while also presenting challenges - like proving your identity. In 2020 alone, we've had half a million students participate in a variety of exams and we're thrilled to be adding a digital identity component to further ensure security for all parties."

Digital identity & education
Digital identity represents a new way for educational institutions to approach digital transformation and learning in the current environment. It makes it easier for institutions to embrace remote and hybrid learning and ensure learning can be facilitated if a student's circumstances change. Overall, it improves access to education, skills and training for those who may be geographically, socially or otherwise excluded.
Additionally, digital identity provides the necessary flexibility and focus on user privacy to suit the needs of a contemporary student, wherever they're based and whatever their educational level. It also eases the administrative burden on the institutions and helps drive an improvement in cybersecurity in a sector where it's one of the major risk factors.
Digital identity is not a digitized version of a passport, driver's license or national ID card, or a new style authentication token, but much more than that. It provides a simple and secure way to prove identity digitally, giving individuals more control and privacy, while enabling businesses and organizations to deliver services with less friction and more confidence.
The company's recent identity activity has included initiatives around the world across the travel, healthcare, education and telecoms industries - including Optus and Deakin University in Australia, the Good Health Pass Collaborative, and partnerships with the International Chamber of Commerce, Microsoft and Samsung. Following these efforts in Brazil, additional partnerships will be introduced globally in 2022.
Please visit www.idservice.com to learn more about Mastercard's vision for digital identity.
Media Contacts
Dania Saidam, Communications
About idwall
idwall is the market's leading reference in integrated and intelligent digital onboarding solutions that are capable of verifying personal documents and information by searching public and private databases quickly and pursuant to compliance rules.
About Amigo Edu
Amigo Edu is a platform that is revolutionizing the way Brazilians approach education. Our marketplace education channel offers integrated benefits for students by helping them get financing and scholarships to support their education. In addition, we provide a technical resource for our partners – universities and educational institutions – by providing a platform for online exams and tests.
About Mastercard (NYSE: MA)
Mastercard is a global technology company in the payments industry. Our mission is to connect and power an inclusive, digital economy that benefits everyone, everywhere by making transactions safe, simple, smart and accessible. Using secure data and networks, partnerships and passion, our innovations and solutions help individuals, financial institutions, governments and businesses realize their greatest potential. With connections across more than 210 countries and territories, we are building a sustainable world that unlocks priceless possibilities for all.