Press Release
Nets and Ethoca partner to reduce chargebacks, friendly fraud and transaction confusion
December 6, 2021 | Toronto, ON and Ballerup, DK
Better sharing of fraud and purchase details between merchants and issuers will enhance the customer experience
Nets, a leading European payment service provider, and Ethoca, a Mastercard company, today announced a new partnership that will help merchants and banks minimize chargebacks and reduce consumer transaction confusion.
The partnership will enable better sharing of confirmed fraud and dispute information – as well as rich purchase details – between Nets' merchant and issuer customers. By sharing this information, the dispute resolution process is moved upstream and will ultimately help reduce chargebacks and create better customer experiences.
More transactions are taking place digitally today, making the ability to handle chargebacks and enhance transaction transparency increasingly important. For businesses, this also means mitigating the negative impact they may have on revenue and the overall customer experience. Chargebacks are estimated to total $35 billion globally in 2021 alone, and over 96% of customers want more information in their digital banking application(s) to help understand what they bought.
Robert Hoffmann, CEO, Nets Merchant Services, said: "We have extensive knowledge and experience in chargeback prevention and this partnership will further help us meet our customers' needs, enabling us to continue delivering best-in-class solutions for issuers and merchants. It will allow us to provide confirmed fraud and customer dispute information to merchants for pre-chargeback resolution, significantly reducing their fraud and chargeback related costs. By preventing invalid disputes upstream, it will enable our merchants to act on real fraud and legitimate disputes much more effectively."
Jason Howard, Executive Vice President, Ethoca, added: "This partnership with Nets extends our existing global network of merchant and issuer collaboration, helping us further reduce the costly issues of chargebacks and disputes, while helping deliver trust and transparency for the cardholder."
Nets' customers will gain access to Ethoca's global network of fraud and purchase details in the following ways:
Fraud and Dispute Information:
Issuers will be able to share their confirmed fraud and customer dispute information directly with merchants through Ethoca Alerts. Merchants will then be able to use those alerts for pre-chargeback resolution.

Merchants can proactively act by resolving and/or stopping the order service, effectively preventing the need for a chargeback and subsequent loss in revenue.
Rich Purchase Detail:
Issuers will gain access to merchant purchase details, such as clear merchant names, logos and even full digital receipts, which can be used to enhance their digital banking platforms or equip their back-office teams.

Nets will be able to make digital receipt information available to issuers. Providing cardholders with this enhanced level of purchase detail directly through their bank will help reduce cases of friendly fraud caused by transaction confusion.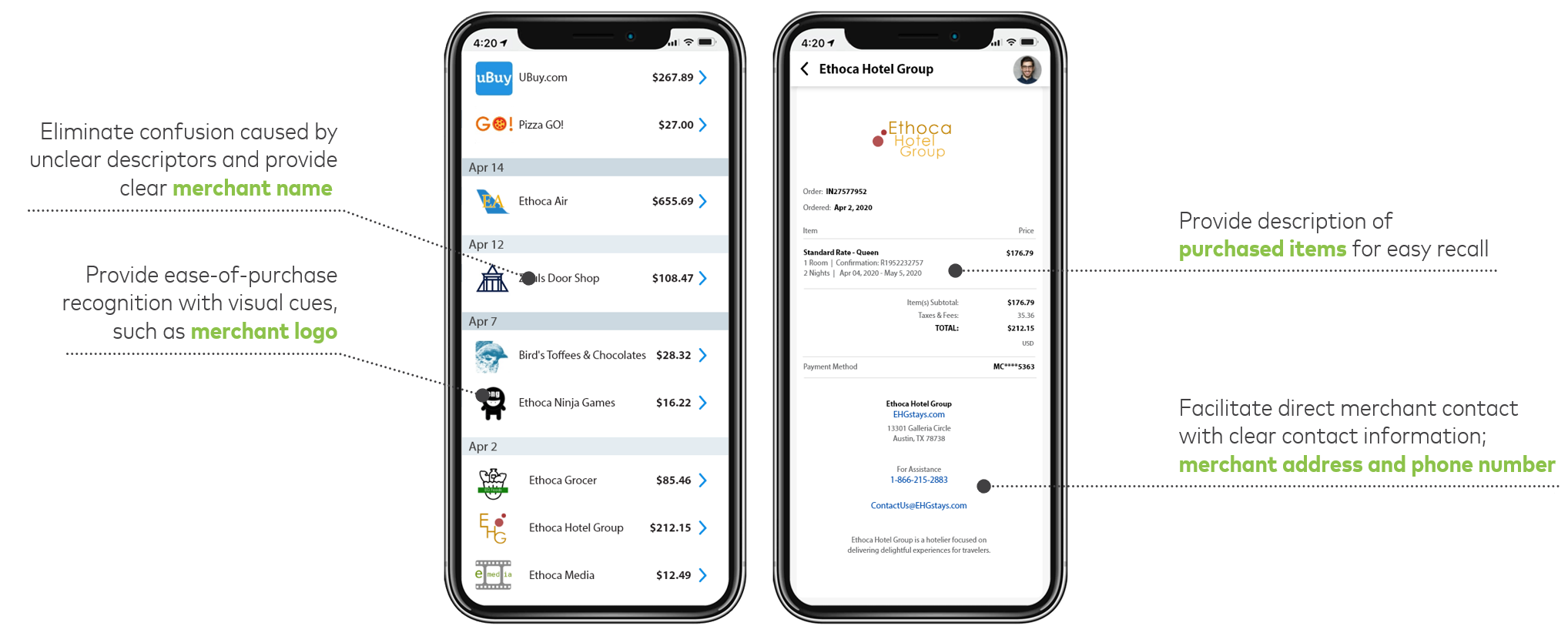 About Nets
Believing in simplicity and security as the foundation for growth and progress, Nets powers payment solutions for an easier tomorrow for banks, businesses and consumers across Europe. For more information please see: www.nets.eu. Nets is a part of Nexi Group - a leading European PayTech. For more information please see: www.nexigroup.com. 
About Ethoca
Ethoca is an award-winning provider of collaboration-based intelligence and technology solutions that empower businesses around the world to fight fraud, prevent disputes and improve the customer experience. Powered by the ever-growing Ethoca Network, our solutions provide rich intelligence throughout the customer purchase journey and close costly communication gaps between all stakeholders in the payments ecosystem. These include thousands of the world's biggest ecommerce brands, the largest banks, service providers and consumers. For the first time, fraud, customer dispute and purchase insights are now available and actionable in real time – delivering significant revenue growth and cost saving opportunities for all. Ethoca was acquired by Mastercard in April 2019. To learn more, please visit www.ethoca.com
About Mastercard (NYSE: MA)
Mastercard is a global technology company in the payments industry. Our mission is to connect and power an inclusive, digital economy that benefits everyone, everywhere by making transactions safe, simple, smart and accessible. Using secure data and networks, partnerships and passion, our innovations and solutions help individuals, financial institutions, governments and businesses realize their greatest potential. With connections across more than 210 countries and territories, we are building a sustainable world that unlocks priceless possibilities for all.