Press Release
Mastercard Study Reveals a More Conscious Shopper this Holiday Season
November 18, 2020 | Purchase, NY
75% of holiday shoppers plan to be more mindful of where they are shopping, favoring small, minority-owned, women-owned and Black-owned businesses
U.S. retail sales grew 4.1%* in October, with e-commerce growing 56.1%* year-over-year, according to Mastercard SpendingPulse
77% of Americans will choose to shop local this year, while 75% plan to be more conscious about where they shop, favoring businesses that share their personal values, according to a new Mastercard survey. These findings are supplemented by a Mastercard SpendingPulse analysis of retail sales in the 20 largest U.S. metropolitan areas, where total retail sales grew 4.1% in October and cities including Atlanta, Houston, and Orlando emerged as leading the retail recovery.
Holiday shoppers are planning to prioritize small (78%), minority-(68%), women-(68%) and Black-owned (66%) businesses, and 53% note that they would rather not receive a gift at all than to receive one from a retailer whose personal values don't align with their own. Ultimately, most (73%) would give up their gifts altogether to spend face-to-face time with friends and family this holiday season. Additional insights from the new Mastercard study show:
Consumers See the Holidays as a Reprieve: 55% of consumers see the holidays as a time to celebrate and unwind after a stressful year, and 71% are looking forward to an overall slower-paced holiday season. More than half (58%) say they are less stressed about shopping compared to years past and are leaning into the unique holiday season by updating old traditions (51%), embracing virtual celebrations (29%), planning contactless gift exchanges (23%), and more.
Decking the Digital Halls with Touchless Payments: Nearly two-thirds of those surveyed plan to shop in stores that have contactless payments options. Additionally, shoppers are prioritizing gift cards and mobile payments options, with 64% noting that they are actively trying to not give cash as a gift this year. Further, 52% of respondents said they are planning to ship more gifts to their loved ones homes this year to avoid person-to person contact.
'Tis the Season to Spend on Friends and Family: 59% say that they will likely spend the same or more money on holiday shopping this year compared to last, while just under half (43%) note having more to spend on holiday gifts because they haven't spent as much as usual over the course of 2020. Some shoppers are looking for a morale boost – saying that they are hoping to cheer up family and friends (43%) and get in the holiday spirit by shopping (40%).
It's the Most Wonderful Time of the Year – to Add to Cart: 82% say they are likely to shop online this year, with 55% expecting to complete most of their shopping online. While 88% of those cutting back on in-store shopping say they will miss elements of that experience, such as the holiday music and the ability to touch and feel items before purchasing, the benefits of staying home outweigh the cons – such as waiting in lines (74%), pushy or rude customers (65%) and finding parking (56%).
"While the holidays may look different this year, one thing is clear – Americans are shopping with a different perspective," said Linda Kirkpatrick, president, US Issuers at Mastercard. "Whether they're tapping their cards in store or leveraging Click to Pay online, consumers have embraced digital payments more rapidly than ever before, given the enhanced relevance to their daily lives."

Holiday Shopping Underway Across the US
This holiday season, shopping early, online and local is top of mind for many. But what this looks like on the ground varies – with the recovery playing out very differently from community to community. An analysis from Mastercard SpendingPulse™, which measures retail sales across all payment types including cash and check, reveals that Atlanta, Houston, and Orlando are the metropolitan areas leading the road to retail recovery in October.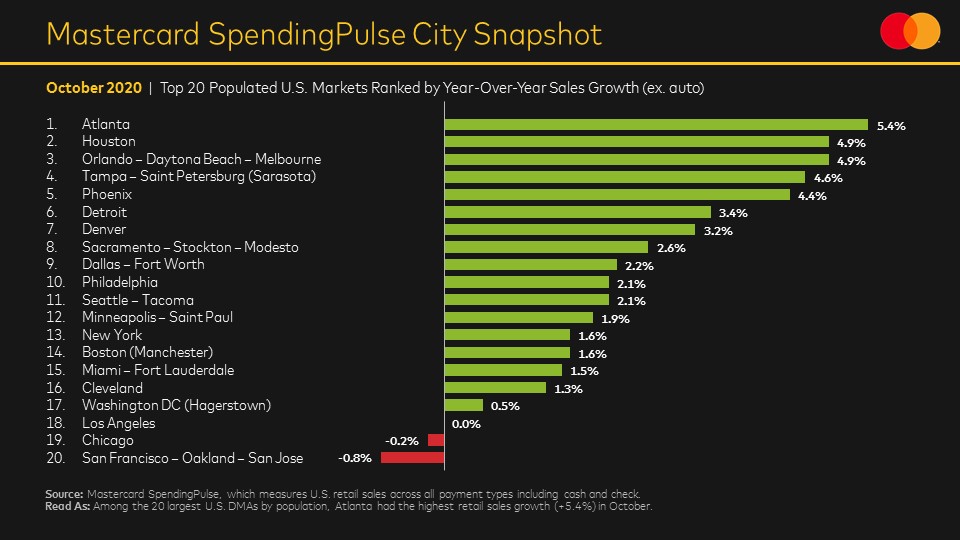 In October, according to Mastercard SpendingPulse, total U.S. retail sales grew 4.1% excluding auto and 6% excluding auto and gas, reflecting expectations for an earlier, expanded holiday season. Earlier this month, Mastercard reported a forecast of 2.4% excluding auto and gas for the expanded October 11-December 24 holiday season, compared to the same period in 2019. When looking at specific sectors, findings include:
Furniture & Furnishings: As Americans continued to spend more time – and money – at home, national retail growth was led by sales in furniture and furnishing (+20.1%), with Phoenix, Sacramento, Orlando and Austin experiencing greater than 25% year-over-year growth.
Grocery: Similarly, as more meals were consumed at home, national grocery sales skyrocketed (+7.1%) across the U.S. with Atlanta (9.1%), San Diego (9.0%), Sacramento (8.8%), Boston (8.5%) and Seattle (8.2%) experiencing the biggest increases in grocery sales.
Apparel: With fewer events and gatherings occurring as a result of the pandemic, apparel sales were down compared to last year. However, warmer cities including Orlando, Houston and Tampa showed the greatest resilience when it came to shopping for new clothes.
"City centers and Main Streets have long been the lifeblood of commerce in the United States, with bright lights and shop windows hallmarks of holidays past," said Steve Sadove, senior advisor for Mastercard and former chief executive officer and chairman of Saks Incorporated. "While the retail landscape looks different this year, we're once again seeing the amazing resilience of the American consumer – and the businesses who serve them. October numbers show that early promotions are paying off as consumers get a jump on their holiday shopping."
*Excluding automotive


Survey Methodology
This survey was conducted online within the United States by The Harris Poll on behalf of Mastercard from October 8-13, 2020 among 2,017 U.S. residents. Respondents were screened for credit card use.
Infographic
2020 Holiday Spending Insights
As the COVID-19 pandemic continues to reshape the shopping experience, American shoppers are changing their holiday plans. Shopping – and other holiday experiences – are moving online while Americans revise their holiday budgets, wish for new gifts, and reorganize their shopping plans and goals.
About Mastercard SpendingPulse
Mastercard SpendingPulse reports on retail sales across all payment types in select markets around the world. The findings are based on aggregate sales activity in the Mastercard payments network, coupled with survey-based estimates for certain other payment forms, such as cash and check. As such, SpendingPulse insights do not in any way contain, reflect or relate to actual Mastercard operational or financial performance, or specific payment-card-issuer data.
About Mastercard (NYSE: MA)
Mastercard is a global technology company in the payments industry. Our mission is to connect and power an inclusive, digital economy that benefits everyone, everywhere by making transactions safe, simple, smart and accessible. Using secure data and networks, partnerships and passion, our innovations and solutions help individuals, financial institutions, governments and businesses realize their greatest potential. With connections across more than 210 countries and territories, we are building a sustainable world that unlocks priceless possibilities for all.