Mastercard and Rabobank Join to Bring Financial Inclusion Tools to 1 Million Farmers
September 25, 2019 | NEW YORK, NY | By Bernhard Mors
Today, Mastercard and Rabobank announced a strategic partnership to give one million farmers in emerging markets access to a digital platform that makes it easier for them to sell their produce for a fair price. The platform builds on the current Mastercard Farmer Network and will be enriched by Rabobank's expertise and reach in the food and agricultural sectors across Europe, Africa and Asia.
The partnership was formally initiated at a signing ceremony during the advisors' meeting of the CEO Partnership for Economic Inclusion earlier this year in the presence of Her Majesty Queen Máxima of the Netherlands in her capacity as the United Nations Secretary-General's Special Advocate for Inclusive Finance for Development (UNSGSA).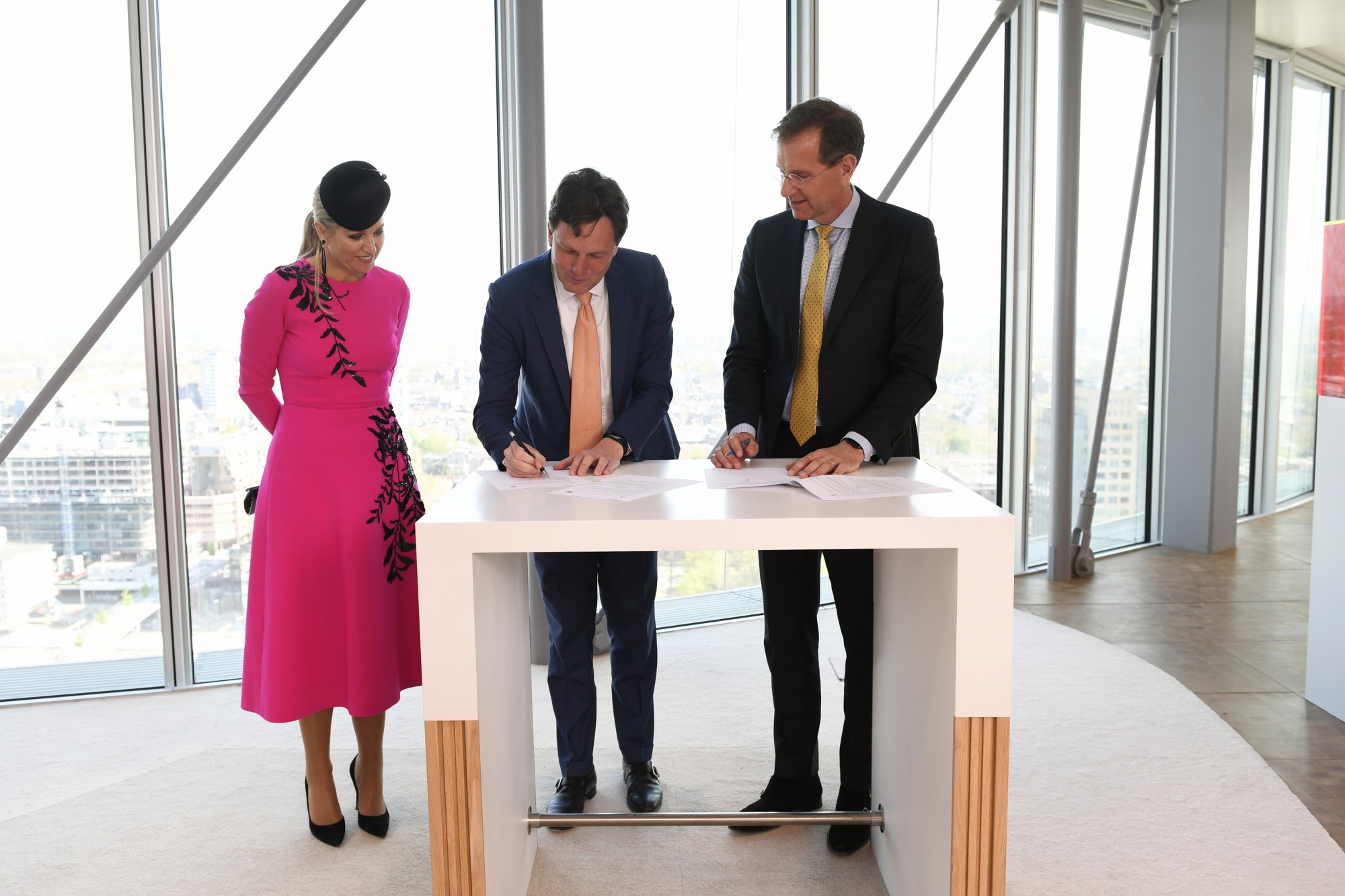 Her Majesty Queen Maxima of the Netherlands, in her capacity as UN Secretary-General's Special Advocate for Inclusive Finance for Development (left) witnessed Arjan Bol, Country Manager of Mastercard Netherlands (middle), and Wiebe Draijer, CEO of Rabobank (right), signing a strategic partnership to increase financial inclusion across the agriculture value chain in emerging markets in April this year during the CEOP advisors meeting at Rabobank in Utrecht

Under the partnership, Mastercard and Rabobank will extend the reach and impact of the Mastercard Farmer Network across Uganda, Tanzania, Kenya, Ghana, Egypt and India. Many smallholder farmers in these countries have limited access to market information, finance and management skills. This has led to insecurity, inefficiencies, a waste of resources and ultimately prevents farmers from running a sustainable business.

Since its launch in 2015, the Mastercard Farmer Network has reached more than 250,000 farmers in Uganda, Tanzania and India. Through the platform, small-scale farmers connect with potential buyers, access mobile payment tools, and build a digital transaction record that can be used to access formal credit from a financial institution. This solution is part of Mastercard's strategy to connect underserved communities to essential services through a common digital infrastructure.

"At Mastercard, we envision a world in which economic growth is truly inclusive," said Arjan Bol, Netherlands country manager for Mastercard. "Mastercard Farmer Network contributes to this by offering a digital platform that makes it safer and simpler for small-holder farmers to grow their business. Through close collaborations with important partners as Rabobank, we are able to create even more impact, putting the digital economy to work for everyone, everywhere."

The announcement comes as Ajay Banga, president and CEO of Mastercard, joins world and business leaders in celebrating Queen Máxima's 10-year anniversary as the UNSGSA at the United Nations General Assembly's special side event "Financial Inclusion for Development: Building on 10 Years of Progress", in New York. The Special Advocate, who convened the CEO Partnership for Economic Inclusion, aims to unlock development opportunities and economic inclusion for all. Her support of private sector companies helped to provide the platform for the strategic partnership between Mastercard and Rabobank.

"We believe that sustainable partnerships in the food and agri value chain are key to guaranteeing food security in the future," said Wiebe Draijer, CEO Rabobank. "This partnership creates a unique opportunity to expand access to the formal economy and financial services for hundreds of thousands of farmers. By joining forces with Mastercard we address both of our goals to increase financial inclusion in the agri-sector, while also contributing significantly to Rabobank's Banking for Food strategy."
About Mastercard
Mastercard (NYSE: MA), www.mastercard.com, is a technology company in the global payments industry. Our global payments processing network connects consumers, financial institutions, merchants, governments and businesses in more than 210 countries and territories. Mastercard products and solutions make everyday commerce activities – such as shopping, traveling, running a business and managing finances – easier, more secure and more efficient for everyone. Follow us on Twitter @MastercardNews, join the discussion on the Beyond the Transaction Blog and subscribe for the latest news on the Engagement Bureau.
About Rabobank Group
Rabobank is an international financial services provider operating on the basis of cooperative principles. It offers retail banking, wholesale banking, private banking, leasing and real estate services. As a cooperative bank, Rabobank puts customers' interests first in its services. Rabobank is committed to being a leading customer-focused cooperative bank in the Netherlands and a leading food and agri bank worldwide. Rabobank employs approximately 41,860 people. Rabobank Group is active in 38 countries. For more information about the Rabobank Group go to www.Rabobank.com.

Contact:
Robbert Vreeburg
Communications manager Mastercard Netherlands
E: robbert.vreeburg@mastercard.com
T: +31 (0)6 15371042