Mastercard Brings Fareback Fridays And Priceless Surprises To New York City Commuters
May 30, 2019 | New York City, NY | By Chaiti Sen
Mastercard cardholders who tap to pay at subway terminals on Fridays during June and July will get their fares refunded
 Mastercard cardholders who tap to pay on subways and at merchants that accept contactless payments in New York City will have the chance to win Priceless Surprises
Summer Fridays in New York City are about to get even better for Mastercard cardholders. The company today announced the Mastercard Fareback Friday program. Cardholders who tap to pay for their subway ride at any station between 42nd Street - Grand Central and Atlantic Avenue-Barclay's Center along the 4, 5 and 6 lines will get a refund on their fare. This program will be effective every Friday in June and July.

The Mastercard Fareback Friday program has been designed to get people familiar with tapping their Mastercard cards on MTA's subways.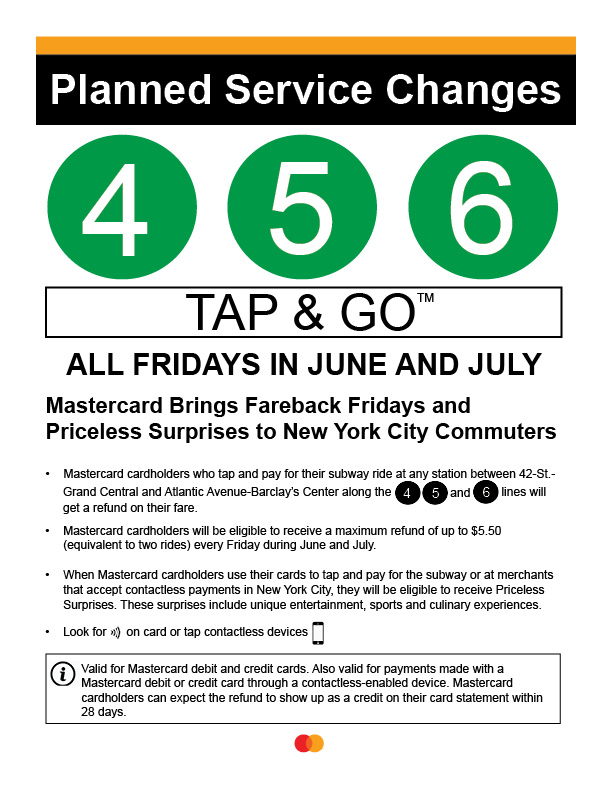 The company also announced that when Mastercard cardholders use their cards to tap and pay in the subway, or at merchants that accept contactless payments in the city, they will be eligible to receive Priceless Surprises.  These surprises include unique entertainment, sports and culinary experiences in New York City.

"Mastercard is thrilled to partner with the MTA to completely transform the experience for commuters in New York City," said Linda Kirkpatrick, executive vice president, U.S. Merchants and Acceptance. "Mastercard cardholders who tap their cards or phones at subway turnstiles will benefit from shorter wait times and a slick experience. Mastercard will be the first to offer cardholders an incentive to tap and pay for their subway ride."

Cardholders should look for a Wi-Fi style logo  on the front or back of their credit or debit cards to determine whether they have tap-and-pay capability. Even without this symbol on their cards, Mastercard cardholders can add their debit or credit card to their mobile wallets on their contactless-enabled devices to tap and pay at the turnstile, or at merchants who accept these payments.

Commuters will be eligible to receive a maximum refund of up to $5.50 (equivalent to two rides) every Friday during June and July.

"Whether it's your vacation or your daily commute, a good travel experience can make all the difference," said Al Putre, OMNY Program Executive at the MTA. "We're excited that companies like Mastercard are helping our customers use this new way of paying."

From Portland to New York, Mastercard has been working with 20 cities across the country to streamline the experience for commuters. Mastercard's chip technology, coupled with its tokenization service, will allow commuters to tap to pay with their cards or phones without ever exposing their card numbers.

For more details on the Mastercard Fareback Friday program, visit: mastercard.com/farebackfridays

For a list of retailers that accept contactless payments, visit: mastercard.com/tapandgolocator

1 Valid for Mastercard debit and credit cards that are enabled for contactless payments.

Also valid for contactless payments made with a Mastercard debit or credit card through any contactless-enabled device.

Mastercard cardholders can expect the refund to show up as a credit on their card statement within 28 days.



About Mastercard

Mastercard (NYSE: MA), www.mastercard.com, is a technology company in the global payments industry. Our global payments processing network connects consumers, financial institutions, merchants, governments and businesses in more than 210 countries and territories. Mastercard products and solutions make everyday commerce activities – such as shopping, traveling, running a business and managing finances – easier, more secure and more efficient for everyone. Follow us on Twitter @MastercardNews, join the discussion on the Beyond the Transaction Blog and subscribe for the latest news on the Engagement Bureau.