Mastercard Acquires Ethoca to Reduce Digital Commerce Fraud
March 12, 2019 | Purchase, NY | By Julia Monti
Mastercard (NYSE: MA) today announced it has entered into an agreement to acquire Ethoca, a global provider of technology solutions that help merchants and card issuers collaborate in real-time to quickly identify and resolve fraud in digital commerce.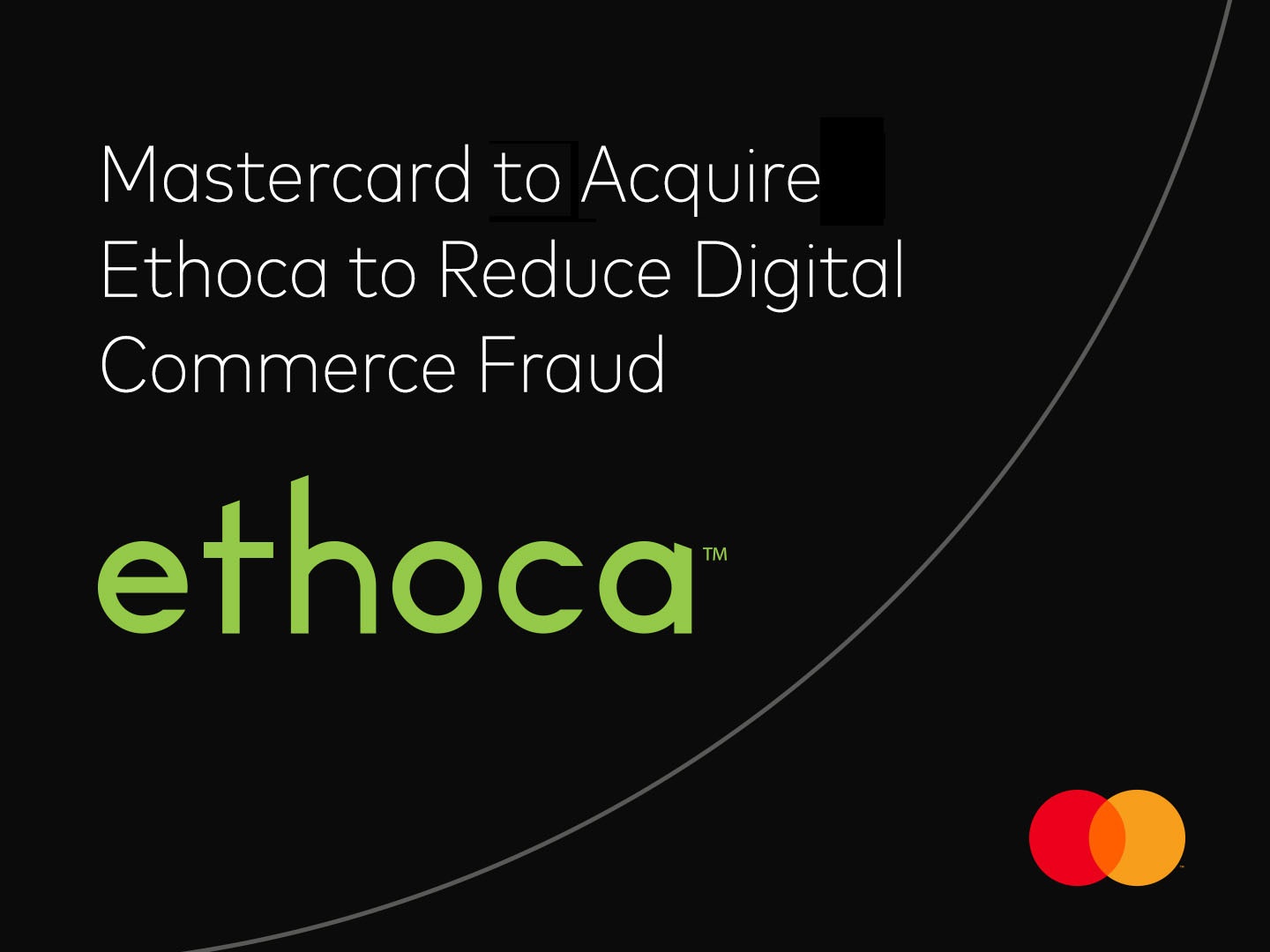 The Ethoca suite of products adds to Mastercard's commitment to drive greater protection in the digital space, integrating with its robust suite of fraud management and security products.

Today, the Ethoca network brings together more than 5,000 merchants and 4,000 financial institutions around the world. When a fraudulent transaction is identified, near real-time information is sent to the merchant so they can confirm the transaction, stop delivery or reverse the transaction to avoid the chargeback process.  As a result, both merchants and card issuers benefit from lower operational costs by reducing fraud at the source.

Mastercard intends to further scale these capabilities and combine Ethoca with its current security activities, data insights and artificial intelligence solutions to help merchants and card issuers more easily identify and stop potentially fraudulent purchases and false declines.

"Advancements in technology are enabling us to transform the experience for our customers," said Ajay Bhalla, president of cyber and intelligence solutions for Mastercard. "Ethoca is a strong addition to our multilayered cyber strategy, helping customers take immediate action against fraud and eliminate chargebacks before they can occur. In turn, consumers are provided with a better checkout experience every time they shop at a participating site."

According to Juniper Research, retailers are expected to lose $130 billion in online fraud over the next five years. In addition, research firm Aite Group estimates that false declines – when card issuers decline transactions from good customers due to a perceived fraud risk – cost the industry $331 billion in 2018 in the U.S. alone.

"Mastercard is a natural home for Ethoca," said Andre Edelbrock, CEO of Ethoca. "For more than a decade, we've connected e-commerce businesses with banks to make the payments system simpler and more secure. We are excited to have the opportunity to bring our services to more places and people, ultimately contributing to the best possible online payment experience."

Terms of the agreement were not disclosed and the transaction is anticipated to close in the second quarter of 2019. 
Forward-Looking Statements

This press release contains forward-looking statements pursuant to the safe harbor provisions of the Private Securities Litigation Reform Act of 1995.  All statements other than statements of historical facts may be forward-looking statements.  When used in this press release, the words "believe," "expect," "could," "may," "would," "will," "trend" and similar words are intended to identify forward-looking statements.  Examples of forward-looking statements include, but are not limited to, statements that relate to Mastercard's future prospects, developments and business strategies, as well as Mastercard's acquisition and operation of Ethoca's business.  We caution you to not place undue reliance on these forward-looking statements, as they speak only as of the date they are made.  Except for the company's ongoing obligations under the U.S. federal securities laws, the company does not intend to update or otherwise revise the forward-looking information to reflect actual results of operations, changes in financial condition, changes in estimates, expectations or assumptions, changes in general economic or industry conditions or other circumstances arising and/or existing since the preparation of this press release or to reflect the occurrence of any unanticipated events.

Many factors and uncertainties relating to the proposed transaction, our operations and our business environment, all of which are difficult to predict and many of which are outside of our control, influence whether any forward-looking statements can or will be achieved.  Any one of these factors could cause our actual results or the impact of the acquisition to differ materially from those expressed or implied in writing in any forward-looking statements made by Mastercard or on its behalf.  Such factors related to the completion and impact of the acquisition include, but are not limited to, the following:
whether all necessary conditions will be met, and
whether the transaction will close on agreed terms and in a timely manner.

For additional information on other factors related to Mastercard's overall business that could cause Mastercard's actual results to differ materially from expected results, please see the company's filings with the Securities and Exchange Commission, including the company's Annual Report on Form 10-K for the year ended December 31, 2018, and any subsequent reports on Forms 10-Q and 8-K.
About Mastercard
Mastercard (NYSE: MA), www.mastercard.com, is a technology company in the global payments industry. Our global payments processing network connects consumers, financial institutions, merchants, governments and businesses in more than 210 countries and territories. Mastercard products and solutions make everyday commerce activities – such as shopping, traveling, running a business and managing finances – easier, more secure and more efficient for everyone. Follow us on Twitter @MastercardNews, join the discussion on the Beyond the Transaction Blog and subscribe for the latest news on the Engagement Bureau.
About Ethoca
Ethoca is the leading, global provider of collaboration-based technology that enables card issuers, ecommerce merchants and online businesses to increase card acceptance, stop more fraud, recover lost revenue and eliminate chargebacks from both fraud and customer service disputes. Through the Ethoca Network – the first and only of its kind in the industry – Ethoca is closing the information gap between card issuers and merchants. This unique capability makes fraud and customer dispute insight available and actionable in real time. Its suite of services delivers significant revenue growth and cost saving opportunities to more than 5,400 merchants in 40+ countries and more than 4,000 card issuers in 20+ countries. Eight of the top ten North American ecommerce brands, 14 of the top 20 North American card issuers and six of the top ten UK card issuers rely on Ethoca solutions and the network that powers them.