Make Some Time and Start Something Priceless with Mastercard and Stand Up To Cancer
July 9, 2019 | PURCHASE, NY | By Sarah Ely
2019 MLB All-Star Game Managers Alex Cora and Dave Roberts Stand Together to Encourage Everyone to Dine Out to Support Cancer Research
Red Sox Manager Alex Cora and Dodgers Manager Dave Roberts may seem like unlikely allies, but out of the dugout the two are joining forces to support Mastercard and Stand Up To Cancer (SU2C). The opposing All-Star managers are coming together to encourage people to dine out with long lost friends, family, teammates - or really anyone - and remind them to make sure they bring a Mastercard so together we can support cancer research. For the 10th consecutive year, Mastercard is collaborating with SU2C and inviting cardholders to give back through the simple act of dining out.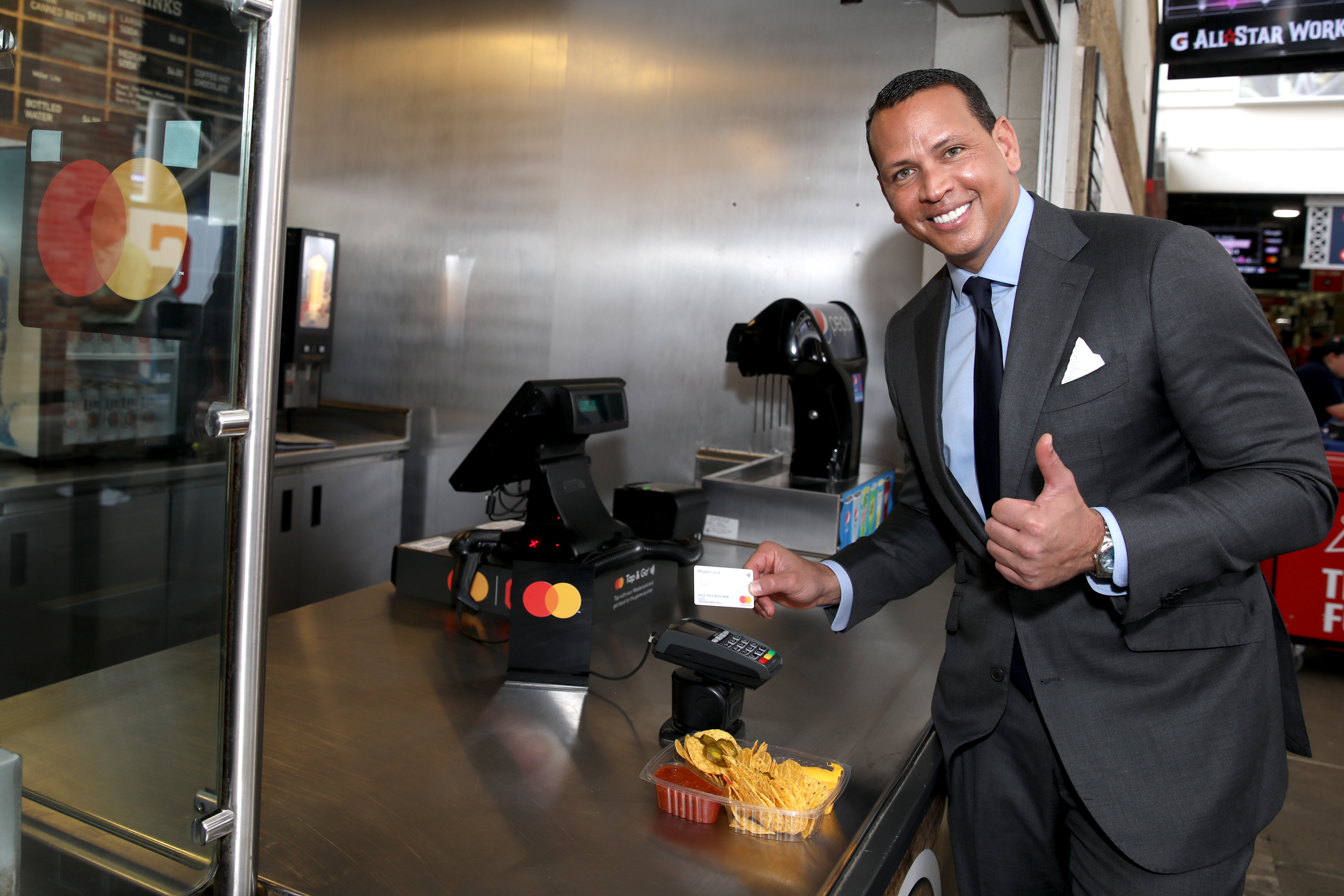 (Alex Rodriguez during All-Star Week is making some time to Start Something Priceless and hoping others will too. Dine out with family and friends this summer and use your Mastercard and you'll help support Stand Up To Cancer on July 8th 2019 in Cleveland, OH. Photo by Tasos Katopodis / Getty Images for Mastercard.)

The premise is simple: Make some time to gather with family, friends, colleagues or teammates to dine out and pay with your Mastercard to make your meal go even further in support of cancer research. Simply dine out and spend $10 or more using your Mastercard, and Mastercard will donate one precious penny to SU2C, up to $4 million*. Tap for your meal with your contactless Mastercard and your donation doubles. Every meal counts— breakfast, brunch, lunch and dinner – at restaurants from the hot dog stand at the ballpark to your favorite morning coffee joint to that trendy new hot spot you've been meaning to try.

"The unfortunate reality is that 1 in 3 Americans will face cancer in their lifetime which is why the groundbreaking work Stand Up To Cancer is doing to bring new therapies to patients quickly is so vital," said Boston Red Sox Manager Alex Cora. "It's great to see companies like Mastercard committed to supporting this critical cause. By making it as simple as dining out, together we can all help further SU2C's mission to make every cancer patient a long-term survivor."

On Tuesday, July 9th, the 2019 MLB All-Star Game Presented by Mastercard will air live on FOX at 8:00 pm ET and feature the special SU2C moment where everyone in the ballpark – players, managers including Cora and Roberts, executives and fans alike – gives tribute to someone who battled or is battling cancer.

With the help of millions of cardholders, Mastercard has donated more than $45 million to SU2C over the last 10 years. The company's support has helped SU2C deliver breakthroughs in clinical trials and get new treatments to patients quickly to save lives now. SU2C supported research has also led to the FDA approval of six new cancer therapies, including treatments for breast, ovarian, and pancreatic cancers and certain difficult-to-treat leukemias.

"We all have those plans we put off or that person we keep meaning to get together with but life gets in the way. The reality for those facing cancer though is that their tomorrow is uncertain, and we continue to support Stand Up To Cancer's mission to change that," said Cheryl Guerin, executive vice president, marketing and communications, Mastercard. "With our dining campaign, we are encouraging cardholders to Start Something Priceless by supporting a powerful cause with an everyday activity they already enjoy – dining out. By doing so they can help us continue to drive donations and further the impact SU2C can make in putting an end to this disease."

"Our collaboration with Mastercard over the last decade demonstrates the incredible impact we can have when we stop putting things off and stand together in the fight against cancer," said Rusty Robertson, Stand Up To Cancer Co-Founder. "The simple act of friends and families taking the time to get together to dine out has provided millions of dollars in critical funding to support our mission to make everyone diagnosed with cancer a survivor."

Stand Up To Cancer is one of Mastercard's signature Priceless Causes programs. For more information on how to support cancer research, visit here or follow @mastercard on Twitter, Instagram or Facebook.

Mastercard is helping its cardholders' actions go further by making a donation when they dine out. From now through August 15, 2019, spend $10 or more on your Mastercard when paying for a meal at a qualifying U.S. restaurant, and Mastercard will make a one cent donation for swipe or dip transactions and a two cent donation for contactless tap transactions to Stand Up To Cancer, up to US $4 Million.

*For each purchase of $10+ at U.S. or Canadian qualifying restaurants (per applicable Mastercard Merchant Category Code), Mastercard will donate to Stand Up To Cancer (SU2C) US$.01 when purchase made as a traditional point of sale transaction or US$.02 if by contactless transaction. Applies 7/1/19 12:00am ET – 8/15/19 11:59pm ET, or up to US$4MM the maximum donation amount, whichever is first. If a contactless transaction is not so classified and reported by third party and otherwise qualifies as a traditional point of sale transaction, Mastercard will donate US$.01 to SU2C as specified herein. Debit PIN and Int'l transactions ineligible. SU2C is a division of the Entertainment Industry Foundation. Mastercard is a registered trademark, and the circles design is a trademark, of Mastercard International Incorporated. ©2019 Mastercard. See full terms at mastercard.com/priceless.

About Mastercard

Mastercard (NYSE: MA), www.mastercard.com, is a technology company in the global payments industry. Our global payments processing network connects consumers, financial institutions, merchants, governments and businesses in more than 210 countries and territories. Mastercard products and solutions make everyday commerce activities – such as shopping, traveling, running a business and managing finances – easier, more secure and more efficient for everyone. Follow us on Twitter @MastercardNews, join the discussion on the Beyond the Transaction Blog and subscribe for the latest news on the Engagement Bureau.

About Stand Up To Cancer

Stand Up To Cancer (SU2C) raises funds to accelerate the pace of research to get new therapies to patients quickly and save lives now. SU2C, a division of the Entertainment Industry Foundation (EIF), a 501(c)(3) charitable organization, was established in 2008 by film and media leaders who utilize the industry's resources to engage the public in supporting a new, collaborative model of cancer research, and to increase awareness about cancer prevention as well as progress being made in the fight against the disease. Under the direction of our Scientific Advisory Committee, led by Nobel Laureate Phillip A. Sharp, Ph.D., SU2C operates rigorous, competitive review processes to identify the best research proposals to recommend for funding, oversee grants administration, and ensure collaboration across research programs.

Current members of the SU2C Council of Founders and Advisors (CFA) include Katie Couric, Sherry Lansing, Lisa Paulsen, Rusty Robertson, Sue Schwartz, Pamela Oas Williams, Ellen Ziffren, and Kathleen Lobb. The late Laura Ziskin and the late Noreen Fraser are also co-founders. Sung Poblete, PhD, RN, has served as SU2C's president and CEO since 2011.

For more information on Stand Up To Cancer, please visit StandUpToCancer.org.