Mastercard Delivers Everyday Value and Enhanced Experiences to Consumer Credit Products
April 16, 2019 | Purchase, NY
New World and World Elite benefits are delivered digitally to meet the needs of the always connected, on-the-go cardholder

Consumers today want everyday value, enhanced experiences, and peace of mind from the cards they choose to carry in their wallets. Starting today, that's just what they'll get as World Mastercard and World Elite Mastercard cardholders in the U.S. will begin to automatically enjoy new benefits and experiences with merchants they use regularly, including Lyft, Fandango, Boxed, and Postmates. Starting July 1, they will also begin to get enhanced ID theft identification and resolution solutions, as well as cell phone insurance. The exclusive shopping and travel benefits World and World Elite cardholders already enjoy will continue.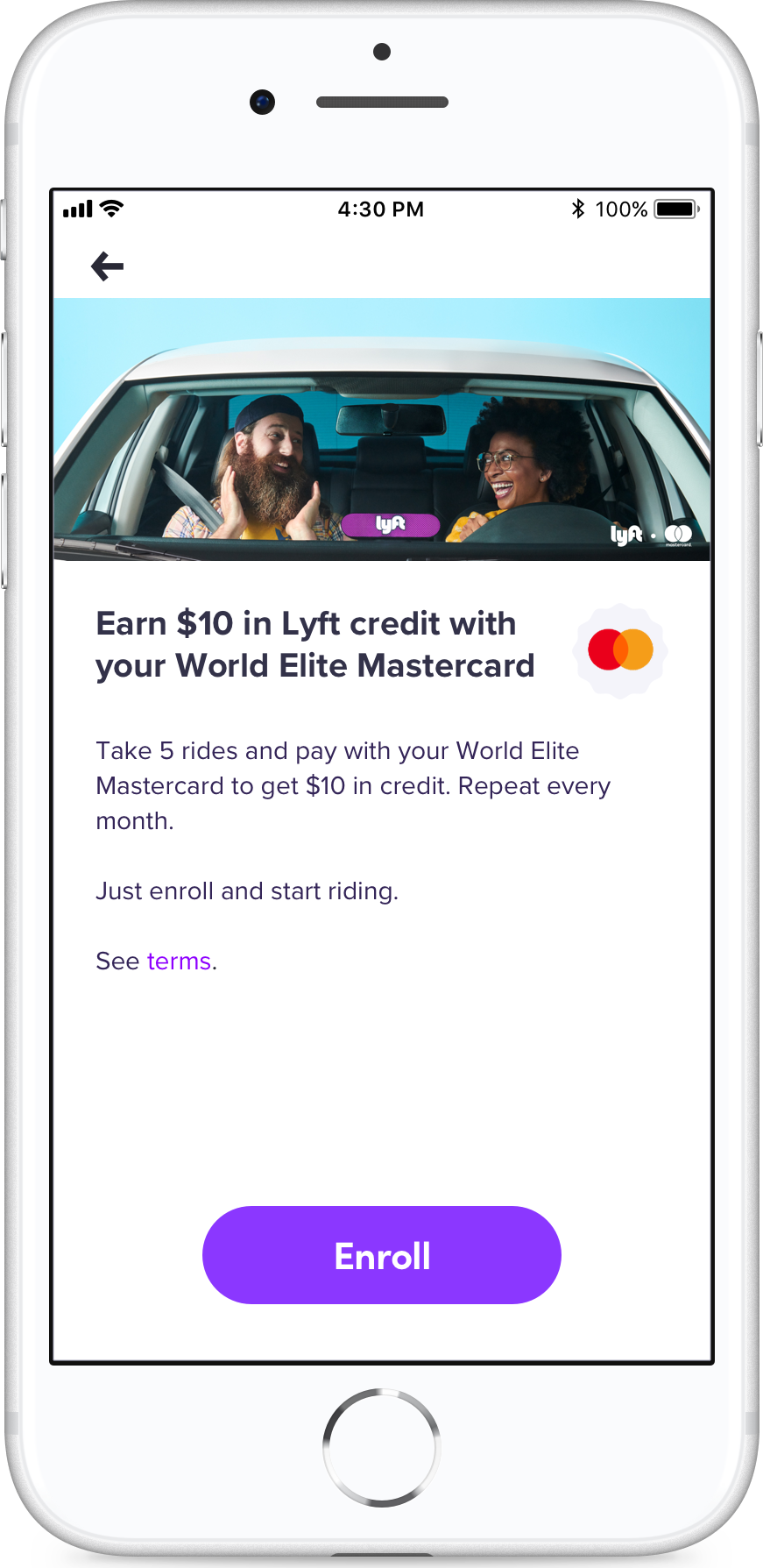 "Consumers live very differently in today's always-on digital world, and their expectations have evolved. To better meet their needs, we are leveraging technology to seamlessly embed products and solutions into their everyday lives," said Amnah Ajmal, executive vice president, Core Products, North America. "We have forged partnerships with popular digital brands to help us stay ahead of the curve, anticipate trends, and redefine the consumer experience."

The always-on benefits provide everyday value and convenience to cardholders, as the experience is delivered to them digitally. Specifically, they include:


Lyft: World Elite cardholders will receive a $10 credit for every five rides taken in a calendar month, which will be automatically applied to the next ride, capped at once per month.
Fandango: World Elite cardholders will earn double Fandango VIP+ points for the movie tickets they buy. This means cardholders will get 500 Fandango VIP+ points (worth $5) for every two movie tickets they purchase via the Fandango app or Fandango.com, which can be used towards purchasing movie tickets on Fandango or towards streaming movies and TV shows on FandangoNOW.
Boxed: World Elite cardholders will earn 5% Cash Rewards on their Boxed purchases, which can be used towards future purchases on Boxed.
Postmates: World and World Elite cardholders will receive $5 off every order of $25 or more.
Cell Phone Insurance: World and World Elite cardholders will be eligible for Mastercard Cellular Telephone Protection when they charge their monthly telephone bill to their World or World Elite Mastercard. This benefit—with a maximum liability of $600 per claim for World cardholders and $800 for World Elite cardholders—covers stolen or damaged mobile phones as well as cosmetic screen scratches even if they don't affect the ability to make or take a call. Cardholders simply have to submit a claim if they incur a loss, up to $1,000 per year.
Mastercard ID Theft Protection™: Cardholders who register for Mastercard ID Theft Protection will have access to an enhanced Mastercard ID Theft Protection™ benefit suite that provides end-to-end digital servicing to monitor their personal information. Additionally, cardholders have access to a team of identity theft resolution specialists, available 24 hours a day, seven days a week, 365 days a year to help quickly resolve any identity theft incidents that may occur.

"Consumers place tremendous emphasis on rewards and are ready for a meaningful shift in how they are experienced. Gone are the days of enrolling and signing up for a service, as benefits should be seamlessly integrated into the merchant experience," said Krista Tedder, Director of Payments at Javelin Strategy & Research. "The experience should be one which benefits merchant partners, consumers, and card issuers alike."

All benefits are subject to terms, conditions and limitations, including limitations on the amount of coverage. Applicable banks are beginning to roll out the above benefits; cardholders should contact their issuing bank for additional information.