Pizza Hut Rolls Out Qkr! to All UK Restaurants
February 27, 2018 | BARCELONA | By Adam Keal
Pizza Hut Restaurants today announced that it will roll out Mastercard's Qkr! with Masterpass into its UK restaurants from March 19th.

Diners at Pizza Hut restaurants across the country will be able to pay through their mobile without having to ask a waiter for the bill, saving them 12 minutes on average1.
Qkr! is a mobile ordering and payments platform developed by Mastercard Labs that enables consumers to seamlessly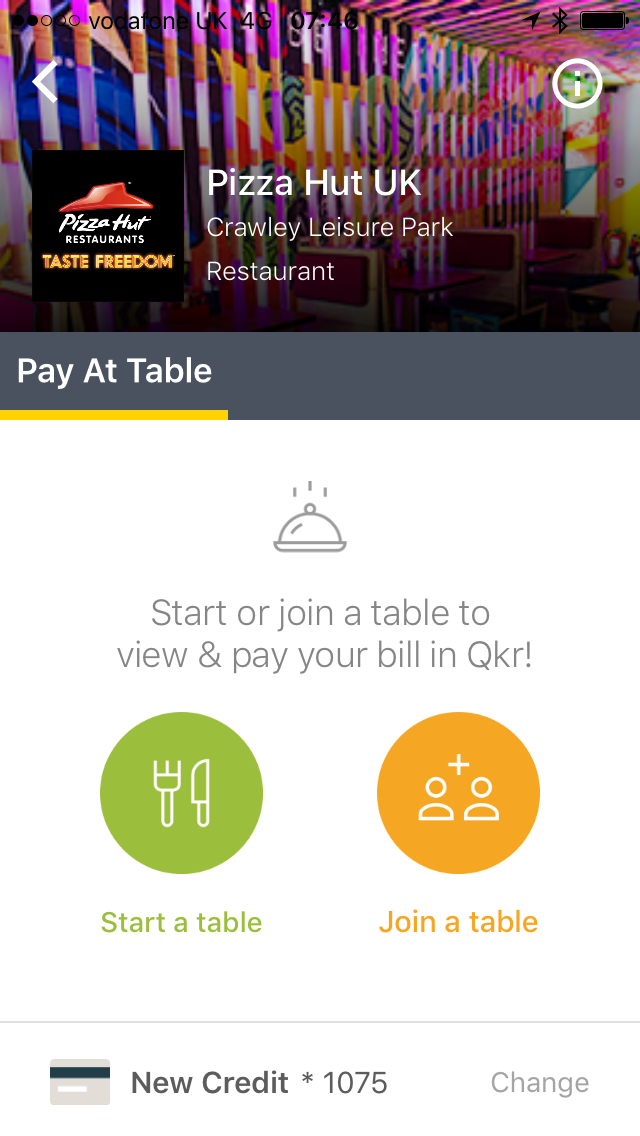 order, pay and split bills from their smart phone without having to queue or wait for a server.
The app uses Masterpass, a global online payment service that speeds up the checkout process without requiring consumers to enter their financial and shipping information at every new shop or business.
Keith Frimley, IT Director at Pizza Hut Restaurants said: "Rolling out Qkr is a fantastic opportunity for us to continue the innovation journey we are on as a brand. Over the last six years we have invested over £60m in transforming our restaurants and menu, and this allows us to continue to improve the service and experience we offer our guests as well as embracing technology, which has become so central to modern culture."

Betty DeVita, Chief Commercial Officer at Mastercard Digital Payments & Labs said: "Qkr will allow Pizza Hut to accommodate more customers without having to rush them. By removing the headache of managing bills, it will allow their staff to focus more on service. We're obviously delighted such a globally renowned brand is working with us. It shows the versatility of this ordering and payment platform for businesses large and small, and a wide variety of environments."

Pizza Hut joins a growing band of the UK's leading fast-casual restaurants who are offering their customers the chance to pay with Qkr.  Amongst others, they include wagamama, ASK Italian, Young's Pubs, Zizzi, Byron, Bird, and gastropub chain New World Trading.

Qkr is also used in North and South America, Australia, Ireland, Singapore, and South Africa, and has a variety of functions, including:
Paying for school lunches, uniforms or excursions
Running bar tabs in bars and clubs with no need for bartenders to keep the customer's card
Ordering ahead at food stands in sports arena – minimising queues
Paying for parking or fuel at petrol stations
Paying at vending machines or other self-service checkouts
Restaurants can easily introduce new services like takeaway and delivery, and use the digital platform for reward programmes and targeted promotions directly to customers. Its' web-based, management portal helps retailers view and manage menus, product inventory and pricing.

A number of businesses are also using Mastercard's APIs to create and develop their own-branded pay-at-table experiences for customers.  Young's Pubs is an early proponent, having built its own Qkr-powered mobile app, but others are using the broader suite of APIs to build in a variety of digital ordering and payment capabilities easily into their own apps.

Notes to editors

1 Source: wagamama
About Mastercard
Mastercard, www.mastercard.com, is a technology company in the global payments industry. We operate the world's fastest payments processing network, connecting consumers, financial institutions, merchants, governments and businesses in more than 210 countries and territories. Mastercard's products and solutions make everyday commerce activities – such as shopping, traveling, running a business and managing finances – easier, more secure and more efficient for everyone. Follow us on Twitter @MastercardNews, join the discussion on the Beyond the Transaction Blog and subscribe for the latest news on the Engagement Bureau.